Kimmel nixed: The bear is not so loose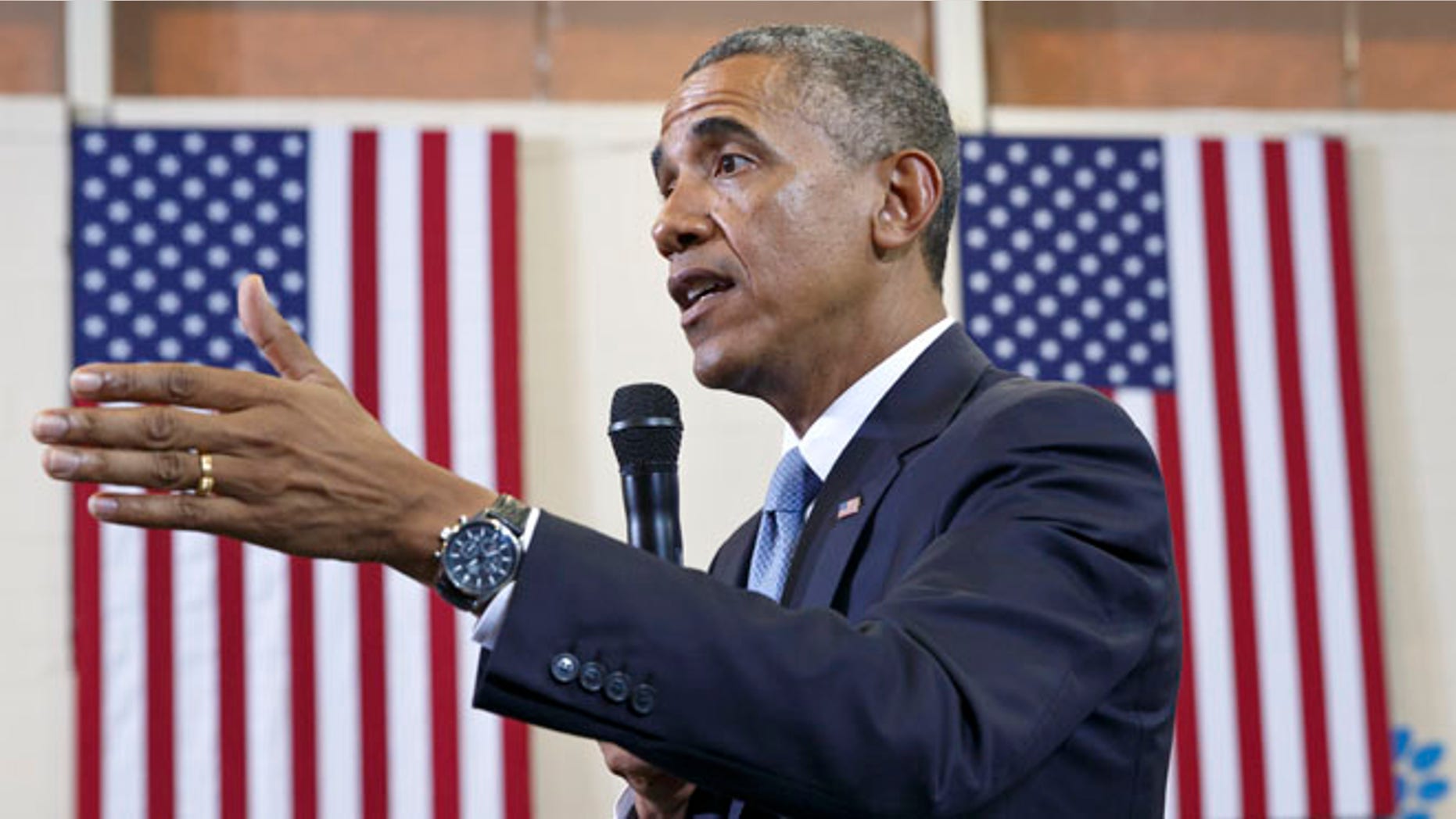 **Want FOX News First in your inbox every day? Sign up here.**
Buzz Cut:
• Kimmel nixed: The bear is not so loose
• Hawkish Hillary: Israel was provoked
• Boehner: Fix law on migrants before new spending
• Kingston, Perdue final showdown
• Black and white is the new orange
KIMMEL NIXED: THE BEAR IS NOT SO LOOSE
The White House likes to make its own memes, some more successful than others. The current bid is to describe the president as a dynamic and engaged figure, not an isolated second-term lame duck increasingly captive to events. He goes to Starbucks! He drinks beer! He awkwardly interacts with other Internet memes! Said Obama of his jaunts: "I'm sort of like the circus bear that kind of breaks the chain." The administration has since been advertising its preferred meme for the current tragicomic phase of the Obama president: #TheBearIsLoose. One could easily look at it the opposite way: That the president, having seen his second-term agenda evaporate and compelled to drag himself through fundraiser after fundraiser, where, presumably, the bear is still in the circus, and that his occasional fast-food or tavern outings are all he's got left. With the Russian Bear out and about in real and dangerous ways, pushing the notion of the president as an escaped circus bear sounds a little iffy anyway.

[Ron Fournier - Is the White House lying or just bad at communications?: "…White House aides 'gave no consideration to abandoning the president's long-planned schedule' on Thursday. No consideration, really? Is this White House so stubborn and out of touch that presidential advisers didn't even consider tweaking his schedule? Unless the White House lied…, the answer is yes."]

Stubborn - But the administration has been as forceful as it on any topic about the president keeping his schedule, including these pop-outs, golf games, media appearances and, always, fundraisers, on the grounds that they won't succumb to critics who demand he change his course. In a briefing for reporters from a senior official, whom the White House insisted not be identified, the adamancy was explained thusly: "Republican criticism will never drive our decision making." (What about the Democratic criticism? What about the establishment press? Never mind.) Campaigning and fundraising amid multiple international and domestic crises is okay, says the White House, because it reassures people. Not schmoozing or posing would have the effect, we are told, of "unduly alarming the American people or creating a false sense of crisis." You see, If Mr. and Mrs. America saw jetliners crashing to earth, multiple ground wars in the Middle East and tens of thousands of Central Americas swarming across the southern border, they might be tempted to think something was amiss. But if the president is campaigning and fundraising, they can know it's all good. Gotcha. One tends to think, then, that a stubborn refusal to listen to his critics drives the president's refusal to change course.

[Face, meet palm - "You criticize anonymous sources but we have anonymous sources from you all every day. How can you criticize that when that's basically all you give us every day? – McClatchy's Anita Kumar scoffing at White House Press Secretary Josh Earnest's dismissal of an unflattering story because it relied on anonymous sources.]

Discovery - We have, however, seemingly found the tether for the bear: Appearing on a late night comedy show whilst on a fundraising swing through southern California amid the tripartite difficulties for the administration. The president will not be making a scheduled appearance on "Kimmel," but will keep his scheduled high-dollar fundraisers that are taking him to the West Coast. (This is ratings gold, BTW, for Jimmy Kimmel, whose self-deprecating style fits perfectly with the moment.)  As Obama's presidency lurches from disaster to disaster , the man himself is slogging from schlock to schlock. Whatever they say about the Starbucks visits, et. al., it looks pretty tired out. And now we know this about the bear: He's apparently not allowed to miss the circus when it comes to entertaining rich patrons, but his handlers apparently draw the line at late-night laughs.

["It seems like the only time the president comes to L.A. is for money. He's like a college student who only comes home to do his laundry and steal leftovers from the fridge." – Jimmy Kimmelin a November 2013 riff.]

HAWKISH HILLARY: ISRAEL WAS PROVOKED
During a forum hosted by Twitter , Democratic 2016 frontrunner Hillary Clinton weighed in on the situation in Israel: "You mention in particular the difficulties we currently are seeing in the Middle East because of the actions by Hamas, first to rain rockets on to Israel. Israel being provoked," Clinton told Twitter's Vice President of Global Media Katie Jacob Stanton. "I do think that was part of the Hamas calculation, to provoke Israel to respond to defend itself, which any nation has to do if you are under attack like that."

He keeps going and going and going… - NY Post: "Bill Clinton reportedly has a buxom blond mistress who visits so often when Hillary Clinton isn't home in Chappaqua that the former president's Secret Service detail have given her an unofficial code name: Energizer. This is according to Ronald Kessler in 'The First Family Detail: Secret Service Agents Reveal the Hidden Lives of Presidents,' due Aug. 5 from Crown Forum. Kessler is no stranger to the controversies surrounding the Secret Service. He broke the story that Secret Service agents protecting President Obama in Cartagena, Colombia, hired prostitutes, and put the president in jeopardy. The book, portions of which I've obtained, says none of the normal protocols are followed when Energizer arrives in her SUV, sometimes just minutes after Hillary has left the Westchester house."

NYT reviews "Clinton: The Musical" - The mixed review from Daniel Gold praises the songs and styling but pans the "relentlessly low" humor: "Retelling the story of the scandals that swamped the administration, "Clinton" resurrects an awful lot of that dignity-free era: Whitewater and Paula Jones, Contract With America, the government shutdown, cigars and stained dresses. There's even the macarena."

Sounds like the right pick for a politician - LAT: "[Hillary Clinton's] favorite book of all time? 'The Brothers Karamazov' by Fyodor Dostoevsky…" It makes sense, since the following passage very well could have been written about Washington: "The man who lies to himself and listens to his own lie comes to such a pass that he cannot distinguish the truth within him, or around him, and so loses all respect for himself and for others. And having no respect he ceases to love, and in order to occupy and distract himself without love he gives way to passions and coarse pleasures, and sinks to bestiality in his vices, all from continual lying to other men and to himself."

Rubio: Hillary is so last century - Sen. Marco Rubio, R-Fla., argued that 2016 presidential Democratic frontrunner Hillary Clinton is a "20th century candidate" that will hold the country back. "I just think she's a 20th century candidate," the Florida Republican told to NPR's Steve Inskeep. "I think she does not offer an agenda for moving America forward in the 21st century, at least not up till now."

Romney, Christie on Bubba's turf - AP: "[Arkansas] Republican gubernatorial candidate Asa Hutchinson is enlisting the help of former Republican presidential nominee Mitt Romney and New Jersey Gov. Chris Christie next month…. Hutchinson is running against Democratic nominee and fellow ex-congressman Mike Ross [a former aide to Bill Clinton] in November."

[Washington Examiner's Byron York discusses the different approaches of Hillary Clinton and Elizabeth Warren to their potential 2016 run in "While Hillary Clinton offers a resume, Elizabeth Warren offers a plan": "In the past few days, Democrats have heard that their still-undeclared frontrunner, Hillary Clinton, needs time to think about the question. Meanwhile, another undeclared hopeful, Elizabeth Warren, is thrilling liberal audiences with a forceful, point-by-point declaration of the principles that would guide her as president."]

BOEHNER: FIX LAW ON MIGRANTS BEFORE NEW SPENDING
"After first supporting common-sense changes to the 2008 law that is making it more difficult to resolve this crisis, the White House backpedalled and failed to include those changes in its formal request to Congress. Meanwhile, many Democrats in Congress have reversed themselves and now say no changes to the 2008 law are acceptable.  As I said last week, I don't believe the American people will support sending more money to the border unless both parties work together to address these policies and actually solve this problem. The lack of leadership from this White House, and President Obama's refusal to stand up to critics in his own political party, are jeopardizing our ability to find common ground and help the kids who are caught in the middle of this crisis." – House Speaker John Boehner in a statement on the president's demand for new border spending.

IRS REVERSAL: MAYBE MISSING EMAILS AREN'T MISSING
Washington Examiner: "New testimony from a key Internal Revenue Service official indicates the IRS may not have lost two years of emails sent by former top IRS official Lois Lerner after all. That is what the House Oversight and Government Reform Committee suggested Monday morning in a newly released transcript of a recent closed-door interview with IRS Deputy Associate Chief Counsel Thomas Kane. Kane is responsible for producing documents requested by Congress that are related to a probe into the IRS past practice of targeting conservative groups. Kane met with House investigators after Oversight Committee Chairman Darrell Issa, R-Calif., issued a subpoena. Kane told Oversight staffers last week that the backup tapes that held two years of lost Lerner emails may actually still exist. If true, it would contradict claims made by IRS Commissioner John Koskinen, who told Congress last month Lerner's emails to outside agencies sent between 2009 and 2011 were lost when Lerner's hard drive crashed and was destroyed and back up tapes were overwritten after six months. At the time the emails were lost, Lerner was head of the IRS tax exempt division and House investigators believe she holds the key to establishing whether higher ranking administration officials were involved in the targeting."

[Um… - Washington Times: "[The IRS] put out word to contractors Monday that it needs help to destroy at least another 3,200 hard drives."]

HUGE HIKES AHEAD FOR OBAMACARE IN FLORIDA
Daily Caller: "Florida's largest health insurer is likely requesting rate hikes for Obamacare plans in 2015 due to 'tremendous financial pressure' in the health care exchange, the company's CEO said Monday. 'We will be under tremendous financial pressure initially, given the age, risk profile, and high utilization of the new membership,' Florida Blue CEO Patrick Geraghty told Kaiser Health News… Florida Blue hasn't released its premium proposals for 2015, but it has submitted a rate request to state regulators for approval. Humana proposed a 14.1 percent average hike for its Obamacare customers in HMO plans, while its PPO plans should expect a 2.2 percent average rate increase; Molina requested an 11.6 percent average decrease."

[No exit - Washington Free Beacon: "The Obamacare woes continue as an Oklahoma man spent three agonizing months trying to cancel his health insurance plan."]

WITH YOUR SECOND CUP OF COFFEE...
President Obama has come out in support of statehood for the District of Columbia, similar to the second-term stance of his predecessor Bill Clinton. The Founding Fathers took bits of land from Virginia and Maryland to create district, expressly excluded from statehood. Since then, areas across the Potomac have been given back to Virginia. So why even have a federal district at all? Because the founders sought powerful states, but they also feared the way powerful states might impinge on the federal government. The district was designed as a sanctuary from and for the states. James Madison wrote in Federalist 43 about the need he saw: "The public money expended on such places, and the public property deposited in them, requires that they should be exempt from the authority of the particular State. Nor would it be proper for the places on which the security of the entire Union may depend, to be in any degree dependent on a particular member of it."

Got a TIP from the RIGHT or LEFT? Email FoxNewsFirst@FOXNEWS.COM

POLL CHECK
Real Clear Politics Averages
Obama Job Approval: Approve – 42.3 percent//Disapprove – 52.2 percent
Direction of Country: Right Direction – 25.3 percent//Wrong Track – 64.3 percent
Generic Congressional Ballot:  Democrats – 41 percent// Republicans 39.8 percent

KINGSTON, PERDUE FINAL SHOWDOWN
It's been a long, bitter primary for the Peach State. Today GOP voters will head to the polls to decide if conservative Rep. Jack Kingston or Fortune 500 executive David Perdue will face Democratic candidate Michelle Nunn in the race to succeed retiring Sen. Saxby Chambliss, R-Ga. Issues got short shift in the highly personal campaign. Perdue, who finished first in the seven-way May 20 GOP primary, and runner-up Kingston have run multiple negative ads, with Purdue resting his candidacy in large part in calling members of Congress babies. There were two nasty debates and lots of barbs. Although Kingston leads in the polls, neither of the two won the highly populated counties around Atlanta in the first round, so Purdue will be pushing hard to turn out voters in more moderate suburbs in Fulton and Gwinnet counties.

[Polls close in Georgia at 7 p.m. ET. You can track the results with the Georgia Secretary of State and watch Fox for coverage of tonight's key runoff contest, online at FoxNews.com]

Can Kingston Handle it? - In the May 20 primary, former Georgia Secretary of State Karen Handel bested Kingston and Perdue in Atlanta metroplex and the northern part of the state on her way to a third-place finish. Her strong support for Kingston after the primary and frequent campaign appearances with the down-state congressman may translate to votes today. If Kingston wins, Handel will have not only have his gratitude but a great shot at statewide office in 2016, especially if Sen. Johnny Isakson , R-Ga., opts against seeking a third term at age 71.

Highwaymen - AP: "Both … Kingston of Savannah and …Perdue have been spending a major portion of their time and money wooing voters along the busy stretches of Interstates 75 and 85 just before they merge south of downtown Atlanta and then as they split off heading for north Georgia and some of the most Republican parts of the state."

Last minute efforts - WRBL: "Perdue spent the last day of his runoff campaign on a fly-around tour of the state, and greeted his Columbus supporters on one of his stops. Perdue has been on the road for two weeks with an RV tour, and he says he feels good about Election Day because Muscogee County voters agree with him on important issues. … Kingston agrees that Columbus is key to winning the state. He spent the day before the election on the campaign trail as well. He was in Columbus just last week, and talked about the proposed cuts to Fort Benning."

Eyes on November - Roll Call: "[A]n outside group focused on eradicating wasteful government spending launched a TV ad against Democratic nominee Michelle Nunn [today.] The group, Ending Spending Action Fund, spent more than $200,000 to produce and place the ad, according to an independent expenditure report filed Sunday with the Federal Election Commission. It also spent more than $28,000 on opposition research. The 30-second ad, which is running statewide and kicked off over the weekend, was timed to run just as either Rep. Jack Kingston or former corporate CEO David Perdue wins the Republican nomination and the general election officially begins… The spot ties Nunn to President Barack Obama and the Affordable Care Act, claims she supports higher taxes and criticizes her salary as CEO of the Points of Light Foundation. Nunn's ability to win crossover moderate Republican votes is critical to the Democrat's success."

TENNANT DUCKS, GOP QUACKING
Washington Examiner: "Natalie Tennant, West Virginia's secretary of state and Democratic Senate candidate, seems to have a problem answering tough questions. Questions like: Would you let President Obama campaign for you? Would you support Sen. Harry Reid, D-Nev., as Senate majority leader? And, would you have voted for Obamacare? On Sunday, Tennant wouldn't give a straight answer as to whether she would let Obama campaign for her in West Virginia, saying instead he would 'have a lot of explaining to do' regarding coal regulations. …When asked again about Obama campaigning for her, Tennant first said nothing (this could have been due to technical difficulties) but then said she would 'work with anyone who would put West Virginia forward.' Tennant also wouldn't say last week whether she would vote for Reid to continue as Senate majority leader. …' That is so far down the road,' Tennant said. 'And I don't answer to Harry Reid. And I don't answer to Barack Obama. It's not just about saying no.'"

DEMS RAMP UP ATTACKS WHILE ERNST ON GUARD DUTY
The Hill: "The Democratic Senatorial Campaign Committee is launching a major ad buy in Iowa, the latest sign of Democratic worries about holding retiring Sen. Tom Harkin's (D-Iowa) seat. The ad hits Iowa state Sen. Joni Ernst (R) on Social Security. 'What does Joni Ernst stand for? She's proposed privatizing Social Security, gambling our savings in the stock market. Experts say that could be a windfall for Wall Street but a wipeout for us,' the ad's narrator says. 'Joni Ernst: Her ideas are just too extreme for Iowa.'…Rep. Bruce Braley (D-Iowa) had been viewed as a front-runner early in the race, but has had some major stumbles, and polls show him neck-and-neck with Ernst. The DSCC's $515,000 statewide broadcast buy, which is scheduled to last two weeks, is the latest indication that the committee is concerned about the seat."

FORMER RIVAL NOW BACKS CASSIDY
Shreveport (La.) Times: "Republican U.S. Rep. Bill Cassidy has picked up support for his U.S. Senate campaign from a former GOP competitor. Rep. Paul Hollis, the St. Tammany Parish state lawmaker who recently dropped out of the race, announced Monday that he is endorsing Cassidy in the Nov. 4 election, instead of tea party favorite Rob Maness. Hollis issued a statement saying Cassidy will 'represent our conservative Louisiana values' in the Senate. Cassidy and Maness are trying to unseat Democrat incumbent Mary Landrieu, who is seeking a fourth term in office. Cassidy is running with support of the GOP establishment."

SULLIVAN TOUTS LOVE FOR ALASKA IN NEW AD
Alaska Dispatch News: "Dan Sullivan, the Republican primary candidate for U.S. Senate, released a new ad Sunday pushing back against attacks he's not Alaskan enough. The ad features Sullivan and his wife, Julie Fate Sullivan, talking about the pair's history in the state. At one point, Sullivan says: 'I love Alaska — this is my home.' Sullivan, who was born in Ohio and first moved to Alaska in 1997, has faced persistent attacks about his Alaska credentials from his two GOP primary rivals and from an independent group that supports incumbent Sen. Mark Begich, a Democrat."

SCHATZ GETS KEY ENDORSEMENT IN BITTER HAWAII PRIMARY
Sen. Brian Schatz, D-Hawaii, gained a key endorsement in his reelection campaign over his primary challenger Rep. Colleen Hanabusa, D-Hawaii. Although The Honolulu Star-Advertiser, the islands' best known newspaper, said the choice was "difficult," it threw its support behind Schatz because he will "advance a progressive agenda on the state's behalf." Schatz faces Hanabusa in the Aug. 9 Democratic primary election.

PICK SIX
The stakes are high for Democrats come November as they need to limit Republican gains in the Senate to five or fewer in order to retain control of the upper chamber. If the GOP can flip six seats from blue to red this year, the dynamics in Washington will change in a big way. Fox News First wants to know which six Democratic-held seats are most vulnerable. The current consensus among readers: Arkansas (13.6%), Louisiana (12%), Montana (11.7%), West Virginia (11%), South Dakota (10.5%) and North Carolina (10.3%).

Share your top six picks. Email them – just your top six, please – to FOXNEWSFIRST@FOXNEWS.COM or tweet @cstirewalt.

BLACK AND WHITE IS THE NEW ORANGE
Michigan Live: "If orange is the new black, as the popular TV show title says, then black-and-white stripes are the new orange at the Saginaw County Jail. The jail's all-orange jumpsuits increasingly are viewed as 'cool,' Saginaw County Sheriff William Federspiel says, prompting him to begin purchasing jumpsuits with horizontal black-and-white stripes for use inside the jail instead. The choice was not arbitrary, the sheriff says. 'It's because as you see shows on television, like 'Orange Is The New Black,' some people think it's cool to look like an inmate of the Saginaw County Jail with wearing all-orange jumpsuits out at the mall or in public,' Federspiel says, referring to the Netflix drama. 'It's a concern because we do have our inmates out sometimes doing work in the public, and I don't want anyone to confuse them or have them walk away. 'We decided that the black-and-white stripes would be the best way to go because it signifies 'jail inmate,' and I don't see people out there wanting to wear black-and-white stripes.'"

AND NOW A WORD FROM CHARLES…
"See how much coverage there is tomorrow in the papers of the fact that the U.N. which discovered 20 rockets in a U.N. school in Gaza and was forced to admit it after a delay of a day, do you know what it did to those rockets? It turned it back to the authorities. So it can now be used to kill Jews."–Charles Krauthammer on "Special Report with Bret Baier" Watch here.

Chris Stirewalt is digital politics editor for Fox News. Want FOX News First in your inbox every day? Sign up here.