Kavanaugh hearing protests continue as Capitol Police charge 69 demonstrators Thursday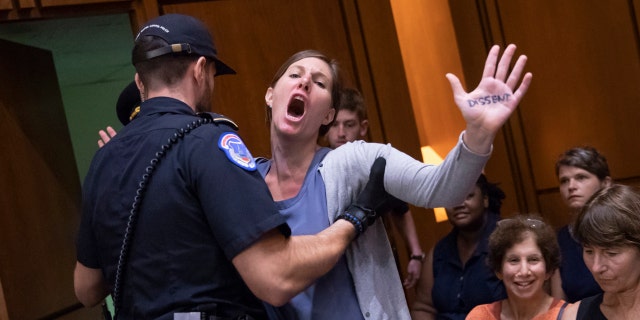 NEWYou can now listen to Fox News articles!
The third day of confirmation hearings for Supreme Court nominee Brett Kavanaugh brought more arrests and charges, after 69 people were removed from the Capitol.
U.S. Capitol Police said on Thursday that 37 people were removed from the Senate Judiciary Committee's room in the Hart Senate Office Building. They were all charged with disorderly conduct.
An additional 12 people were removed from outside the room for "participating in unlawful demonstration activities during a break." They were charged with crowding, obstructing or incommoding.
Another 19 people were removed from the Hart Building and face similar charges.
Capitol Police said that one male was arrested inside the hearing and charged with disorderly conduct, resisting arrest, simple assault and disruption of Congress.
This brings the total number of arrests since the start of the hearing to 74.
The protesters are part of a nationwide campaign to disrupt the confirmation process.
A broad coalition of activist groups, including abortion rights groups, gun control organizations and labor unions, has converged on Washington.
The demonstrators fear that Kavanaugh's confirmation would shift the Supreme Court's balance for years on issues like abortion rights, LGBT freedoms and gun control.
The Associated Press contributed to this report.