Kate Brown to make history as next Oregon governor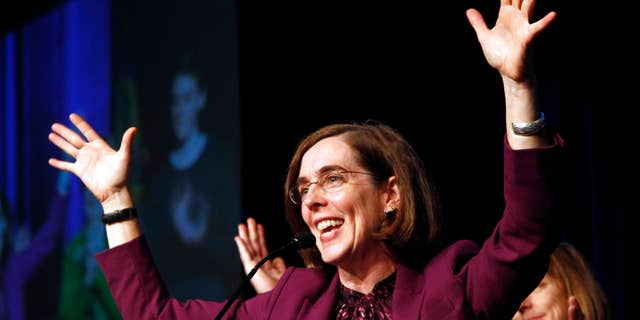 NEWYou can now listen to Fox News articles!
Embattled Oregon Gov. John Kitzhaber resigned Friday amid a mounting ethics scandal involving him and his fiancee. Next in line for the job is the secretary of state who will make history when she takes office.
Kate Brown will become the first U.S. governor to take office who has previously identified as bisexual. Brown has been married to her husband since 1997, but considers herself bisexual.
LGBT activists in the community feel Brown's position will have a huge impact on civil rights in the states. Brown said at a 2011 Gay and Lesbian Victory Fund brunch that having LGBT people in the office has a huge impact on state laws.
"I witnessed the difference it makes when our community not only has a seat at the table, but sits at the head of the leadership table," she said. "Because of my role as caucus leader to set the agenda, we were able to make civil rights and civil unions a priority."
Brown documented her sexuality in an essay for "Out and Elected in the USA." In the essay she wrote about telling her parents about her sexuality and how her gay friends called her "half-queer."
"Some days I feel like I have a foot in both worlds, yet never really belonging to either," Brown wrote.
Brown is not noted for making her bisexuality apart of her public identity.
Abigail Webb, an Oregon woman who identifies as gay, told The Oregonian Brown is "our out-bisexual person." Jeremiah Johnson, a local politician who has been openly bisexual since he was a teen, told the paper he didn't know Brown was bisexual before this week and he doesn't think it should be the focus around Brown.
Brown is not going to assume office until Wednesday. That is when Kitzhaber's resignation takes effect.
Prior to his resignation, the assumptions were Brown would be a top contender in 2018 to succeed him. Many believe the secretary of state has eyed the position for awhile.
Brown, a Minnesota native, came to Oregon to attend law school. She established a family law practice before her first run for the Legislature.
She was appointed to the Oregon House in 1991, when another Democrat left to take a new job, and was elected to two terms. She was then elected to the state Senate and in 2004 became the first woman to serve as majority leader.
At this stage, "it's fair to say people just don't know who she is," Ron Cease, a retired professor of political science and public administration at Portland State University who served in the Legislature with Brown said.
But, he added, Brown "cares about people. And there's nothing mean about her."
The Associated Press contributed to this report
Click for more from The Oregonian