Jimmy Carter statue in South Dakota vandalized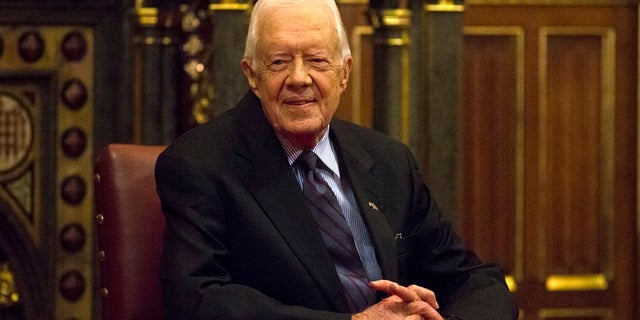 A bronze statue of former President Jimmy Carter in South Dakota was discovered vandalized on Tuesday, officials said.
The face of the statue, located in downtown Rapid City, SD, was spray-painted black, KOTA-TV reported.
JIMMY CARTER: MEDIA TOUGHER ON TRUMP THAN ANY OTHER PRESIDENT IN MEMORY
Dallerie Davis, the co-founder of the City of Presidents Foundation, told KOTA-TV she did not believe the graffiti was a hate crime. She said the statue would be easily fixed due to its durability.
"Actually, it's really quick and easy. Once we know, and the public is very good at letting us know right away when something is wrong," Davis said. "We contact a gentleman, Grant Standard, who has worked with the foundry and is very used to working with bronze. And, so within the very few minutes he can have the paint removed."
KOTA-TV reported the statue had been fixed as of Tuesday.