Jimmy Carter says Trump a 'disaster in human rights,' 'treating people equal'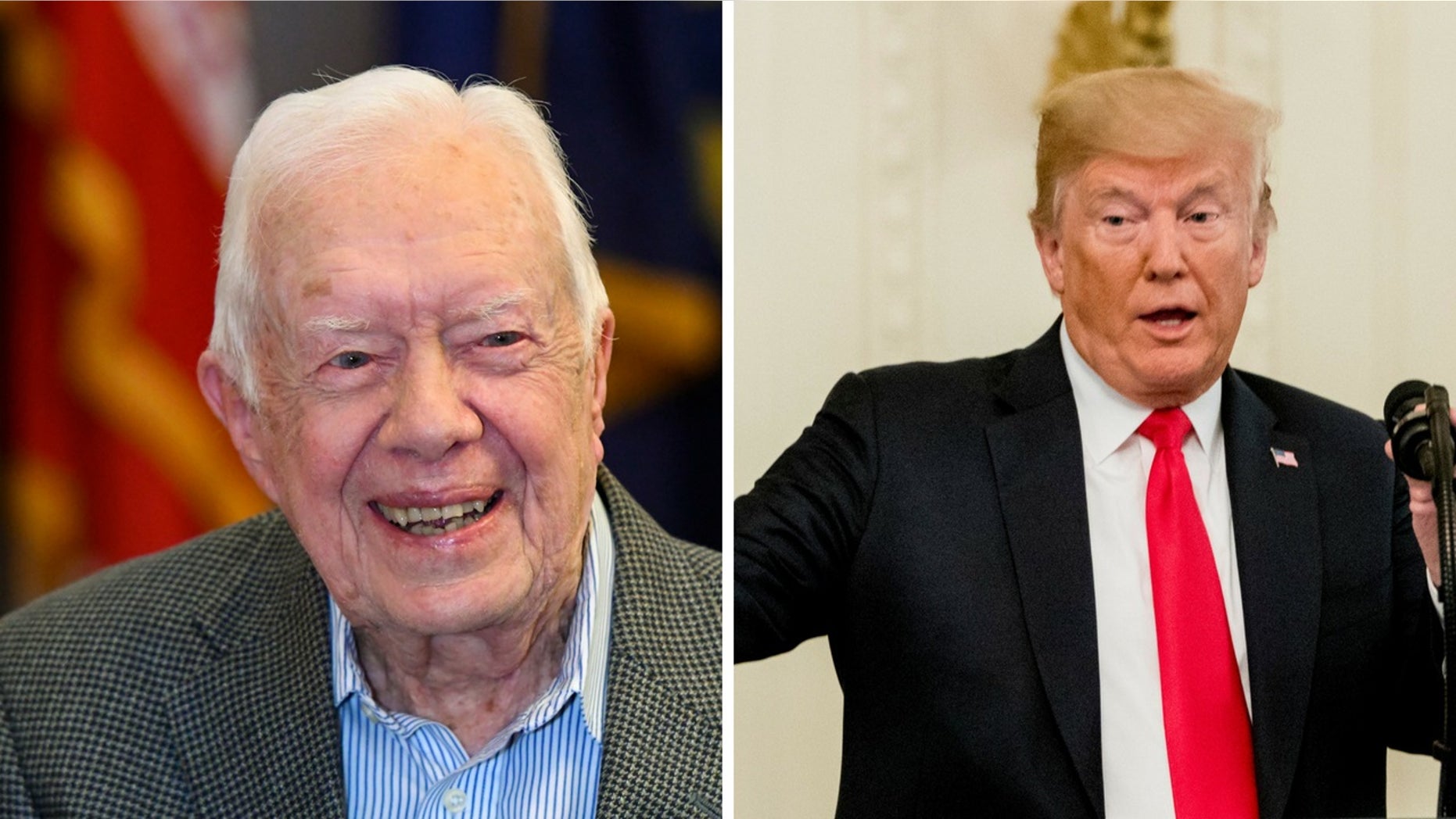 Former President Jimmy Carter has taken on President Trump, calling the current commander-in-chief a "disaster" on the issue of human rights in a Washington Post interview.
"I think he's a disaster," Carter, 93, said. "In human rights and taking care of people and treating people equal."
His wife, former first lady Rosalynn Carter, added that Trump is not truthful, which "hurts everything."
"The worst is that he is not telling the truth, and that just hurts everything," she said.
TRUMP RIPS COHEN FOR 'FLIPPING,' PRAISES MANAFORT IN EXCLUSIVE FNC INTERVIEW
Carter told the newspaper Aug. 17 that he "always told the truth" when he was president. He said he was taught by his father and while studying at the U.S. Naval Academy that "truthfulness matters."
"I think there's been an attitude of ignorance toward the truth by President Trump," he said.
Carter had earlier remained quiet on Trump but praised him recently for his efforts with North Korea and a peace treaty.
"If President Trump is successful in getting a peace treaty that's acceptable to both sides with North Korea, I think he certainly ought to be considered for the Nobel Peace Prize," the former president told Politico in May.
However, he did question Trump's character in the same interview.
"I think the president ought to tell the truth. I think the president ought to be for peace. I think the president ought to treat everybody equally. So, equality and peace and the truth, and I'd say basic justice are some of the moral values that I think every person should have," Carter said.
CHICAGO MAYOR FIRES BACK AT TRUMP AFTER PRESIDENT SLAMS CITY'S CRIME RATE, 'SANCTUARY' STATUS
Carter concluded his remarks about politics in the interview after discussing the Supreme Court's Citizens United decision, saying it "changed our political system from a democracy to an oligarchy. Money is now preeminent. I mean, it's just gone to hell now."
However, he said he had faith Americans would "return to what's right and what's wrong, and what's decent and what's indecent, and what's truthful and what's lies."
But, he added, "I doubt if it happens in my lifetime."
The interview followed Carter and his wife, who live a modest life in Plains, Ga., where the former commander-in-chief was born and raised. Following his presidency, he wrote books about his faith and career before starting the Carter Center. Carter also "costs U.S. taxpayers less than any other ex-president" in terms of allowances and office staff, the General Services Administration reported.