Iowa Tries to Stop 'Serious' Abuse of Handicapped Parking Permits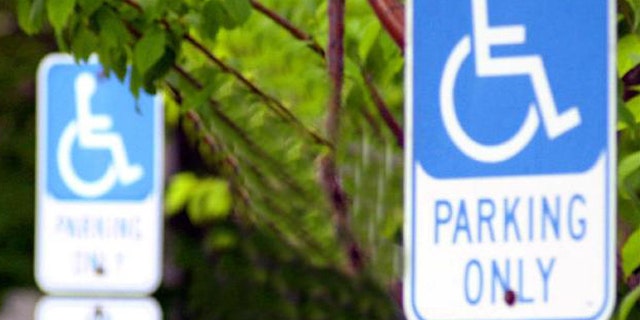 A peculiar thing was happening in Iowa. The handicapped parking spaces always seemed to be full.
So state Republican Rep. Dave Tjepkes, teaming up with another lawmaker, set about to figure out why. What they found stunned them.
Nearly a half-million parking permits were in circulation in Iowa, covering about 270,000 people. That's close to 10 percent of Iowa's population.
"The numbers kind of speak for themselves," Tjepkes said.
Claiming some Iowans are clearly abusing the system, Tjepkes and Democratic Rep. Jim Lykam have proposed a new bill to bring some order to the handicapped permit free-for-all. As it turns out, Iowa doesn't have much of a system for checking up on people who've been issued a permit.
So if a permit holder no longer needs it, or dies, that pass can stay in circulation forever.
The statewide statistics, released last month, effectively confirmed for Tjepkes stories about how people were holding on to parking permits long after the loved ones who used them died.
"The joke we have is they pass them down to the future generations," he said.
But for lawmakers and disability advocates, it's no laughing matter. Those who have heart conditions or respiratory problems, or who are confined to a wheelchair, need those parking spots.
Tjepkes' and Lykam's proposal, which recently passed out of committee in the House, would make all new handicapped permits valid for five years. At that point, they would have to be renewed.
The solution, though, doesn't solve the problem of the more than 460,000 permits floating around Iowa, not all of which are legitimate.
Iowa officials were worried it would cost too much money to require everyone to renew their permits. Just mailing out the notifications could cost the state more than $100,000, one lobbyist told a local newspaper.
Sylvia Piper, executive director of Disability Rights Iowa, expressed concern that the new proposal would "grandfather" in the old permits. She said she still thinks those permits should be "managed" better.
"We have serious violations of those spots for people who truly need to have those parking spaces available to them," she said.
Piper said she routinely monitors handicapped parking spots, confronting delivery truck drivers and people without permits who park in them. She said she hopes the legislative proposal makes a difference.
"It could be your mother. It could be your grandfather who is eventually going to need this," she said.
Tjepkes acknowledged the state can't claw back the questionable permits that may be out there. But by raising awareness about the problem, he hopes to guilt-trip any cheaters.
"Hopefully, their conscience will bother them to a degree that they will refrain from doing that," he said.