Iowa Congressman Makes No Apologies for His Comments About Obama Favoring Minorities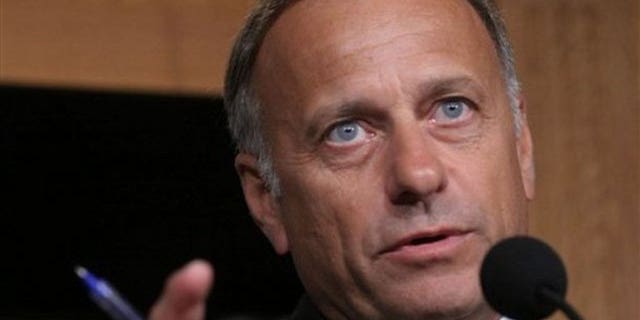 Iowa Rep. Steve King said he is performing a public service by accusing President Obama of favoring blacks over whites.
"I'm standing up against something that is or could become racism," King told FoxNews.com on Wednesday.
The Iowa Republican said he didn't misspeak when he told a nationally syndicated radio show on Monday that President Obama favors blacks over whites. King told the G. Gordon Liddy show that Obama and Attorney General Eric Holder repeatedly demonstrate an unjust preference toward minorities.
King told FoxNews.com that his comments alluded to a July 2009 incident in which a white police officer in Cambridge, Mass., arrested a black professor for disorderly conduct.
Before knowing all the facts, Obama said Sgt. James Crowley acted "stupidly" when he apprehended Harvard Prof. Henry Louis Gates Jr. outside his home. Obama later said he did not intend to malign the police offer -- and invited the two men to a "beer summit" at the White House -- but King claims his initial remarks showed a "built-in defense mechanism" that favors minorities.
King said Obama's first public statement on the incident "brought up race in the beginning" and "concluded with race."
The three-term congressman repeated his claim that Obama has "a default mechanism that breaks down on the side of the minority."
But King stopped short of calling the president a racist.
"I don't know if I want to go so far as to make that allegation," he said.
King went on to cite more recent remarks from Obama in which the president criticized Arizona's controversial immigration law by suggesting it could lead to racial profiling -- a concern held by the administration and most Democrats as well as civil rights groups fighting to repeal the legislation.
King also criticized Holder for embracing what he called a similar racial "bias," citing the Justice Department's decision to drop a 2008 voter intimidation case against the New Black Panther Party.
King's remarks Monday didn't sit well with members of his own party -- including Colorado Republican Cory Gardner, whose congressional campaign canceled a $100-a-plate fundraiser that was to feature King as its guest speaker. And King's upcoming appearance at a Tea Party rally in Loveland, Colo., was canceled after organizers got word of the comments.
Responding to the snub, King said the Tea Party movement needed a "spine" and said Gardner "simply caved in at the first sign of friction" without "bothering to call me."
Iowa Democrats also condemned the race remarks on Wednesday.
"This is a fairly typical rhetoric for Congressman King," said Norm Sterzenbach, Iowa Democratic Party Executive Director. "Once again, it'll be interesting to see if other prominent Iowa Republicans will denounce these statements."
"Where's the outrage in the Iowa Republican Party? Are they going to say something?" asked Sterzenbach.
Danielle Plogmann, communications director for the Republican Party of Iowa, declined comment when contacted by Fox News Wednesday. She referred all inquiries to King's office.
King, who is seeking a fourth term in the House, claims his remarks were "willfully distorted" by liberal blogs, which he says did not print a transcript of the interview in its entirety.
"I'm offended by Eric Holder and the president also, their posture," King told Liddy on Monday. "It looks like Eric Holder said that white people in America are cowards when it comes to race."
"The president has demonstrated that he has a default mechanism in him that breaks down the side of race on the side that favors the black person in the case of professor Gates and officer Crowley," he said. "That was, that was a case where he knew nothing about it…and concluded that the cop had operated on a race bias or a racist basis and then he ended up having to have a beer summit because of that."
Holder, however, did not suggest in his 2009 speech that whites are more cowardly than blacks when discussing race.
"Though this nation has proudly thought of itself as an ethnic melting pot," Holder said, "in things racial we have always been and I believe continue to be, in too many ways, essentially a nation of cowards."
Fox News' Steve Brown contributed to this report.