In Univision Forum, Mitt Romney Pressed on Immigration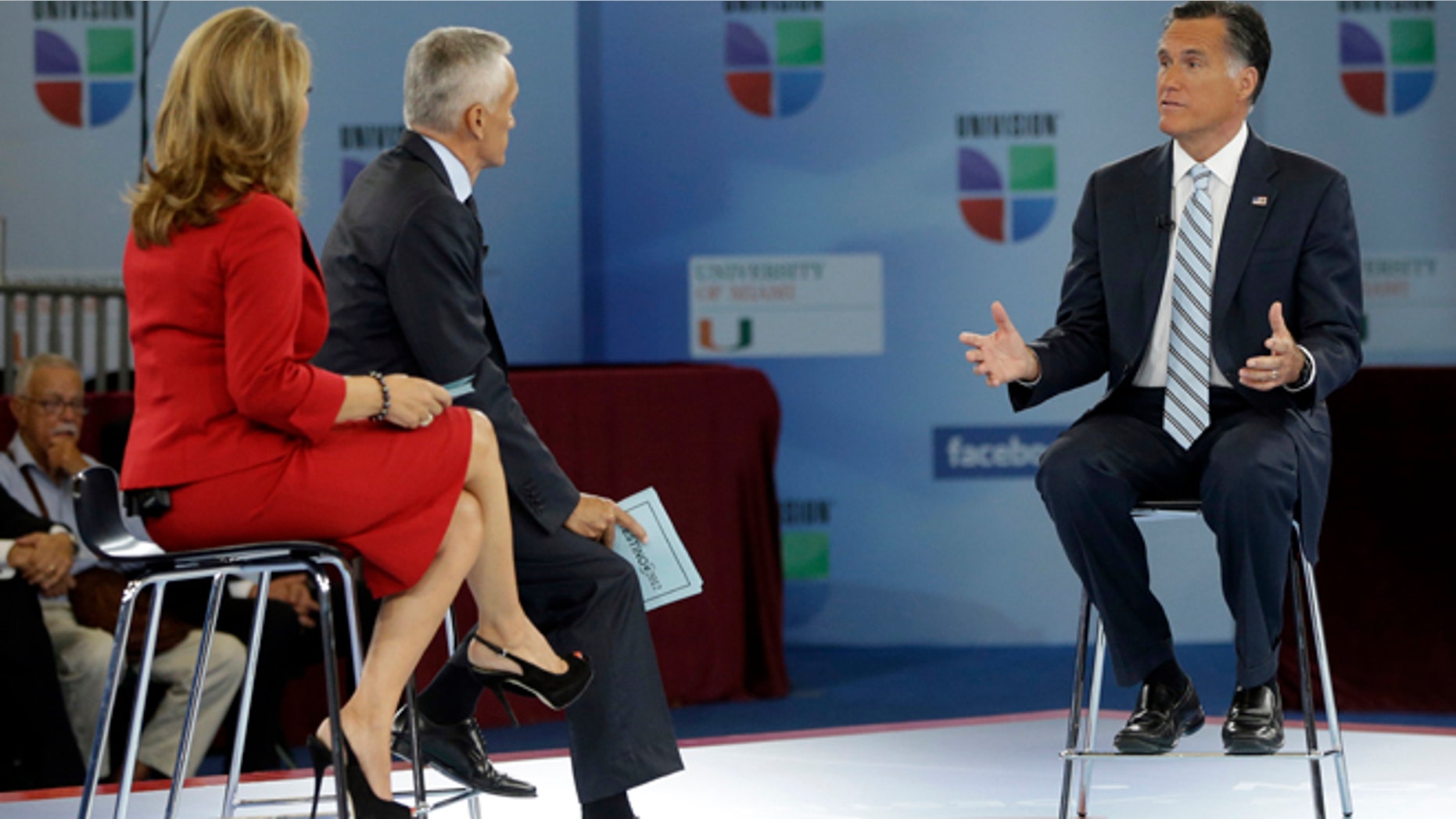 MIAMI – In a race to the presidency that could pivot on the Latino vote, Mitt Romney faced a largely Spanish-speaking audience Wednesday night in a forum focused on Latino issues and broadcast from Miami.
Univision veteran journalists Jorge Ramos and Maria Elena Salinas pressed the former Massachusetts governor for details to what he has vowed would be a permanent solution to the flawed immigration system.
But Romney, whose campaign has stumbled on the hot-potato topic of immigration, offered few details about certain aspects of his plans, despite the hosts' persistence. Romney was confronted by the hosts with the criticism that he has evaded the question about whether he would deport undocumented youth, or so called DREAMers.
"We're not going to round up 12 million people, that includes kids and parents, and have them all deported," Romney said.
Romney repeated his promise to offer a "permanent solution" to an immigration system that he said has "been broken for years." He said he would improve the legal immigration system so that people "don't have to hire lawyers," he would allow for temporary work visas, and give green cards to those who get advanced degrees in such disciplines as math, science and engineering.
Romney also assailed President Barack Obama's immigration record.
"He never tried to fix the immigration system," Romney said of the incumbent. "I will actually reform the immigration system and make it work for the people of America."
Romney was pressed three times on Obama's new policy of so-called "deferred action," which suspends deportation for undocumented immigrants under 31 years old who were brought as minors, have no criminal record, and meet other criteria. Romney would not give a yes or no answer on whether he would keep the program, which would allow those who qualify to obtain work permits and could benefit as many as 1.7 million undocumented immigrants, according to some analyses.
"These kids deserve something better than temporary they deserve a permanent position," Romney said, while reaffirming his support for offering permanent residency to undocumented immigrants who serve in the military.
He downplayed his support earlier in the year for policies that would promote "self-deportation" of undocumented immigrants, while suggesting he might favor legal status for young immigrants who serve in the military or pursue higher education.
"I'm not in favor of a deportation — mass deportation — effort, rounding up 12 million people and kicking them out of the country," Romney said. "I believe people make their own choices as to whether they want to go home, and that's what I mean by self-deportation."
Romney has previously pledged to veto the DREAM Act should it cross his desk. DREAM stands for Development, Relief and Education for Alien Minors.
Republicans have uniformly criticized Obama's policy, as well as previous administration decisions to stop deporting many undocumented immigrants who do not have criminal records or otherwise pose no threat to national security or public safety.
But Romney said that U.S. Sen. Marco Rubio's version of the DREAM Act proposal could be apart of his "permanent solution." Rubio's plan called for allowing undocumented immigrants who graduated from high school and have no criminal record to obtain a nonimmigrant visa. They could stay in the United States, obtain a drivers' license and work or continue their studies, but would have no special path to citizenship.
The plan closely mirrors the failed DREAM Act, a bill that would have provided a path to legalization for many of the same immigrants expected to benefit from the government's deferred action policy. The deferred aciton program, however, does not provide legal status for the immigrants.
The Republican nominee later declared that the GOP "is the natural home for Hispanic Americans because this is the party of opportunity and hope."
The focus on the growing U.S. Hispanic population comes with the election less than seven weeks away. While polls suggest the race is very close, according to an exclusive Fox News Latino poll Latinos favor Obama over Romney by a margin of two-to-one, 60 percent to 30 percent.
The presidential candidate was again forced to reiterate his commitment to all Americans following the release of remarks secretly captured on video in which he said, as a candidate, "my job is not to worry about" the 47 percent of Americans who don't pay income taxes and believe they are "victims" entitled to government help.
"My campaign is about the 100 percent in America," Romney said at the forum.
Obama's allies are working to prevent Romney from gaining ground with Hispanics.
The liberal group MoveOn.org was to begin running ads in three swing states — Florida, Colorado and Nevada — on Thursday seizing on Romney's suggestion, captured by the same secret camera, that his political prospects would improve if he had Latino parents.
Romney repeatedly made clear he was joking.
At the same time, a new GOP-aligned group called the Libre Initiative plans to air Spanish-language ads in Florida, Virginia, New Mexico, Nevada, Colorado and North Carolina.
"We're not laughing, Gov. Romney," a MoveOn member says in the ad. "Because regardless of race a presidential candidate who has such contempt for Latinos would never deserve our support."
Obama's campaign has more than doubled Romney's spending on Hispanic-focused television ads so far — approximately $6.4 million from Obama to Romney's $2.9 million.
The president will speak Thursday at the same Univision forum, where the Democratic incumbent was expected to face difficult questions about the strength of the nation's economy and his unfulfilled pledge to overhaul the nation's immigration system.
Based on reporting by the Associated Press.
Follow us on twitter.com/foxnewslatino
Like us at facebook.com/foxnewslatino