In toughest race yet, Arpaio fights to remain 'America's toughest sheriff'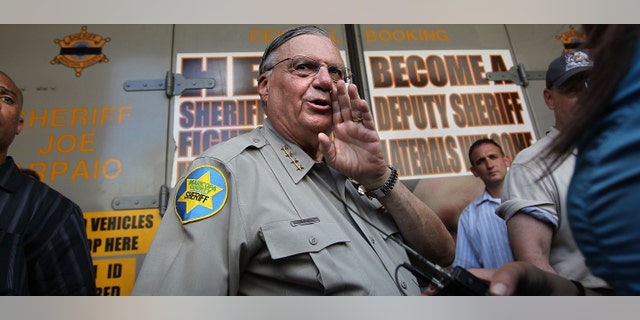 The sheriff who proudly proclaimed himself "America's toughest" is now facing the toughest race for election.
Maricopa County Sheriff Joe Arpaio is trailing his challenger, Democrat Paul Penzone, by 15 points.
Penzone, who was a Phoenix police officer for about 20 years, gave Arpaio stiff competition when he ran against him in 2012, finishing just six points behind the sheriff. Arpaio is vying for a seventh term.
Now, a new poll shows Penzone ahead of Arpaio, 46 to 31 percent, according to The Hill, which cited an Arizona Republic/Morrison/Cronkite News survey that was made public on Thursday.
Arpaio, 84, became a poster figure of sorts for local officials fed up with the ripple effects of illegal immigration.
He has been a flamboyant enforcer against undocumented immigrants, cracking down on them through raids on businesses that hire Latinos and arresting the workers. His officers have stopped cars driven by Latinos, or in which Latinos were passengers, and checked their identification, which has been denounced as profiling by federal authorities and civil rights groups.
Recently, the U.S. Justice Department announced plans to charge Arpaio for ignoring a judge's order to stop the signature immigration patrols that helped make him a national political figure.
The order was issued in a racial profiling case that Arpaio lost three years ago in which he was found to have violated the civil rights of Latinos.
The U.S. Justice Department also is conducting an obstruction-of-justice investigation into Arpaio's defiance of a court order to turn over 50 hard drives in a secret investigation that critics say aimed to discredit the judge in the racial profiling case.
Arpaio also is believed to be adversely affected by controversial GOP presidential nominee Donald Trump, whom the sheriff endorsed.
Forty-four percent of registered voters responding to the Thursday poll opposed Trump's support building a wall along the U.S.-Mexico border. Thirteen percent support the idea, which has been championed by Arpaio.
An Arizona Republic/Morison/Cronkite News poll also from this week showed that in Arizona, which has not supported a Democrat for president in 20 years, now favors Clinton by five points.
Arpaio's campaign manager balked at the poll results.
"[It] doesn't make any sense whatsoever to anybody who knows anything about politics and campaigns in Maricopa County," said Chad Willems to the Hill.
"It is so screwed up it's not worth the paper it's printed on, with all due respect," Willems said.
He predicted that his candidate will win his seventh term by a landslide.
Like us on Facebook