In departure from his family, George P. Bush urges Texans to back Donald Trump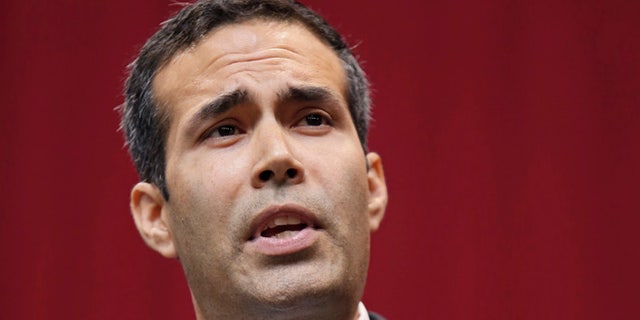 NEWYou can now listen to Fox News articles!
Nearly two months after telling a newspaper that he was not endorsing Donald Trump because of the then-presumptive GOP nominee's divisive campaign, George P. Bush urged his fellow Texas Republicans to get behind the billionaire in the interest of party unity.
It's quite a change from his June comments to the Austin-American Statesman, when Bush told the newspaper that he might not even vote for Trump.
On Saturday, however, Bush, the son of former presidential candidate Jeb Bush and chairman of the Texas GOP Victory Fund, told fellow Republicans that as hard as it might be, they should accept and support Trump in order to make sure Democratic nominee Hillary Clinton does not win in the Nov. 8 presidential election, according to a YouTube clip of the event.
He is the first of the Bush political dynasty to publicly speak in support of Trump, though his statements were not an outright endorsement and, if anything, exuded resignation. His father, Jeb Bush, has said in no uncertain terms that he would not endorse, or even vote for, Trump.
And former President George W. Bush as well as his and Jeb's father, former President George H.W. Bush, have refused to endorse Trump and, like the rest of the prominent members of the family, skipped the Republican National Convention in Cleveland last month.
"I know a lot of us in this room had dogs in the fight of the primary, leading up to the race. But you know what? It's time to put it aside," George P. Bush said at the Saturday GOP event. "From Team Bush, it's a bitter pill to swallow, but you know what? You get back up and you help the man that won, and you make sure that we stop Hillary Clinton."
That is a marked changed from just a few weeks ago, when George P. Bush, who is Texas land commissioner, was quoted by the Statesman as saying: "I, along with others, are not in a position to endorse at this time because of concerns about his rhetoric and his inability to create a campaign that brings people together."
Asked about the contention by some Republicans that as the state GOP Victory Fund chairman, it was incumbent upon him to drum up support for Trump, George P. Bush said that was not necessarily accurate.
"My job is pretty simple as it relates to our game plan as of right now," he told the American-Statesman. "The focus is on one congressional race and eight state House races. In large part we are isolated from the national political landscape, and that's honestly where I prefer to be."
George P. Bush's brother, Jeb Bush Jr., is still opposing Trump. Jeb Jr. was still posting anti-Trump tweets on Monday.
The victory fund George P. Bush heads oversees GOP campaigns in statewide races. Some had criticized Bush for not endorsing Trump at the same time he accepted the chairmanship of the organization, according to The Hill.
Like us on Facebook
Follow us on Twitter & Instagram