Immigration, Social Security on the minds of Indiana voters on primary day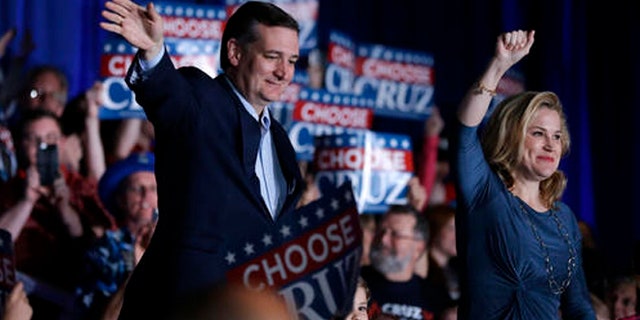 NEWYou can now listen to Fox News articles!
INDIANAPOLIS (AP) – Voters in Indiana are in the spotlight in a big way. That's because the delegate math going into Tuesday's primary means Indiana represents one of U.S. Sen. Ted Cruz's last chances to stop Donald Trump's march to the 1,237 delegates the billionaire businessman needs to clinch the GOP nomination outright and avoid a contested convention.
The stakes are not as high on the Democratic side. Former Secretary of State Hillary Clinton already has a commanding lead in the delegate race. It's not impossible for Vermont Sen. Bernie Sanders to catch up, but Indiana could make it much harder.
Here's a look at what some voters had to say:
___
Roger Willett said he did not have to think long when he cast his ballot Tuesday in Covington on western Indiana. The 51-year-old Republican said he has been a Donald Trump supporter since the businessman's campaign began.
Willett said he's tired of voting for career politicians. He called Trump "a working man, for us."
Willett works as a driver escorting oversize truck loads and complained that the economy in rural western Indiana offers few prospects, particularly for people just getting out of school.
But beyond the economy, Willett backs Trump for his stance on immigration and believes Trump will work effectively to fight terrorism.
___
Tony Coleman said his favored candidate will not win the Republican nomination but he voted for him anyway.
Coleman said he voted for Ohio Gov. John Kasich on principle because he believes that in November he will have to choose between "the lesser of two evils," no matter who is on the ballot.
Coleman voted in Covington in western Indiana, where the 51-year-old is an elementary school principal.
The tone of the campaign has been characterized by "vileness" in the way Donald Trump and Ted Cruz have talked about each other that dismays Coleman.
And Coleman believes that nasty tone has become the focus at the expense of a discussion about real issues.
___
Judy Hite, a 76-year-old longtime Republican who is retired from a job at the Marshall County auditor's office, said she voted for Trump because he's not part of the establishment and "has some good ideas about how to clean up some of the messes the Democrats have made."
In particular, she likes his pledges to deport those living in the U.S. illegally and to take action against companies that move jobs overseas.
She's not a fan of some of the rhetoric the billionaire tosses around on the campaign trail.
"But he gets the attention of the public," she acknowledged after voting in South Bend. "I guess that's what it's all about. I'm optimistic."
___
Robert Allen's father snapped a picture as the Purdue University freshman walked out of a polling station at the Allisonville Christian Church in Indianapolis after voting for the first time.
The 18-year-old returned from campus just to vote, and his parents were planning to drive him more than an hour and a half back to school so he could take a final exam that afternoon.
The electrical engineering major and Air Force ROTC cadet voted for Cruz, saying he liked the candidate's stance on immigration and his push to protect religious freedom.
"I really agreed with and liked his policies and what he stood for," Allen said.
___
Elaine Clark, a 57-year-old stress management trainer, lined up early to vote at the same polling station. The church's parking lot was full of cars and dozens of people were inside ready to vote shortly after polls opened at 6 a.m.
Clark voted for Trump. She said she was drawn to his business success and was "excited to try a non-politician for once."
"For years we've seen what the politicians do," she said. "Our economy's a wreck, we're just a mess."
Clark predicted that Trump would easily win Indiana's GOP presidential primary.
"He's going to kick butt," she said.
___
Lorraine Gallogy, 79, said she supports Cruz because he has strong conservative values and hasn't flip-flopped on issues. Helping seal the deal, she said, was Cruz's unusually early announcement that he'd already chosen a running mate: former Hewlett Packard executive Carly Fiorina, who had also been a candidate.
The Indianapolis resident said she doesn't dislike Trump but thinks he "actually spoiled the whole Republican operation" and knocked out some good candidates.
"Trump came in like a bully and blew everybody out, just took over the room, and the media let him," she said.
"I just think we are a nation now that loves celebrities more than we really look at what our needs are ... and Trump played that to the hilt," said the retired grandmother of seven.
___
Ben Swisher, 41, of Indianapolis stopped at the Broad Ripple Park Family Center in Indianapolis to vote on his way to work as a warehouse manager at Bicycle Garage of Indy.
He voted for Sanders, he said, because the senator from Vermont hasn't taken a lot of money from big corporations.
"I've found that a lot of the decisions the government has made in the last several years ... have been based on what would benefit a large corporation and not the American people in general," he said.
___
Earlene Langworthy, a 68-year-old retired office manager and minister voting in South Bend, said she voted for Clinton because she stands for women's issues.
"She's a very strong woman and a woman of courage," she said. "I admire her for being courageous in a battle because everybody doesn't want to vote for a woman to be in power. But I think she has a great mind and she deserves to be president."
Langworthy said she's concerned about whether Social Security will last and the challenges older Americans face in trying to get jobs.
"A lot of seniors like to work and we like jobs and we don't mind training for a second career even though we're older," said Langworthy, who has thought about pursuing a job in daycare.
"I really think our children need a lot of help and our children are going through a great deal," she said. "I think we need to spend a lot of time encouraging them to study, to stay in school, because there are so many challenges they are facing."
Like us on Facebook
Follow us on Twitter & Instagram