If Republicans win control of the Senate, the future of Marco Rubio, Ted Cruz may shine bright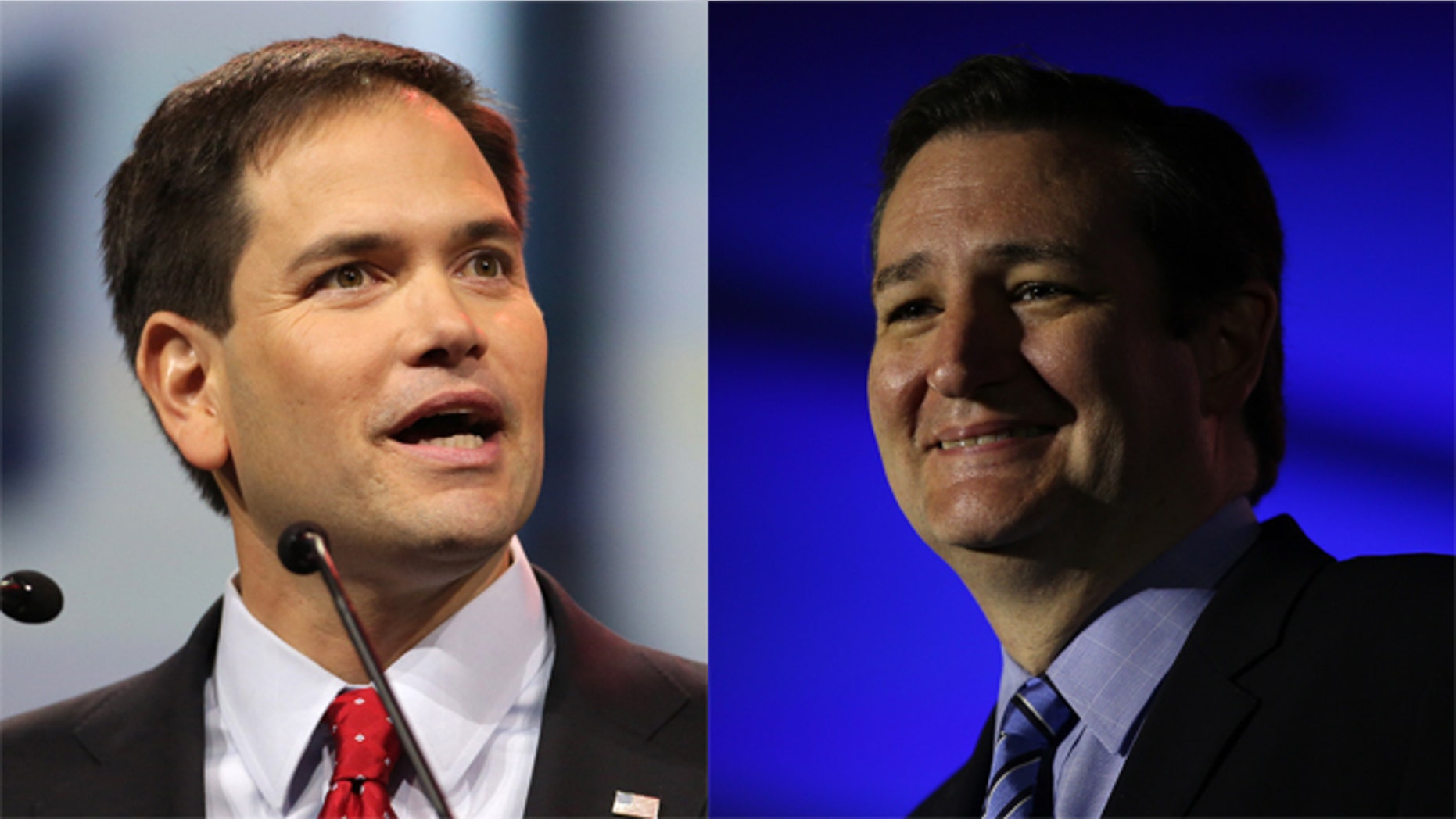 In an effort to keep their 2016 presidential hopes alive and set a Republican agenda over the next two years, GOP senators Marco Rubio and Ted Cruz have been on the road over the past few weeks stumping for fellow Republican candidates.
With the chance of the GOP taking control of the Senate and Kentucky's Mitch McConnell possibly taking the majority leader spot from Democrat Harry Reid, Marco Rubio and Ted Cruz have hit the campaign trail for not only Senate candidates but House hopefuls, incumbent governors and even local legislators.
For Rubio and Cruz, the added bonus of a Republican landslide would be that they could outline their own legislative paths with little opposition from opposing Democrats - allowing them to both put in place legislation that can only be vetoed by President Barack Obama and permitting them to smoothly set-up their presidential campaigns.
The senators' cross-country trips have taken Cruz to Alaska to campaign for Dan Sullivan in his bid to oust Democratic Sen. Mark Begich and placed Rubio in Iowa where he joined Republican candidate Joni Ernst in a race that is seen as a major marker to the GOPs chances of taking the Senate. Rubio has also travelled to another key presidential election state when he stopped in New Hampshire to help moderate Scott Brown and Marilinda Garcia, a conservative House candidate.
Rubio and Cruz have also appeared on many television screens across the country with Rubio's PAC putting out ads for Senate candidates in Iowa, Colorado and Arkansas, and Cruz making appearances fundraising solicitations for the NRSC and House Republicans' campaign arm.
The Senate is seen as the big prize in this year's midterm election with Republicans expressing optimism about their overall chances to win control of the Senate and Democrats countering that a costly get-out-the-vote program to encourage millions of blacks, young voters and women to vote could save their majority.
The spreading popularity of early voting produced the equivalent of an election within an election.
Early voting topped 18 million ballots in 32 states, and both parties seized on the number as evidence of their own strength.
There was little suspense about House races, beyond the size of the new Republican majority. A gain of 13 seats would give the GOP its largest representation since it stood at 246 in 1946.
All 435 House seats were on Tuesday's ballot. Democrats concentrated on protecting their incumbents, a strategy that meant tacitly conceding races in Utah, New York and North Carolina where retirements created opportunities for Republicans to pad their majority.
The Associated Press contributed to this report.
Follow us on twitter.com/foxnewslatino
Like us at facebook.com/foxnewslatino