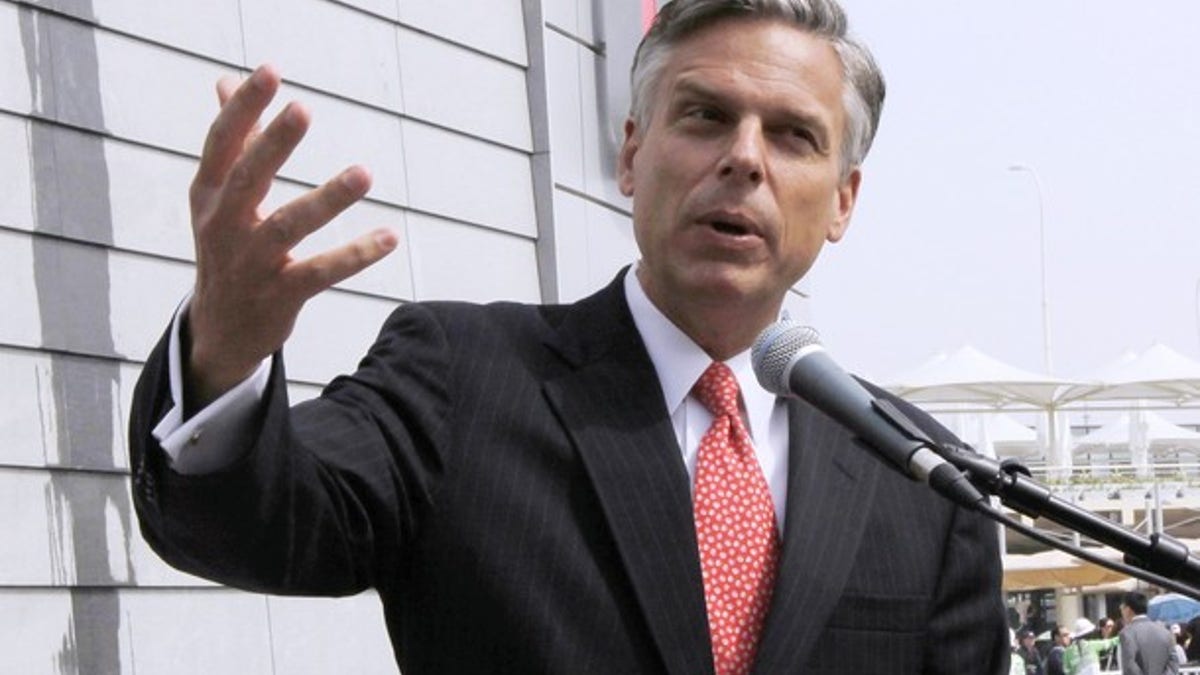 Conservatives who dominate the Republican presidential nomination contests will applaud parts of Jon Huntsman's five-year record as Utah governor: a statewide flat tax, business incentives and private school vouchers.
They're likely to cringe at others, including his support of cap and trade as a response to climate change, his backing of civil unions for gay couples, and his support for in-state tuition for illegal immigrants.
As he moves forward with a probable presidential run, Huntsman's record in one of the country's most Republican states presents him with a challenge: He must strike a balance between emphasizing the fiscally conservative policies likely to attract GOP primary voters and explaining others certain to repel them.
It's something Huntsman has been trying to do in the month since he returned to the United States after serving as President Barack Obama's ambassador to China. He's spent the past few weeks visiting early-voting states like New Hampshire and South Carolina, and testing his campaign message.
He was returning to Utah this weekend for the first time since resigning his ambassadorship, a visit that will include attending his son's high school graduation and a ceremony featuring the unveiling of his gubernatorial portrait.
Huntsman was elected Utah's governor in 2004 and served until Obama appointed him as ambassador in 2009.
During his tenure, the governor put together a conservative economic record, the heart of which was a mostly successful effort to overhaul Utah's tax code to make it more modern and encourage business investment.
"This can truly serve as an economic development tool to encourage entrepreneurs to keep their businesses located in our state and reinvest their capital time and time again," Huntsman said in 2005 during his first State of the State speech.
Two years later, he accomplished those reforms. They included a new flat state income tax of about 5 percent, a reduction of the sales tax on unprocessed food from 4.75 percent to 1.75 percent, and nearly $30 million in tax credits for industries such as renewable energy development and mining.
Huntsman had to set aside his desire to eliminate the 5 percent corporate income tax. Still, Republican leaders hailed the package as historic and generally credited Huntsman for leading the effort.
Also in 2007, Huntsman signed a bill providing a tuition voucher for up to $3,000 for private-school students. Although the law was overturned by a referendum one year later, it was one of the first state voucher programs in the country.
"Clearly, he's a Republican who is conservative," said GOP Gov. Gary Herbert, who succeeded Huntsman. "He cut taxes and reformed the code. A lot of people wish we had more conservatives like that."
Then there are the not-so-conservative parts of Huntsman's record.
As governor, he took heat for his involvement in a program aimed at reducing carbon emissions. The Western Climate Initiative, which included six states and three Canadian provinces, had a cap-a-trade provision and encouraged fuel-efficient vehicles, renewable energy use and energy conservation.
Facing criticism, Huntsman defended his actions as true to the Republican legacy.
"The Republican values I'm speaking to are right out of ... Teddy Roosevelt's playbook. He taught us all to revere our land, to leave a legacy ... to the next generation," he said in 2008. "I'm also doing a very Republican thing to incentivize and develop technologies that are going to fuel our economy."
But now, as he eyes the GOP nomination, Huntsman is backing away from the cap-and-trade component by arguing that it hurts job growth. He still, however, defers to the majority of scientists who claim global warming is caused by humans, an unpopular opinion among many Republicans.
Beyond tackling carbon emissions, Huntsman also pushed for money to preserve open space and farmlands, fought efforts to store nuclear waste in Utah, and vetoed a bill requiring environmental groups to post a bond if they file a lawsuit to stop a project.
On social issues, Huntsman the governor backed bills providing civil rights protections to gays and lesbians, and threatened to veto a measure repealing in-state college tuition for the children of illegal immigrants.
Neither measure passed the Legislature during his time in office; the tuition law was passed two years before he came into office, and civil unions have never been seriously debated.
As governor, Huntsman targeted some of Utah's quirky liquor laws, such as making people buy memberships to drink in a bar and limiting cocktails to 1 ounce of alcohol, even though, as a Mormon, he doesn't drink alcohol himself. Many lawmakers opposed those changes, but Huntsman recognized that the state's reputation as a difficult place to find a drink was hurting tourism and business development. He successfully pushed the GOP-controlled Legislature to change the law.
Said University of Utah political professor Matthew Burbank: "It showed he was willing to push for something even if he knew the Legislature didn't support it."