Huntsman Picks Important Swing State as Home Base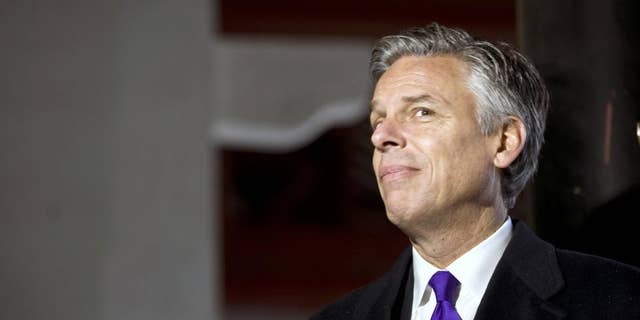 NEWYou can now listen to Fox News articles!
If Jon Huntsman Jr. decides to seek the Republican nomination for president, he's got his eye on the Sunshine State for an operational home base. The Huntsman team is considering Orlando for its campaign headquarters. "I can confirm that should he decide to run, it is likely where the campaign will be based," an aide tells Fox News on background. "Mary Kaye (Huntsman's wife) grew up in the area. Florida will play a big role in (the) primary and general election."
Assistant Professor Christopher Mann with the University of Miami's Department of Political Science says presidential campaigns are normally based in the candidate's home state or Washington D.C. area, so this is an extremely unusual move. "I think there may be cynics who say he wants to disassociate from Utah ... Huntsman is potentially trying to signal something by not being based in Utah and getting away from potential stereotypes of being a Mormon candidate."
Florida is considered a crucial swing state. In 2008, the Florida primary made John McCain the front-runner on the Republican side. With 29 electoral votes, it's tied with New York after California and Texas. Mann points out Florida, "doesn't have favorite son type of candidate in it." Strategically, "Huntsman may be betting that because he will be well funded and focused on Florida, he can make it difficult for those candidates to continue on or force them to spread themselves too thin." He adds that by making Florida even more relevant with the headquarters placement, Huntsman could pick up some new friends and endorsements.
Fox News has also confirmed that a former aide to former Florida Gov. Jeb Bush Nikki Jerger Lowrey, will be the state campaign director. Huntsman's "inner circle" also includes Susan Wiles, a longtime Florida operative.
Thursday Huntsman kicks off his first trip to New Hampshire since forming HPAC, which allows Huntsman to pay for staff and travel while he considers a run for the White House. The tour of the Granite State includes four house parties, two VFW speeches, photo-op's at a country store and gun store, two county-level GOP meetings, plus the Southern New Hampshire Commencement Speech. One of the events is with the Winnipesaukee GOP in Wolfeboro which, interestingly, is Mitt Romney territory. The party rival and former governor of Massachusetts has a summer home there.
Party insider Peter Spaulding, who has been working to prepare for a possible Huntsman candidacy, emphasizes the importance of "retail politics" in New Hampshire. He says they're trying to get as much exposure as possible to the people of New Hampshire during the trip. "We've been running with a handicap, because we've had a candidate who's been halfway around world for several months and not officially a candidate... so we're making up for it."
Spaulding says he's gotten a number of calls from people very interested in meeting the former governor of Utah, "...there are a very large number of undecided activists, not just voters, but the political activists are pretty much undecided. So I think they're looking fresh new face and we're ready to go."
New to the New Hampshire schedule, a meeting has been set up with Ovide Lamontagne, who is influential among social conservatives. Lamontagne capitalized on Tea Party support to nearly beat Sen. Kelly Ayotte in the Republican Senate primary last year.
Fox News Channel researcher Steve Carlson and Field Producer Serafin Gomez contributed to this report.