House Panel to Weigh Subpoena Authority in 'Fast and Furious' Gun Case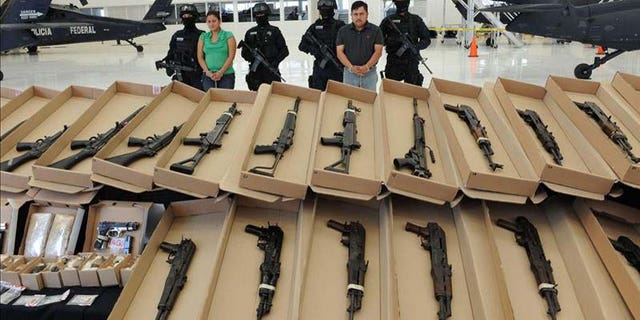 NEWYou can now listen to Fox News articles!
Since Watergate, Congress has held just 12 senior U.S. government officials in contempt for failure to produce subpoenaed documents. On Monday, that process begins again.
A hearing in the House Oversight and Government Reform Committee is laying the groundwork to compel U.S. Attorney General Eric Holder and the head of the Bureau of Alcohol, Tobacco, Firearms and Explosives to turn over documents related to "Operation Fast and Furious," a secret Obama administration program that put thousands of guns into the hands of Mexican drug cartels.
Fast and Furious aimed to track gun sales to Mexico, allegedly, say critics of the program, to build up evidence to publicly blame cartel violence on U.S. gun store owners and lax American gun laws.
In the past two months, the Department of Justice, on behalf of ATF, has ignored subpoenas and seven letters demanding details of the program. It has refused to provide a single document to the oversight committee, according to chairman Darrell Issa.
"Now the question is will DOJ give us the documents or will law enforcement officials, little by little, as whistleblowers give us what we want to show this problem goes to the highest levels," said Issa, R-Calif. "What we would like to do is get the truth out quickly, that it's the judgment of the people involved that Congress needs to question."
Legal experts say Monday's hearing is one step in a long process. Testimony will focus on the almost unlimited subpoena powers given to the legislative branch when it comes to government oversight.
"There is no special status under the law for the Department of Justice. The attorney general is an important member of the Cabinet, but he is no different than any other agency chief. He, too, is subject to congressional oversight," Steve Ross, formerly the top lawyer for the House of Representatives, told Fox News.
Until now, the Justice Department has taken the position that House and Senate investigators are not entitled to the documents because it may jeopardize an ongoing investigation. It also claims the ATF, under Director Ken Melson, never sanctioned or otherwise knowingly allowed the sale of assault weapons to straw buyers despite evidence to the contrary.
One of the documents that exposed the operation shows ATF officials knowingly allowed the sale of 1,318 guns to 15 suspects after they had been positively identified as gun smugglers. A majority of those guns went south of the border and only about 250 have been recovered in the U.S. by police at crime scenes.
Mexican officials say at least 150 Mexicans have been shot by guns obtained through the "Fast and Furious" program.
"When you look at least 2,000 rifles of choice going into Mexico, 150 seems like a very reasonable number, if it is not higher than that already it will be in time," Issa said.
While Monday's hearing will focus on administration stonewalling, a second hearing on Wednesday will include family members of murdered Border Patrol Agent Brian Terry and three ATF agents who blew the whistle on the operation.
They have told Fox News that ATF ordered and encouraged law-abiding gun shop owners to sell weapons to buyers knowing those guns would be smuggled to Mexico.