House and Senate Have Ways to Go Before Health Insurance Deal is Done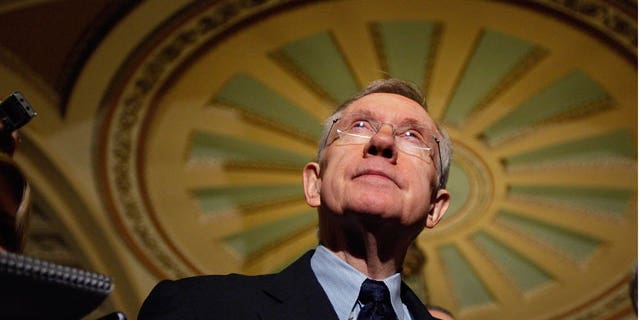 Thursday's vote for a massive health insurance overhaul was a legislative victory for Democrats whose faces lit up after the morning roll call with a sense of accomplishment as well as a rush to get home in time for Christmas.
But lawmakers will face several challenges ahead before wrapping up the bill that seeks to mandate coverage for 30 million Americans.
Several variables separate the House version, which passed in November with the support of one Republican, and the Senate bill, which received no GOP support in Thursday's Christmas eve 60-39 vote.
Republicans are effectively shut out of the negotiations as House and Senate Democrats now must hammer out starkly different ideas on the type of coverage that the government should insist be provided.
President Obama urged them to move fleetingly.
"Having passed reform bills in both the House and the Senate, we now have to take up the last and most important step and reach an agreement on a final reform bill that I can sign into law," the president said in remarks following the vote.
"With today's vote, we are now incredibly close to making health insurance reform a reality in this country, our challenge then is to finish the job," he continued.
As senators and their staffs piled out of the Capitol building following the vote -- Sens. Patty Murray and Tom Harkin and others did not stay long enough to join Democratic leaders addressing the press -- House Speaker Nancy Pelosi congratulated Senate Majority Leader Harry Reid for ushering through the mammoth bill.
"I commend Senator Reid for his strong leadership in passing this bill, which takes a critical step on behalf of the health and security of all Americans," Pelosi said.
And the three chairman who shepherded the legislation through the House -- Reps. Henry Waxman, Charles Rangel and George Miller -- issued a joint statement recognizing the broad areas of agreement.
"Both bills will make unprecedented reforms to the insurance industry to hold insurers accountable and protect consumers from delays or denials of care based on pre-existing conditions, from rescissions, and from exorbitant out-of-pocket expenses that bankrupt far too many Americans. Both bills will protect and expand peoples' choices of doctors and health plans. And both bills will offer relief to small businesses getting crushed by spiraling health costs," they said.
Pelosi described the House bill as one that covers 36 million uninsured Americans, begins health insurance reform in 2013, closes the prescription drug donut hole for seniors and cuts the deficit by $138 billion over 10 years.
The Senate bill, however, covers 31 million uninsured Americans, begins in 2014, cuts $500 billion from Medicare and projects deficit cuts at $132 billion over 10 years
Immediately after the health insurance vote, the Senate again came down on mostly partisan lines to increase the debt ceiling by $290 billion to $12.4 trillion. Describing the two votes as a shopping spree followed by a decision not to pay the credit card bill, critics suggested that budget estimates drive a hole through claims the bill will drive down the deficit.
"I am particularly troubled by these cuts as the current Medicare program is already on shaky footing and expected to be insolvent by 2017, with $37 trillion in unfunded liabilities," said Sen. George Voinovich, R-Ohio. "I do not understand how my colleagues think we can do more when we cannot even afford what we have now."
Sen. Jeff Sessions on Wednesday pointed to a letter sent to him by Congressional Budget Office Director Doug Elmendorf describing the accounting method used by Democrats as one which double-counts the savings from Medicare spending reductions. Reid's spokesman Jim Manley countered that the letter does nothing to dispel projections of a deficit reduction.
Unlike the House version, the Senate bill does not contain the so-called public option that House lawmakers demand. And it excludes the stronger language found in the House bill to prohibit federal funds from being used for abortion services.
The Senate eliminated the "bo-tax," a charge on physician services for cosmetic surgery, and the proposed physician enrollment fee for Medicare. It replaced the tax on cosmetic surgery with a tax on tanning salons instead.
About 13 Democratic senators also won concessions for their states in exchange for a yes vote.
"It's not going to be easy," Rep. John Dingell, D-Mich., who came to Capitol Hill to watch the vote, said of the coming negotiations. "Everyone will have to give a little."
Congratulatory messages and warnings of doom furiously piled into e-mail inboxes immediately following the Senate's historic vote, signaling the difficulty lawmakers face not only in coming up with a compromise but in dealing with competing pressures to satisfy special interests.
The American Medical Association, which offered its support to the Senate bill, issued a statement saying several important issues need to be resolved in the House-Senate conference committee, including "the scope, authority, accountability and transparency of a payment advisory board," which will be set up to determine physician receipts.
"The details of several cost control and quality improvement initiatives also need to be refined so that they do not have unintended consequences for patients and physicians," the AMA statement said. "Separate action is needed early next year to permanently repeal the current Medicare physician payment formula to preserve access to care for America's seniors, baby boomers and military families by creating a stable physician payment system."
Republicans said they will take their objections on the road during the winter recess, and will drum up voter fury toward Democrats for passing a bill that Republicans say will create scores of new government agencies paid for by one accounting gimmick after another.
"They're going to go home and face the music and it's not going to be Christmas carols," said Sen. John Barrasso, R-Wyo., who was not able to return home right away because winter storms had shut down his hometown airport.
But Pelosi said she looks forward to sending the bill to Obama as quickly as possible.
"As we move forward through the legislative process, we will soon produce a final bill that is founded on the core principles of health insurance reform: affordability for the middle class, security for our seniors, responsibility to our children by reducing the deficit and accountability for the insurance industry," she said.