Hispanic voters most concerned about jobs, economy, Fox News Latino poll finds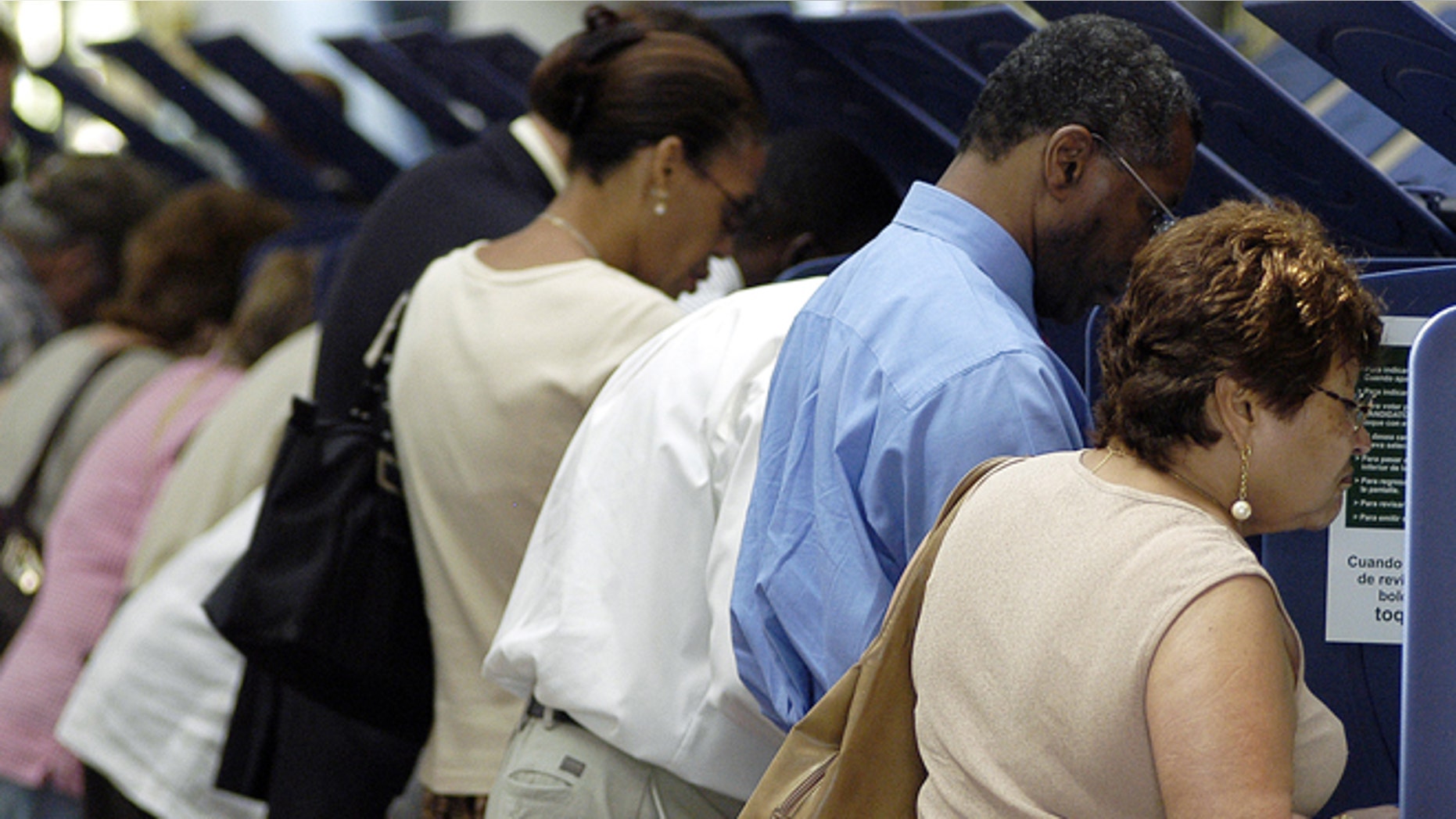 The most important issue to Latinos when casting their vote for president isn't immigration. It turns out that, just like the rest of Americans, jobs and the economy are seen as the most critical topic.
According to a recent Fox News Latino poll, more than a third of the registered Latino voters surveyed indicated that the economy was the most important issue, with 34 percent. That was followed by education at 15 percent, national security and the military with 13 percent, immigration fourth at 12 percent and then health care at 8 percent.
"Jobs and the economy are top priorities in the Latino community," Tayde Aburto, the president and CEO of the Hispanic Chamber of E-Commerce which is located in San Diego, told Fox News Latino. "Before we're Hispanic, we're American. Immigration is a unifying issue, but not the only issue."
"In San Diego, there are 43,000 Hispanic-owned businesses, and most are family owned. We're pushing technology and education to help them move to the next level. We're the core of the economy," Aburto added.
CLICK HERE TO READ THE POLL RESULTS 
The percentage of Latinos who identified the economy as their top concern in the voting booth actually fell from 47 percent in 2012. That may be a reflection of how big a toll on the Latino community the depression took. Even now, with the U.S. economy rebounding, experts say rebuilding lost wealth remains a vital concern for many.
"All the data suggests Latinos were hurt the hardest," Gabriel R. Sanchez, associate professor of political science at the University New Mexico and a principal at the polling and research firm Latino Decisions, told FNL.
Compared to national voters, Latinos are more likely to say they are better off today than they were eight years ago (39 percent among Latinos and 26 percent nationally). They are also more optimistic about their future than national voters, 42 percent of Latinos say life for the next generation of Americans will be better than life today, compared to the national average of 36 percent.
But they are a bit more optimistic than the general voter.
A majority of Hispanics, 58 percent, think life for the next generation of Latinos will be better than life today. But that is a 14-point drop from 2012, when 72 percent of Latinos felt life would get better for Hispanics.
"Latinos are generally younger, and these millennials are looking at a pretty bleak future," Sanchez said. "I think the major question as we move toward the general election will be whether candidates address the job-growth issue, and if they do, will it increase turnout and enthusiasm? If not, Latinos might say, 'Hey, these candidates think we're a monolithic group, and they don't understand what's important to us.'"
Sanchez noted that, "In key battleground states, particularly out west, immigration polls higher, and it could be that candidates are focused on that."
About 5.7 percent of Latinas make the minimum wage or less – more than anyone other group – according to U.S. census data.
"The importance of jobs is consistent with what we've been seeing for a long time as the most important problem across the board – ethnicity isn't that relevant," Lonna Rae Atkeson, a professor of political science at the University of New Mexico, told Fox News Latino.
"The thing about the economy for everyone, it's a doorstep issue. You walk outside, and you can see what's happening to people and see how it affects you," she said. "There's still room for both candidates to find a position to attract different types of voters with different kinds of needs. There are particular groups who have particular needs. But it's still an issue for everyone."
In a recent Gallup poll, 40 percent of all Americans indicated that the economy and jobs was the most important issue.
"Hispanics tend to vote 2-to-1 Democrat, and perhaps more in this election," Calvin Jillson, political science professor at Southern Methodist University, told FNL.
"In general, Democratic candidates talk to immigration improvement as well as education and health care. They'll say, 'I'll help you with these issues.' Whereas Republicans talk about border security and financial and fiscal responsibility, it doesn't jibe for Latino voters," Jillson said.
While immigration was number four in importance to the Latino voter, that number has doubled since 2012. The number of Latinos who say immigration is the most important issue rose from 6 percent in 2012 to 12 percent today.
The Fox News Poll is conducted under the joint direction of Anderson Robbins Research (D) and Shaw & Company Research (R).
The poll was conducted by telephone with live interviewers May 14-17, 2016, among a random sample of 886 Latino registered voters as an oversample to a national survey of 1,021 registered voters.
This Latino sample is made up of 76 interviews conducted as part of the base national sample and 810 additional interviews from a Latino voter list developed from previously conducted national random digit dial surveys.
Results based on the full Latino oversample have a margin of sampling error of plus or minus 3.5 percentage points.