Hillary: Let's get back to believing America is great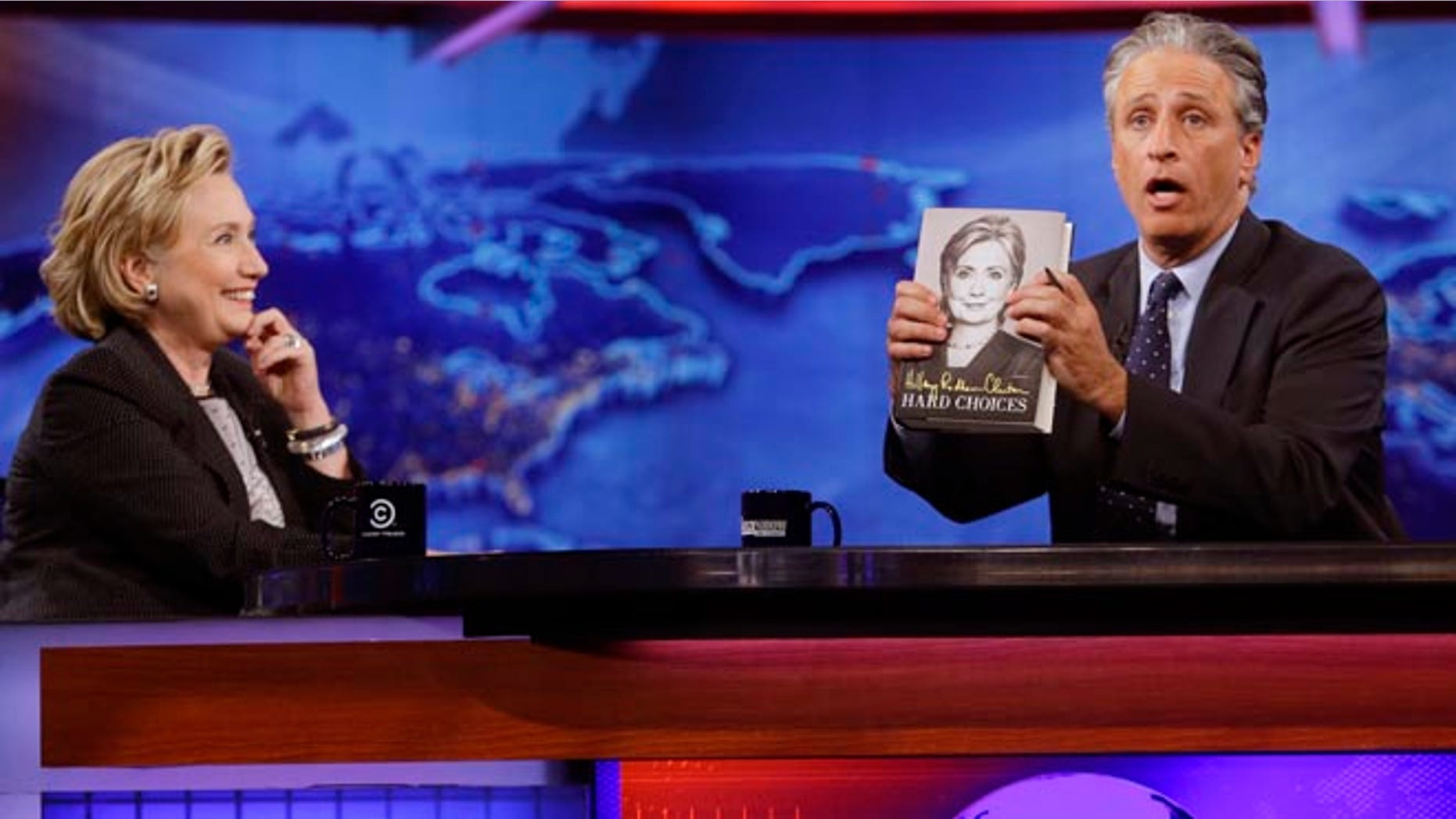 **Want FOX News First in your inbox every day? Sign up here.**
Buzz Cut:
• Hillary: Let's get back to believing America is great
• Ben Carson PAC outraises Hillary's
• Dems' secret cash advantage: Fear of the Obama IRS
• Power Play:  Social issues complicate N.C. race
• Pingpong ball sized hail… no wait, just pingpong balls
HILLARY: LET'S GET BACK TO BELIEVING AMERICA IS GREAT
In an otherwise cuddly interview on "The Daily Show with Jon Stewart"2016 Democratic frontrunner Hillary Clinton still found a way to stick the knife into her 2008 rival and former boss, President Obama. The former secretary of state, who has been distancing herself from Obama, took an unmistakable jab at the current president in answer to a question about diminishing American clout in the world: "We have not been telling our story very well. We do have a great story." Clinton said, "We are not perfect by any means, but we have a great story about human freedom, human rights, human opportunity, and let's get back to telling it to ourselves first and foremost and believing it about ourselves and then taking that around the world. That's what we should be standing for." That's a nearly identical criticism as leveled by many of Obama's version of the national narrative.

[A bit hefty - Stewart: "This is called 'Hard Choices.' It's clearly..." Clinton: "A lot of hard choices. A lot of hard choices." Stewart: "Not for your editor. Look at that baby." – Jon Stewart & Hillary Clinton, from the "Daily Show with Jon Stewart," Tuesday]

Warner bows - WaPo: "To the growing list of Democrats proclaiming themselves 'Ready for Hillary,' add Sen. Mark Warner (Va.). Warner, a former governor and businessman who has long entertained his own run for national office, is headlining a fundraiser for Ready for Hillary, the grassroots super PAC laying the groundwork for Hillary Rodham Clinton's potential 2016 presidential campaign. Warner is slated to appear as a 'special guest' at a fundraiser Aug. 5 in Richmond alongside a number of close associates and other prominent Virginia Democrats."

READY FOR WARREN READY FOR LAUNCH
HuffPost: "An enthusiastic band of activists has launched a campaign to slow the momentum of Hillary Clinton and convince Sen. Elizabeth Warren (D-Mass.) that she should run for president in 2016. 'I think there's an opportunity for us to convince her if we're really able to make the case as to why we think she's the right person,' said Erica Sagrans, who has signed on as the Ready For Warren campaign manager. The group already has a Facebook page, Twitter account and a new website with a petition encouraging Warren to run…Reached for comment, Lacey Rose, Warren's press secretary, told HuffPost, 'No, Senator Warren does not support this effort.'"

Liberal group a windfall for Warren wingers - The liberal Democratic group Progressive Change Campaign Committee raised over $1,000,000 for progressive candidates and campaigns this cycle. "Elizabeth Warren's economic populist agenda is popular from Maine to Iowa to Oregon and progressives are working to elect Elizabeth Warren's allies in 2014," said PCCC co-founder Adam Green. "This grassroots outpouring shows that the path to winning elections -- and keeping the Senate -- is to campaign on an economic populist agenda including Wall Street reform, expanding Social Security benefits, and reducing student debt." PCCC lists Sens. Al Franken, D-Minn. and Jeff Merkely, D-Ore., and Senate candidates Rep. Bruce Braley, D-Iowa, and South Dakota businessman Rick Weiland, among the beneficiaries of the group's fundraising. Warren, who stumped for West Virginia Senate candidate Natalie Tennant on Monday, is headed to Michigan to campaign for Senate hopeful Rep. Gary Peters, R-Mich., later this week.

BEN CARSON PAC OUTRAISES HILLARY'S
The National Draft Ben Carson for President Committee, a PAC promoting Dr. Ben Carson as the 2016 GOP presidential nominee, raised more than $3.3 million in the second quarter. That beats the $2.5 million raised in the quarter by the pro-Hillary presidential group, Ready for Hillary. Since last fall, the pro-Carson group has now raised more than $7.2 million.

CHRISTIE MAKES A TRAILER… THEN PULLS IT
Wathdog.org: "With a dash of high drama, [Gov. Chris Christie, R-N.J] is taking a Hollywood approach to pension reform in New Jersey. The governor's latest YouTube video — "No Pain, No Gain" — is a send-up of a movie trailer for an action thriller based on the state's fiscal conflicts. Interspersed with ominous sound bites from Christie are video clips of a missile launching, helicopters on patrol, military jets flying in formation, a roller coaster, a car chase and actor Dwyane "The Rock" Johnson walking away from an explosion. "We need to clean up the mess of the past — pensions, health benefits, debt service," warns Christie, his voice accompanied by spooky music and punctuated by drumbeats in the video posted yesterday. Adding to the intrigue, Christie's staff suddenly removed the video from YouTube overnight after receiving negative comments. The governor's press office has not responded to questions about why the clip was taken down. "No Pain, No Gain" was reposted to YouTube this morning by a third-party poster named 'kmop.'"

[New in Fox Opinion: Gov. Bobby Jindal, R-La., explains "Obama's $18,000 broken promise": "How would you feel if someone promised to give you a car, and then reneged on that pledge?  That's how all Americans should feel when it comes to ObamaCare -- because Barack Obama's failed and discredited campaign promise to lower health insurance premiums has cost the average American family an amount equal to the price of many new cars. During his 2008 campaign, one of then-Senator Obama's most audacious promises was that his health plan would reduce premiums by $2,500 for the average family."]

HOUSE TAKES NEXT STEP IN SUING OBAMA
Today the House Rules committee will hold a hearing on a resolution to give House Speaker John Boehner the authority to sue President Obama over the use of executive actions on ObamaCare. The Committee would hold at least one hearing on the issue and later a "markup" session where the committee actually okays the resolution for the lawsuit.

[Watch Fox: Chief Congressional Correspondent Mike Emanuel will follow the hearing and give the latest on the lawsuit.]

OBAMACARE MISSES INSURANCE GOALS BY HALF
Jeffery Anderson: "Urban Institute finds that Obamacare has actually reduced the number of uninsured adults by 8 million since the rollout began last fall.  (Gallup shows a similar number.)  That's far short of the number of newly insured that the CBO projected in April of this year, in February of this year, or in 2012 — and it's less than half the tally the American people were told Obamacare would hit when they opposed it in 2010."

PERCEPTIONS TRUMP REALITY FOR GAY POLITICAL CLOUT
An extensive Centers for Disease Control study reports that 1.6 percent of American adults self-identify as gay or lesbian, a departure from previous estimates that placed the number closer to 4 percent. It's certainly a far cry from the public perception that 25 percent of Americans fall into that group. The political consequences of the gap between perception and reality are significant, helping drive (and in turn being driven by) the political and cultural focus on issues like same-sex marriage and the status of gay military members. To understand the clout of a group that the CDC estimate says includes fewer than 4 million American adults, consider the lack of political juice of other, larger demographic groups. The Pew Research Center reports that nearly 7 percent of Americans are members of historically black Christian denominations, a group four times larger than the gay community in the new government study. But members of historically black churches have repeatedly been turned back or marginalized in their political efforts in recent years, including on the subject of same-sex marriage or their pleas for President Obama to take more urgent action on growing black poverty and violence in cities like Chicago. Money matters, too.

WITH YOUR SECOND CUP OF COFFEE...
They're the wurst. That's what the German government said about dozens of top-dog sausage sellers this week, imposing a fine equal to $460 million for price fixing, The Atlantic reports. Regulators say the large fine reflects "the duration of the cartel and the billions in sales earned in the market." (Not to mention how seriously Germans take their sausage.) But, there's an economic lesson here, as well. Germany's cartel system is running mom and pops out of business at a furious rate. As the FT reports on government efforts to punish monopolistic sausage ambitions: "Yet the number of craft butchers has been falling steadily as family-owned businesses find it difficult to attract workers, and discount supermarkets such as Lidl and Edeka take their toll. At the end of 2012 there were 14,372 butcher shops across the country, according to the German Butchers' Association – down from nearly 16,000 in 2010."

Got a TIP from the RIGHT or LEFT? Email FoxNewsFirst@FOXNEWS.COM

POLL CHECK
Real Clear Politics Averages
Obama Job Approval: Approve – 41.6 percent//Disapprove – 53.7 percent
Direction of Country: Right Direction – 26 percent//Wrong Track – 63.5 percent
Generic Congressional Ballot:  Democrats – 41.4 percent// Republicans 40.2 percent

DEMS' SECRET CASH ADVANTAGE: FEAR OF THE OBAMA IRS
It may not help an administration's standing with the general public to have a lingering political corruption scandal at the IRS, but Washington Examiner's David Drucker reports that there's a substantial upside: frightening political rivals. "Democratic super PACs have outraised their Republican counterparts by millions, a factor attributed in part to GOP donors' fear of being targeted by the Internal Revenue Service -- or 'getting Koch'ed.' Republican political operatives concede that there are multiple reasons for the Democrats' advantage in super PAC money raised. Among them: Labor unions have become among their largest and most consistent donors. But this election cycle, two new challenges have chilled GOP super PACs' effort to raise cash from wealthy individuals and corporate donors: anxiety that they could get slapped with an IRS audit and unease that donating could lead to public demonization."

Dumped $3.5 million in Alaska alone - Washington Free Beacon: "Alaska Democratic Sen. Mark Begich's reelection effort is getting a massive boost from a top D.C.-based Super PAC with ties to top national Democrats as Begich touts his supposed independent streak and attacks his likely opponent as an outsider. Senate Majority PAC, a Democrat-aligned group backed by some of the nation's most wealthy liberals, gave more than $3.5 million in the second quarter of 2014 to Put Alaska First, a group supporting the reelection of Begich."

[Begich brought in more than $1.26 million during the last three months, his largest quarter fundraising total yet and slightly topping Republican challenger Dan Sullivan's total of $1.2 million.]

REID PAC KEEPS UP ATTACKS WHILE ERNST ON GUARD DUTY
Sioux City Journal: "A new radio ad linking Republican Senate hopeful Joni Ernst to the conservative Koch brothers had her campaign and allies crying foul Tuesday, accusing Democrat Bruce Braley of not honoring her service because the spot is running while she is on National Guard duty. The ad is being aired by the Senate Majority PAC, a group with ties to Majority Leader Harry Reid… With Ernst having left for two weeks of training with her National Guard unit on Friday, Republicans say the ads are untoward. In a statement forwarded by the Ernst campaign, Sen. John McCain, R-Ariz., said: 'I believe Joni Ernst's service to our nation is honorable and praiseworthy, but clearly Bruce Braley and his liberal allies disagree. It is shameful that they would launch cheap political attacks against her while she is in uniform and unable to respond or defend herself.'… He called on Braley to demand the ad be taken down."

[NBC News/Marist polls show a dead heat in the Iowa Senate race and a closer contest than other recent polls have shown in New Hampshire.]

Pick Six: Braley brings Iowa into back in contention - Republicans only need to gain six additional seats to gain control of the Senate. Which Democratic held seats are most likely to land in the GOP's hand's come November? The current consensus among Fox News First readers: Arkansas, Louisiana, Montana, West Virginia, South Dakota and North Carolina. Fox News First reader Stew Berkeley agrees that South Dakota, West Virginia and Montana are all "fairly" safe flips. However Stew adds Iowa to his list because Rep. Bruce Braley, D-Iowa, "seems to be digging a hole for himself" and may give way for Joni Ernst to grab the seat.

Share your top six picks. Email them – just your top six, please – to FOXNEWSFIRST@FOXNEWS.COM or tweet @cstirewalt.

POWER PLAY:  SOCIAL ISSUES AND THIRD PARTY CANDIDATE COMPLICATE N.C. RACE
Sen. Kay Hagan, D-N.C., faces a tough race with challenger and Speaker of the House Thom Tillis. Recently Hagan has turned debate to social issues including the Supreme Court decision to allow employers to decide if certain types of birth control are covered under their employees' health care plans, in hopes of gaining support from Libertarian-minded Republicans. But wait-- how will Libertarian Sean Haugh play into the race?  Watch "The Race in 90 seconds" to find out.

[National Journal ranks the "good bad and the ugly from the 2014 election so far."]

GRIMES POSTS BIG HAUL, BUT STILL PLAYING CATCHUP
Kentucky Secretary of State and Democratic Senate nominee Alison Lundergan Grimes outraised Senate Minority Leader Mitch McConnell by nearly a $1 million in in the second quarter. Grimes hauled in an impressive $4 million in the past three months, topping McConnell's $3.1 million. But it probably won't make much difference. McConnell has raised more than his challenger in the entire election cycle, $25 million to Grimes $11.6 million.

[The Conservative group Kentucky Opportunity released a new ad touting McConnell's job creation and fight against President Obama's coal regulations.]

PURDUE CLOSES WITH RECYCLED SPOT
Ahead of Tuesday's GOP Senate runoff in Georgia, candidate David Perdue released a new TV ad once again depicting congressman as babies. "If you like what is happening in Washington, vote for Jack Kingston," Perdue says in the ad. "If you think that too many Republicans in Washington have become just like the big spenders they used to oppose, then help me take our country back."

Meanwhile - Georgia Democratic Senate nominee Michelle Nunn outraised her potential GOP candidates' combined quarter fundraising numbers by nearly $400,000. Nunn brought in more than $3.45 million from April to June while her GOP counterparts Rep. Jack Kingston, R-Ga. and businessman David Perdue raised $1.6 million and $1.15 million respectively.

PREACHER WINS TAR HEEL HOUSE GOP NOMINATION
AP: "A harsh Republican Party fight for a shot at an open North Carolina congressional seat goes to Mark Walker. GOP voters in the district that runs along the Virginia border from Mount Airy to north of Raleigh picked Baptist minister Walker of Greensboro over Phil Berger Jr. of Eden. Berger is the Rockingham County district attorney and son of powerful state Senate leader Phil Berger. Walker won 56 percent of the vote in unofficial returns and now advances to face Democrat and retired University of North Carolina system administrator Laura Fjeld in November." The GOP is highly favored in the conservative district.

UM, MAYBE IN YOUR DISTRICT…
WaPo: "'Nobody knows' how things will turn out, [House Minority Leader Nancy Pelosi] added later. 'The polling is so strange now. I just say to people, 'Just run your race, get out your vote, go door to door, everybody you meet will vote for you, by and large.'"

But money does talk - The Democratic Congressional Campaign Committee outraised the National Republican Congressional Committee by nearly $1 million in the second quarter.  The DCCC brought in $10.9 million in donations and has $50.9 million in its bank. The NRCC raised $9.6 million and has $42.5 million on hand.

PINGPONG BALL SIZED HAIL… NO WAIT, JUST PINGPONG BALLS
AP: "A pilot who dropped 3,000 pingpong balls that were redeemable for prizes missed a crowd assembled for the stunt and instead hit a nearby interstate. Organizers immediately called off the contest. Aaron Moon and helpers on Saturday told revelers at Blackfoot [Idaho] Pride Days not to risk retrieving the pingpong balls amid high-speed traffic because organizers still planned to pass out the prizes. Most of the pingpong balls could have been exchanged for candy, but some were worth gift certificates up to $100. Moon says a new pilot attempted the drop this year, but apparently didn't understand that pingpong balls lose speed quickly and drop straight down."

AND NOW A WORD FROM CHARLES…
"The president has to have [the immigration crisis] stopped, because it contributes to this story shown in all the other elements abroad and at home that his administration is incompetent, out of control and unable to control anything. … And that's why he will acquiesce to the change in the law." –Charles Krauthammer on "Special Report with Bret Baier" Watch here.

Chris Stirewalt is digital politics editor for Fox News. Want FOX News First in your inbox every day? Sign up here.