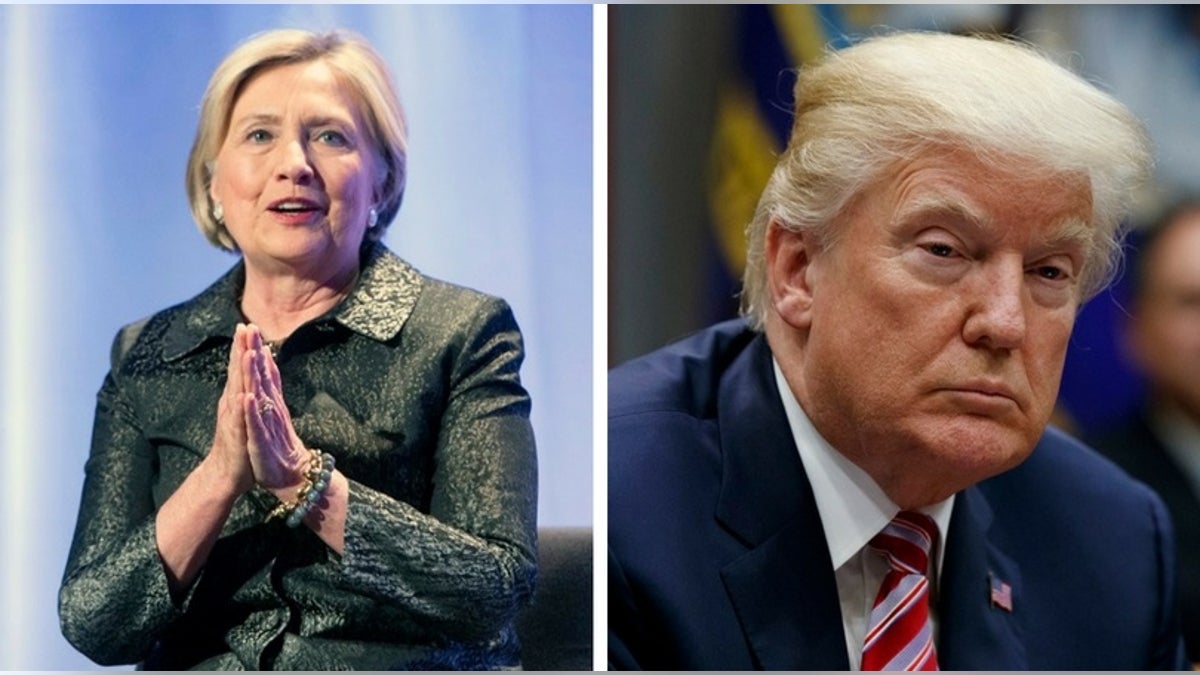 Former Democratic presidential candidate Hillary Clinton blasted President Trump for his reaction to Tuesday's terror attack in New York City during an appearance on "The Daily Show."
Clinton, who was plugging her book "What Happened" on Wednesday's show, told host Trevor Noah that Trump lacked "empathy" when he publicly responded to the horrific attack.
"What you want in a president, is [someone who will try] to bring a country together, talk about what happened with the event they're concerned about but not point fingers, not scapegoat and not try to set Americans against each other," Clinton told Noah.
"He just doesn't have any empathy," she said. "You can disagree with someone over all kinds of partisan issues, but you want a president who can try to put himself into the shoes, the feelings of someone else, and he has not been able to do that."
Trump came under fire for tweeting the suspect linked to Tuesday's terrorist attack that killed eight people entered the U.S. through a program called the "Diversity Visa Lottery Program." Trump called the program a "Chuck Schumer beauty."
SCHUMER HITS TRUMP FOR 'POLITICIZING' NYC ATTACK – BUT HE DID SAME THING AFTER LAS VEGAS
Sen. Chuck Schumer, D-NY, was part of a group of Republicans and Democrats who backed a comprehensive immigration bill in 2013 to end the program as part of a broader bipartisan bill to overhaul U.S. immigration laws.
Schumer tweeted back: "I guess it's not too soon to politicize a tragedy." Following the attack, Trump has called for the suspect to be sent to Guantanamo Bay and be given the death penalty.
Clinton was also asked by Noah if there was a difference between her group funding an anti-Trump dossier and Trump's campaign advisers allegedly colluding with Russia to influence the 2016 election.
"Of course there is [a difference,]" Clinton told Noah. "I think most serious people understand that."
"This was research started by a Republican donor during the Republican primary and then when Trump got the nomination for the Republican party the people doing it came to my campaign lawyer (Marc Elias) and said: 'Would you like us to continue it?' And he said yes. He's an experienced lawyer, he knows what the law is, he knows what opposition research is," Clinton explained.
The Washington Free Beacon, a conservative website, confirmed last week it originally retained the political research firm Fusion GPS to scour then-candidate Trump's background for negative information. Later, reports revealed the Clinton campaign and the Democratic National Committee continued funding Fusion's work after the original GOP source lost interest.
Trump called the revelation "a disgrace."
TRUMP CALLS FOR 'DEATH PENALTY' FOR NYC TERRORIST IN WAKE OF HALLOWEEN ATTACK
Clinton minimized the impact of the dossier during the interview with Noah, noting it was released following the election.
"And what also didn't come out -- which I think is an even bigger problem as I write in the book -- is that the American people didn't even know that the FBI was investigating the Trump campaign because of connections with Russia starting in the summer of 2016," she said.
Clinton also alleged Trump "had to know" his team was contacting the Russian government for help in the election.
"I mean, he has to know -- we'll find out what he knew and how involved he was -- but he had to know that people were making outreach to Russians, to the highest levels of the Kremlin, in order to help him, to hurt me, but more importantly to sow this divisiveness," she added.
The Associated Press contributed to this report.