Hawaii Senate candidate asks court to delay makeup election due to storm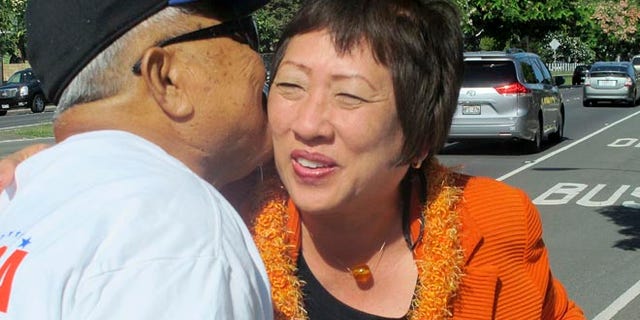 Rep. Colleen Hanabusa of Hawaii asked a court on the Big Island on Wednesday to delay a makeup election for more than 8,000 voters, saying they should have more time to recover from a tropical storm before casting ballots in a primary that includes her running for U.S. Senate.
Hanabusa filed a request for a temporary restraining order in a state circuit court, while elections officials moved forward with plans to open polls for 11 hours Friday.
The complaint asks a judge to stop Chief Election Officer Scott Nago from holding the postponed election for two precincts until voters have enough time to recover and be properly notified of the election.
"Voters in the affected areas are still without power and water, and many roads are inaccessible or blocked with debris," lawyers for Hanabusa said in their complaint, filed in Hilo.
It would be impossible to ensure adequate notice without power restored and roads cleared, depriving voters of their right to vote, the complaint said.
Utility officials on the Big Island said about 6,600 people remained without power Wednesday as approximately 200 workers scrambled to trim trees, dig holes for utility poles and string electrical lines.
Hanabusa is challenging Sen. Brian Schatz in a Democratic primary that is likely to determine the eventual winner in a state that heavily leans Democratic. Schatz is leading the race by a slim margin -- more than 1,600 votes, or less than 1 percent. While Hanabusa faces a steep climb to make up the deficit, the delay gives voters in the Puna precincts the power to decide the race.
The state attorney general's office, which handles litigation on behalf of state agencies and officials, had not yet seen the complaint and could not immediately comment, said James Walther, deputy attorney general.
Schatz campaign spokeswoman Meaghan Smith said the senator is focusing on helping residents recover from the storm and that the court and state elections officials will determine the best way forward to maximize voter participation.
"Sen. Schatz believes that the voters in Puna and across Hawaii must be given fair access to voting, and the Senator's campaign will be committed and respectful whenever the election is held," Smith said.
State election officials' plan for Friday calls for voters to cast ballots at an elementary school, and for results to be released Friday night.
The state delayed voting in the two precincts after Tropical Storm Iselle hit the eastern part of the Big Island last week, just days before the state's primary on Saturday. The storm did not cause any major injuries or deaths, though it downed trees and power poles and damaged homes and crops.