Hawaii Gov. Green enacts new law expanding abortion access, protect health care providers
HI law would allow health care workers to provide abortion care without fear of getting prosecuted by out-of-state authorities
Hawaii's governor on Wednesday signed legislation expanding access to abortion and putting into law recent executive orders protecting local health care providers from prosecution by out-of-state authorities.
State Sen. Joy San Buenaventura, a Democrat, told a bill-signing ceremony that three generations of women have grown up with reproductive rights being a given after the U.S. Supreme Court's 1973 Roe v. Wade ruling. Hawaii lawmakers acted so that would continue to be the case even though the high court overturned Roe last year, she said.
"Hawaii will continue to be a beacon ... physicians need only think about their patients and need not have to worry about prosecutions or extradition," said San Buenaventura, who is the chairperson of the Senate Health and Human Services Committee.
OKLAHOMA SUPREME COURT GREENLIGHTS LIFE-OF-MOTHER EXCEPTION TO ABORTION LAW
The new law signed by Gov. Josh Green passed by large majorities in the state House and Senate, which are both dominated by Democrats.
The measure expands abortion access by allowing physician assistants to perform medical and surgical abortions during the first trimester of pregnancy. Several other states including Washington, Connecticut and Maryland already allow this practice. Previously, only doctors and advanced practice registered nurses could perform the procedure in Hawaii.
The new law repeals a requirement that abortions be performed at a hospital or clinic. Doctors said the old law didn't account for medical abortions that can be carried out at a patient's home with medication prescribed remotely.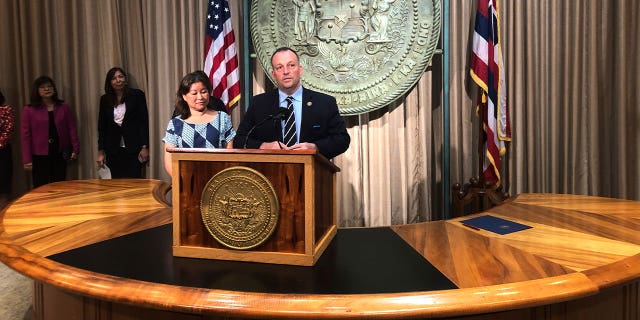 The measure allows minors to get abortions without the consent of a parent or guardian. Supporters say this is important for victims of incest and violence and those whose parents may seek to harm their child for having an abortion.
Some states that have restricted abortion in recent years have indicated they might prosecute people in connection with abortions performed in other states.
To prevent that from affecting Hawaii, the new measure codifies into law an an executive order then-Gov. David Ige signed last year to stop other states from sanctioning local doctors and nurses who provide abortion care out-of-state residents temporarily in the islands.
WYOMING ABORTION CLINIC ARSON SUSPECT SEEN ON NEW VIDEO CARRYING GASOLINE INSIDE BEFORE FIRE
Hawaii is a major tourist destination and has many travelers. It's also home to college students as well as military personnel and their dependents who may maintain residency in their home states while they live in the islands temporarily. Local doctors say they have provided abortions to more out-of-state residents since the overturning of Roe.
San Buenaventura remarked on the news that an Idaho hospital would stop delivering babies in part because doctors were leaving in response to recently passed state laws criminalizing medical care. She said she would welcome those doctors in Hawaii.
CLICK HERE TO GET THE FOX NEWS APP
"To those noble physicians, I say, 'E Komo Mai. Hawaii welcomes you.' Because today Hawaii has shown that we will stand by our medical providers, that we will stand with our physicians, and that those who provide safe abortion and contraception — even if it's just to offer advice to tourists — will not have to fear arrest, extradition, subpoena," she said.
Hawaii law allows abortion until a fetus would be viable outside the womb. After that, it's legal if a patient's life or health is in danger. The state legalized abortion in 1970, when it became the first in the nation to allow the procedure at a woman's request.