Gun ban for medical pot users dropped from Illinois proposal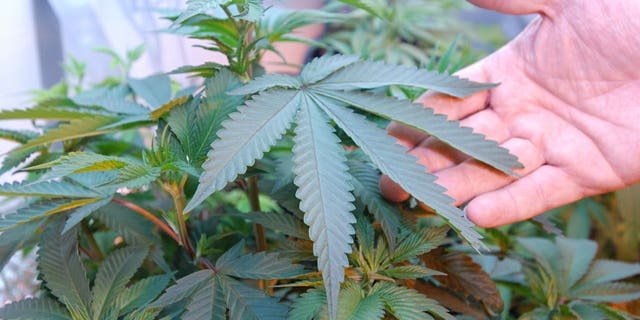 NEWYou can now listen to Fox News articles!
WASHINGTON – Medical marijuana users in Illinois who own handguns will be able to keep their firearms, according to a new change in state policy proposed Friday. But it still doesn't mean that smoking and shooting will be legal under federal law.
The revised rule would reverse a controversial proposal made by the Illinois Department of Public Health that would have required gun owners to hand over their weapons if they smoke marijuana for medicinal purposes.
The move comes after Second Amendment advocates and pot proponents complained that medical marijuana users shouldn't be forced to choose between guns and cannabis.
However, letting pot users possess firearms still puts the state in direct conflict with federal law that prohibits "shipping, transporting, receiving or possessing firearms or ammunition," while under a controlled substance.
The federal government, which puts marijuana on the same outlawed level as heroin, is not backing off its position.
"There are no exceptions in federal law for marijuana used for medicinal or recreational purposes," ATF spokeswoman Dannette Seward told FoxNews.com.
Federal law prohibits a person from legally possessing a firearm if they use marijuana, even if he or she uses cannabis for medicinal purposes in accordance with state law, according to a Sept. 21, 2011 memo issued by the US Department of Justice, Bureau of Alcohol, Tobacco, Firearms, and Explosives.
The letter was issued in response to gun sellers who wrote the ATF asking the agency for guidance on the issue because buyers were showing up using medical-marijuana cards as identification.
Illinois' medical marijuana program was established by the state legislature as part of a four-year experiment and has been regarded as one of the strictest programs in the nation.
In the state, gun buyers are required to show ID before they can purchase handguns. Anyone who buys a gun must fill out a federal form that asks whether the buyer is an "unlawful user of, or addicted to, marijuana or any depressant, stimulant, narcotic drug, or any other controlled substance."
Since the September letter was issued, there have been cases in Nevada and Washington where firearm dealers denied gun licenses to prospective buyers with medical marijuana licenses.
In Oregon, the issue was fought in court after sheriffs in two counties denied concealed handgun licenses for medical marijuana users. The Oregon Supreme Court ordered the law enforcement officers to allow gun licenses. The decision was appealed to the U.S. Supreme Court, which declined to hear it – a move many read as a victory for pot smokers and gun users.
As the case in Oregon closes, the fight in Illinois is just getting started.
Illinois has not yet rolled out its medical marijuana program. The language that would have required gun owners to give up their firearms was dropped officially Friday.
Before the state rules can even be changed, they must go to a legislative committee, which will consider further changes before finalizing the regulation.
If that happens, would the ATF start going after residents in Illinois buying guns and lighting up?
"We aren't in a position to speculate on future enforcement actions," Seward says. "Each case is treated independently and evaluated on its own merits. Any criminal investigation or prosecution would be based upon a fair and transparent fact-intensive inquiry of individual cases."
The Illinois State Rifle Association is looking into the issue, executive director Richard Pearson told The Associated Press.
"I think it will be a few years before this gets worked out," Pearson said.