Grim dossier claim spurs speculation about possible Russian rubout
A bombshell revelation made public Tuesday that "somebody's already been killed" as a result of the publication of an unconfirmed anti-Trump dossier has sparked speculation that it was a reference to an ex-KGB agent mysteriously found dead in his car a year ago in Moscow.
The attorney for Fusion GPS founder Glenn Simpson told Senate investigators in a 300-page testimony transcript released Tuesday that a murder had been carried out as a result of the publication of an unverified and salacious dossier about Donald Trump.
"Somebody's already been killed as a result of the publication of this dossier and no harm should come to anybody related to this honest work," said Joshua Levy in the transcript, which was taken Aug. 22, but released by Sen. Dianne Feinstein, the ranking Democrat on the Senate Judiciary Committee.
"Somebody's already been killed as a result of the publication of this dossier and no harm should come to anybody related to this honest work."
The cryptic reference spurred a guessing game about who the unlucky person was. The best guess, at least for now, seems to be a former KGB general, Oleg Erovinkin, who was found dead in the back of his car on a Moscow street in December 2016.
According to a January 2017 report in British newspaper The Telegraph, Erovinkin was a top aide to Igor Sechin, a former deputy prime minister who was named repeatedly throughout the dossier. The KGB chief was also suspected at the time of helping former MI6 spy Christopher Steele compile info on Trump for the dossier.
Erovinkin and alleged details of his death were published in the book, "Collusion: Secret Meetings, Dirty Money, and How Russia Helped Donald Trump win" by British journalist Luke Harding. It alleges that the street his body was found on in Moscow was desolate with no cafes or other businesses and not much pedestrian traffic, making it an ideal spot to carry out an assassination.
"The vehicle had halted in Kitaigorodsky Proyezd – a street devoid of pedestrians and home to government buildings and an unfinished office block," reads a line from the book detailing where Erovinkin's body and the car were found. "It was three weeks after [Center for Information Security head Sergei] Mikhailov's arrest, Monday, December 26. At number 9 there is a military academy named after Peter the Great. Guards turn back any errant drivers who try to enter the courtyard."
Local media reports suggested at the time of his death that foul play was involved, but it was later claimed that his death was a result of a heart attack.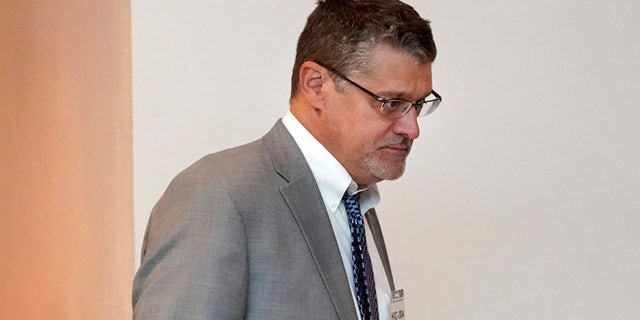 In the aftermath of his death, media reports speculated that Erovinkin was an unnamed informant for the dossier and Christo Grozev of Risk Management Lab, a think-tank based in Bulgaria claimed in a January 2017 Haaretz article alluded to the former KGB general being the main source of information for the dossier.
"Insiders have described Erovinkin to me alternately as 'Sechin's treasurer' and 'the go-between between Putin and Sechin,'" Grozev said to the newspaper. "One thing that everyone seems to agree – both in public and private sources – is that Erovinkin was Sechin's closest associate."
"I have no doubt that at the time Erovinkin died, Mr. Putin had Mr. Steele's Trump dossier on his desk. He would – arguably – have known whether the alleged... story is based on fact or fiction," Grozev also said. "Whichever is true, he would have had a motive to seek and find the mole... He would have had to conclude that Erovinkin was at least a person of interest."
Levy did not immediately return messages requesting information about who he was referring to.