Griffith Party Switch Buoys GOP, Leaves Them Looking for More Defectors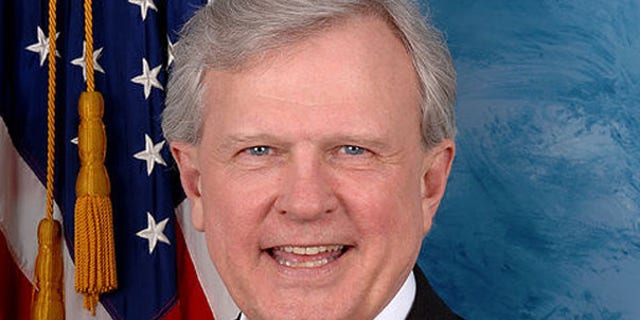 NEWYou can now listen to Fox News articles!
Hot on the heels of a party-switch pick-up for the GOP, aides to John McCain confirmed to Fox News that the Arizona senator has called Pennsylvania Rep. Chris Carney and left a voicemail message.
Carney, a former Navy man like McCain, could be susceptible to an invitation by the senator to leave the Democratic Party in favor of Republicans.
McCain told Fox News on Thursday that he had not spoken to the Pennsylvanian congressman but had called several Democrats and told them that he thought they would "do the right thing for the country."
The Carney camp confirmed receipt of the McCain message though would not say what was contained in the voicemail.
Carney's aides would not rule out the possibility of the congressman switching parties, an intriguing prospect for Republicans, who despite their distance to recapturing the majority, were buoyed Tuesday by the announcement from freshman Alabama Rep. Parker Griffith that he was leaving the Democratic Party and will caucus with the GOP.
Griffith's party switch after less than a year in office leaves Democrats with a 257-178 majority, meaning Republicans would need to pick up 40 seats in the next election in order to retake the majority.
Few Democratic strategists are worried right now that the Democratic majority is seriously in jeopardy, but they are looking at the calendar and recent polls and are taking stock.
Griffith, a retired oncologist, said Tuesday that he was no longer comfortable in the Democratic Party because the leadership is pushing an agenda focused on "massive spending, tax increases, bailouts and a health care bill that is bad for our health care system, bad for our patients and bad for our physicians."
Griffith had been one of the House's 52 fiscally conservative, so-called "Blue Dog" Democrats who range across 28 states from North Dakota to Florida, Maine to California. Most come from Republican leaning or swing districts where the Obama agenda may be unpopular enough to cost them re-election.
The GOP has targeted 30 vulnerable "Blue Dogs" plus an additional 18 non-Blue Dogs from districts where McCain beat Barack Obama in last year's election.
Larry Sabato, director of the University of Virginia's Center for Politics, said pollsters may not be nervous but Blue Dogs are.
"There really are two subjects that will determine 2010, if you're looking to votes in Congress, it's the votes on the economy and the votes on health care votes, and you're going to have most of the campaigns run around those votes, particularly where Republicans are running against incumbent Democrats," Sabato said.
Forty-three Blue Dogs voted against the $154 billion jobs stimulus plan Democrats passed 217-212 last week before recessing for the Christmas break. On top of that, 22 Blue Dogs opposed the House climate change bill at the beginning of the year, and 28 voted against the House health care reform package.

"The number of Blue Dogs voting against these programs is increasing rather than decreasing because they're the first to go, and they know it, on Election Day," Sabato said.
Sabato said about 21 Blue Dogs are safe for reelection. Parker said part of the reason he switched from the majority to the minority is that liberal leaders like House Speaker Nancy Pelosi have thrown moderates under the bus.
"Leadership is out on a far left track with the administration and has left many good Democrats without a voice,' Griffith said.
Sabato agreed. "There are a lot of flattened Democrats out there with tire tracks all over them."
House Minority Leader John Boehner said he is counting on Pelosi to continue on that path in 2010.
"I hope she does a great job of marketing all the garbage they passed this past year," he said.