Grassley presses Comey on 'material inconsistencies' in Trump dossier inquiry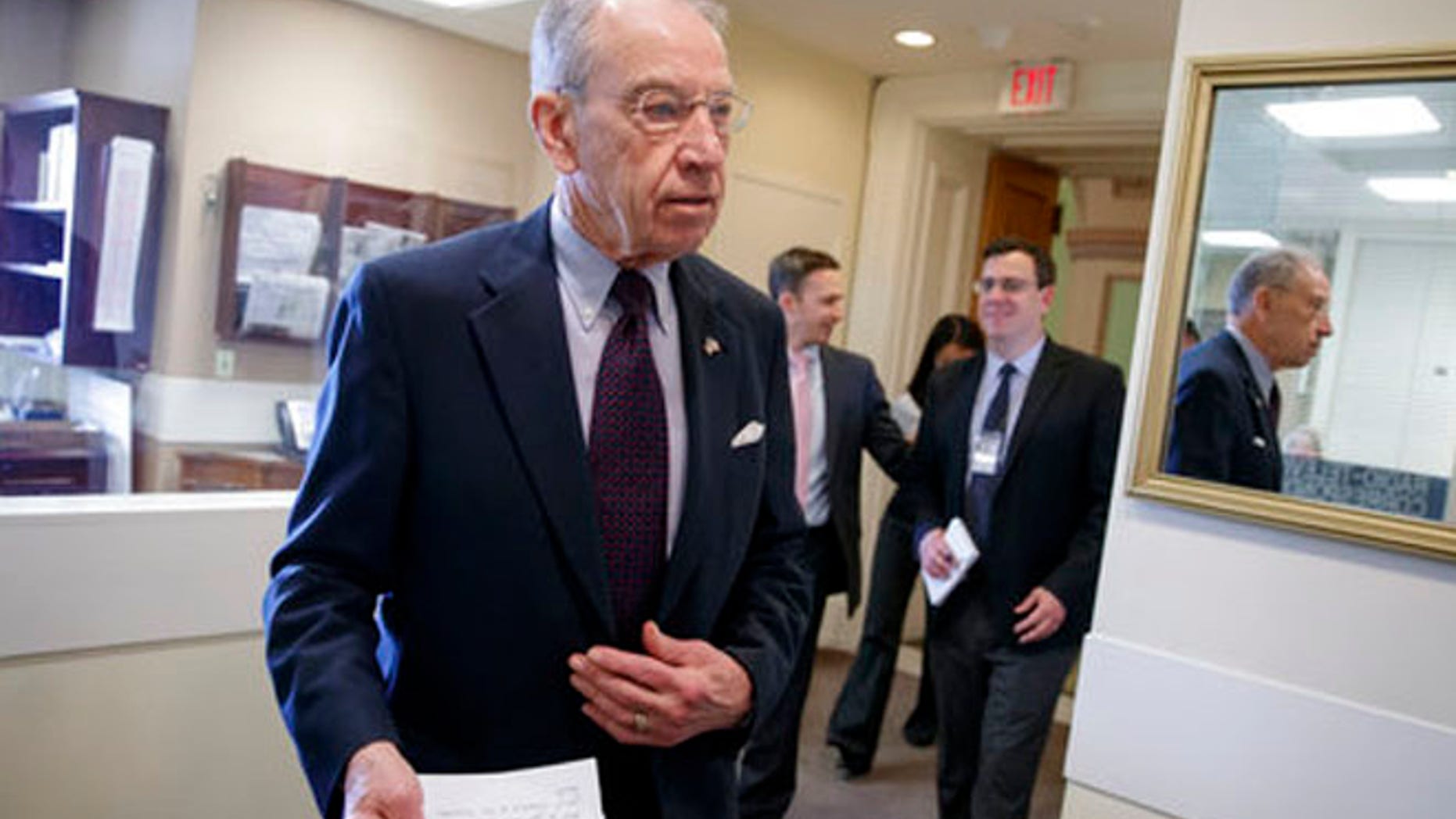 A top senator is pushing FBI Director James Comey for information on the bureau's connections to a British ex-spy who authored an unsubstantiated dossier of claims about President Trump on behalf of an opposition research firm -- saying there are "material inconsistencies" between new documents and prior FBI accounts.
In a letter to Comey dated Monday, Senate Judiciary Committee Chairman Chuck Grassley, R-Iowa, complained about a "startling lack of responsiveness" from the FBI on previous questions the committee had about its involvement with Christopher Steele, who wrote the dossier for Fusion GPS.
The dossier, which claimed the Russians had compromising information about Trump, was first circulated by Buzzfeed, but many news networks, including Fox News, have chosen not to report on the specifics of the unsubstantiated allegations.
In the letter, Grassley says a prior account by Comey of the FBI's relationship with Steele appears to differ from information in Justice Department documents later given to the committee.
"There appear to be material inconsistencies between the description of the FBI's relationship with Mr. Steele that you did provide in your briefing and information contained in Justice Department documents made available to the Committee only after the briefing."
"Whether those inconsistencies were honest mistakes or an attempt to downplay the actual extent of the FBI's relationship with Mr. Steele, it is essential that the FBI fully answer all of the questions from the March 6 letter and provide all the requested documents in order to resolve these and related issues," Grassley wrote.
In particular, Grassley asked Comey to explain if the FBI was aware that Fusion GPS was allegedly working as an unregistered agent for Russian interests at the same time it was working on the dossier. Grassley has previously asked the FBI about media reports it offered to pay Steele in connection with the dossier.
The dossier was used to justify a FISA warrant for former Trump campaign adviser Carter Page, and it was read into congressional testimony by Rep. Adam Schiff, D-Calif, the ranking Democrat on the House Intelligence Committee.
Comey is scheduled to testify before the committee at an FBI oversight hearing on Wednesday.
Fox News' Catherine Herridge contributed to this report.