Gowdy hints Sidney Blumenthal leaked info to dossier author Steele
EXCLUSIVE – Rep. Trey Gowdy, R-S.C., strongly implied to Fox News Tuesday night that Clinton family confidant Sidney Blumenthal was a key link in a chain of information that helped create the controversial Trump-Russia dossier.
Gowdy told Fox News' "The Story" that "when you hear who ... one of the sources of that information is, you're going to think, 'Oh my gosh, I've heard that name somewhere before.'"
When host Martha MacCallum asked if he was referring to Blumenthal, Gowdy answered, "That'd be really warm. You're warm, yeah."
Gowdy, who is among a host of Republican lawmakers not running for re-election is November, played a key role in the drafting of a recently declassified memo detailing alleged surveillance abuses by the federal government. The memo took specific issue with the FBI's use of information from the dossier, which was compiled by former British spy Christopher Steele and claimed to reveal deep ties between President Trump and Russian officials.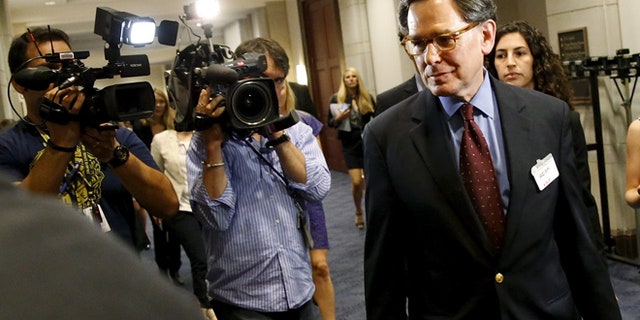 Last month, Senate Judiciary Committee Chairman Chuck Grassley, R-Iowa, and Sen. Lindsey Graham, R-S.C., made a criminal referral regarding Steele to the FBI. The referral, parts of which were declassified Monday, included a reference to "a foreign source [who] gave information to an unnamed associate of Hillary and Bill Clinton, who then gave information to an unnamed official in the Obama State Department, who then gave the information to Steele."
In another section, the referral stated that Steele received information from "a foreign sub-source who is in touch with (redacted), a contact of (redacted), a friend of the Clintons, who passed it to (redacted).'"
Gowdy told MacCallum that "there is a State Department component" to the dossier that "needs to be investigated."
"I'm pretty troubled by what I read in the documents with respect to the role the State Department played in the fall of 2016 with including information that was used in a [FISA] court proceeding," Gowdy said. "I am troubled by that."
However, Gowdy admitted that special counsel Robert Mueller would have been called in to investigate Russian actions during the 2016 election "regardless of whether or not there's a dossier."
"The dossier has nothing to do with the fact that someone tried to hack into the [Democratic National Committee] server," he said. "The dossier has nothing do with the meeting George Papadopoulos had in Great Britain. The dossier has nothing to do with [Donald Trump Jr.] meeting at Trump Tower [with a Russian lawyer]. The dossier has nothing to do with allegations of obstruction of justice."
Gowdy also addressed his decision to leave Congress, saying it was "just the right time."
"I won't ever run for office again," he promised. "When you leave politics, to me, it's important that you leave. And I'm at peace with that."