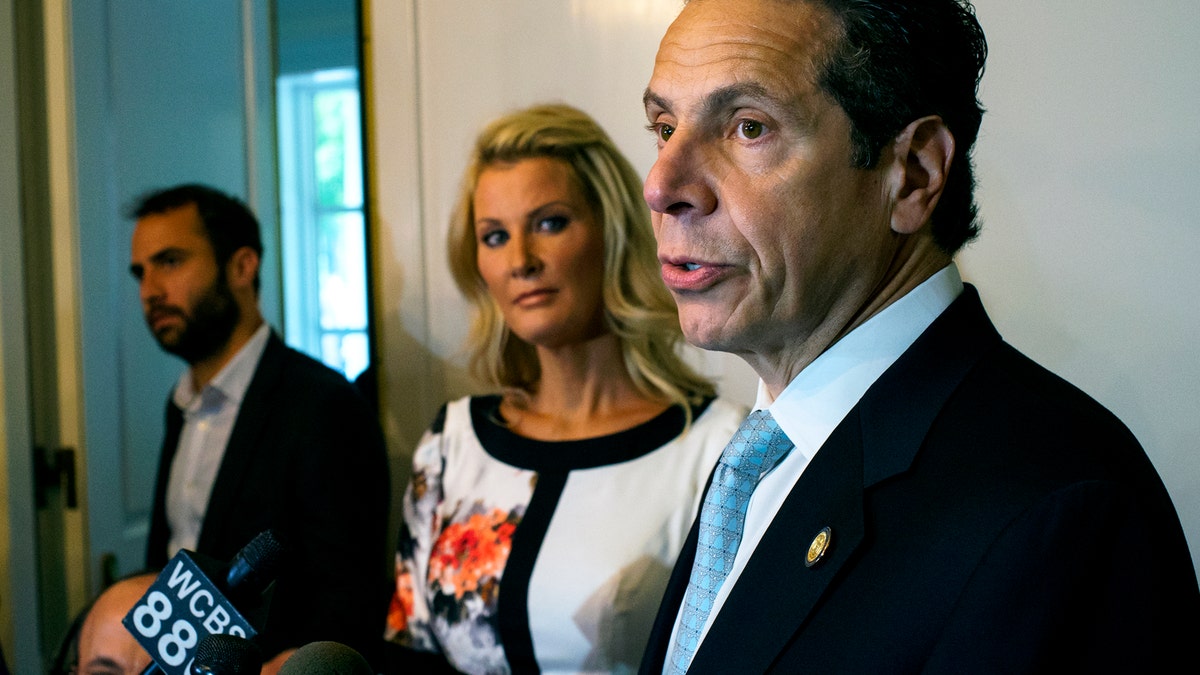 New York Gov. Andrew Cuomo easily defeated longshot liberal challenger Zephyr Teachout in Tuesday's Democratic gubernatorial primary, setting up a November race against Republican Westchester County Executive Rob Astorino.
With 65 percent of precincts reporting, Cuomo had 59.8 percent of the votes and Teachout, a Fordham University law professor, had 36.3. Drug law activist Randy Credico came in third.
Teachout was largely unknown to voters, but her presence on the ballot nonetheless served as a liberal rebuke to the popular incumbent, and highlighted his sometimes uneasy relationship with his party's base.
Teachout criticized Cuomo for his support for charter schools and business-friendly tax cuts while saying he hadn't done enough to address government corruption and income inequality.
Cuomo's running mate, former Buffalo congresswoman Kathy Hochul, also won Tuesday, beating Columbia University law professor Tim Wu.
While Teachout claimed endorsements from the Sierra Club, the National Organization for Women and the state's second largest public union, she struggled to gain name recognition and lacked the resources for a robust advertising strategy. Cuomo's campaign won support from other unions and political heavyweights including New York City Mayor Bill de Blasio.
With Cuomo widely believed to hold national political ambitions, Teachout's campaign threatened to upend the governor's hope to win re-election by big margins. But with broad name recognition and the support of labor unions and many everyday Democrats, Cuomo's victory was expected.
Still, many pundits predicted that if Teachout won more than 25 percent of the vote she could claim some measure of success in challenging Cuomo's grasp on power.
With $35 million in Cuomo's campaign coffers, he appears well positioned for a matchup with Astorino, who had $2.4 million in his account, according to the latest campaign finance reports. Polls give Cuomo a more than 2-1 ratio lead over Astorino, who remains little known.
Voters in Massachusetts also chose their nominees to succeed Gov. Deval Patrick, a two-term Democrat who is not seeking re-election.
Massachusetts Attorney General Martha Coakley won the Democratic primary for governor. She beat state Treasurer Steven Grossman and Donald Berwick, a former federal health care administrator, to win the Democratic nomination for governor.
In the Republican primary, Charlie Baker, chief executive of Harvard Pilgrim Health Care, beat Tea Party-backed candidate Mark Fisher.
Baker lost his bid to unseat Patrick four years ago, but he hopes a well-financed campaign and sharpened message can lead to a win in solidly Democratic Massachusetts.
In Rhode Island, state General Treasurer Gina Raimondo beat Providence Mayor Angel Taveras and newcomer Clay Pell, husband of Olympic figure skater Michelle Kwan, to win the Democratic nomination for governor.
Raimondo trumpeted her leadership in overhauling the state's troubled pension system, and in the process outraised and outspent both of her opponents, shelling out more than $5 million.
Raimondo will face Cranston Mayor Allan Fung, who beat businessman Ken Block, founder of the Moderate Party, on the Republican side of the ballot.
Meanwhile in New Hampshire, Republican voters chose retired defense industry executive Walt Havenstein to face first-term incumbent Democratic Gov. Maggie Hassan.
Havenstein secured the support of the Republican establishment early and beat Tea Party activist Andrew Hemingway and two others.
The Associated Press contributed to this report.