GOP Senators Urge U.N. to Appoint Independent Investigator Over 'Climate-Gate'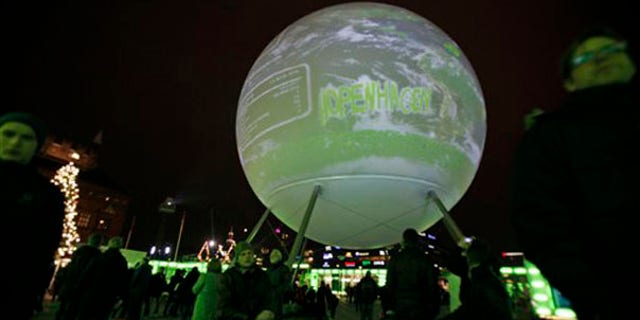 A band of 28 Republican senators is calling on the United Nations to appoint an independent investigator to probe leaked e-mails they claim raise serious questions about the science behind global warming.
Rajendra Pachauri, chairman of the U.N.'s Intergovernmental Panel on Climate Change, announced last week that the U.N. would conduct an investigation, saying at the time that the controversy over the e-mails was serious and that he didn't want to "brush anything under the carpet."
But the GOP senators wrote in their letter to Secretary-General Ban Ki-Moon that while such an inquiry is a "positive step," they want an investigation "that is truly independent of the IPCC and the U.N." -- in the style of the independent investigation led by former Federal Reserve Chairman Paul Volcker in the wake of the Oil for Food scandal.
"The United Nations must now appoint another independent investigator with an international team to pursue this matter," the senators wrote. They also urged the U.N. to open the books on the matter to the U.S. Congress and general public.
"The investigation must be conducted without political interference and manipulation from individual countries, non-governmental organizations, those within the U.N., those who have contributed to the IPCC, those being investigated, or any closely related associates," the senators wrote. "In the interest of transparency, it is imperative that the U.S. Congress have full access to all documents, as well as transcripts and interviews, from the investigation, and that they be released to the public."
Republican officials in Washington have been waving red flags ever since the release of the e-mails from the University of East Anglia's Climatic Research Unit that appeared to show climate scientists discussing the manipulation of data. The unit has been involved with several of the IPCC's own assessments.
The controversy comes in the midst of the international conference on climate change in Copenhagen, where world leaders are working toward a new global treaty aimed at reducing emissions. Obama administration officials insist the e-mails do not discredit the underlying science behind global warming.
But the senators urged the U.N. Thursday to look at whether data was manipulated, whether there were attempts to keep scientific journals from publishing dissenting opinions and other matters.
"These e-mails reveal that several of the IPCC's top scientists may have engaged in efforts to, among other things, manipulate data, defame scientists with opposing viewpoints, and evade transparency laws," they wrote.