GOP senator questions federal grants to study 'meaning of life,' other vague topics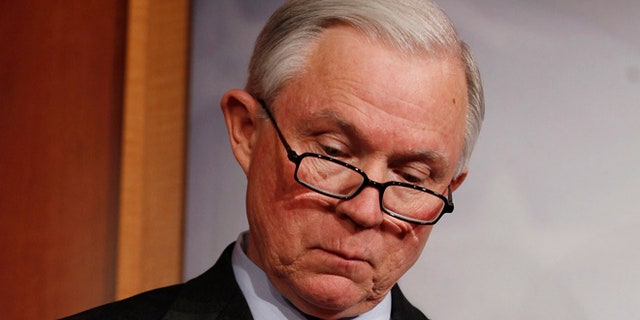 WASHINGTON – Republican Sen. Jeff Sessions wants to know why thousands of taxpayer dollars are being spent by the National Endowment for the Humanities on research projects and grants probing seemingly impossible-to-answer questions like, "What is the meaning of life?" and "What is the good life and how do I live it?"
Sessions, the ranking member of the Senate Budget Committee, sent an Oct. 23-dated letter to acting NEH Chairwoman Carol Watson questioning the spending policies at the federal agency given the current fiscal climate.
In his letter, he calls out seven specific grants totaling $172,445.
Among them were $24,953 to study the meaning of life, and $23,390 to examine the question: "Why are bad people bad?"
The NEH, which was created in 1965, is one of the largest financial backers of humanities programs in the country.
The agency, according to its website, awards grants for "top-rated proposals examined by panels of independent, external reviewers."
The grants are typically given to museums, libraries, and universities as well as individual scholars.
Since its creation, the NEH has had a hand in publishing 7,000 books, 16 of which have won Pulitzer Prizes. It also participated in the United States Newspaper Project, which cataloged and microfilmed more than 63 million pages of newspapers and paved the way for the National Digital Newspaper Program and its digital repository, "Chronicling America."
Sessions also wants the agency to explain its peer review process for all grants awarded in the education programs division after April 30, 2013 as well as provide him with a list of peer reviewers.
In his letter to the NEH, the Alabama Republican questions the agency's "Bridging Cultures Bookshelf Administration" program. His concern, specifically, is that the project calls for distributing books related to Islam to more than 900 libraries across the country, and plans to offer grants to book recipients to hold related forums.
"Using taxpayer dollars to fund education program grant questions that are very indefinite or in an effort to seemingly use federal funds on behalf of just one religion, does not on its face appear to be the appropriate means to establish confidence in the American people that NEH expenditures are wise," Sessions wrote in his letter.
Sessions also asks the NEH to provide him with an itemized list on all spending over the past five years related to "Christianity (e.g, Protestantism – Baptist, Methodist, Episcopal – or Catholicism) or Judaism where books or forums promoting one point of view were provided to libraries, etc."
The NEH told FoxNews.com that 90 percent of the books it distributes are "not Muslim related."