GOP leaders urge Nevada Gov. Brian Sandoval to challenge Sen. Harry Reid in 2016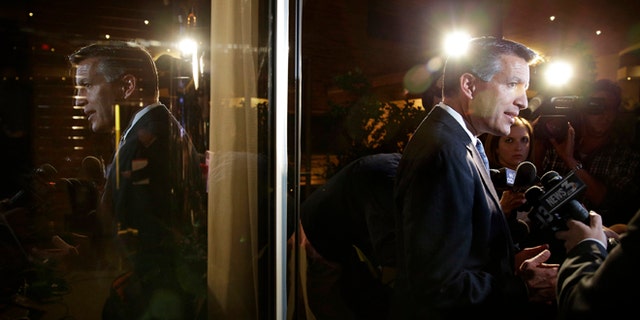 NEWYou can now listen to Fox News articles!
WASHINGTON – The day after Nevada Gov. Brian Sandoval won re-election last week, Jose Dante Parra, a Democratic political analyst who has worked for a number of candidates in the state, was aksed whether or not Sandoval would choose to challenge the lame-duck Senate Majority Leader, Harry Reid, for his seat in 2016.
"A lot of it," Parra told Fox News Latino, "depends on how hard the leaders of the national Republican Party lean on him."
The early indication is that they are prepared to lean pretty hard.
Senate Republicans, riding high after capturing the majority, say a top priority in 2016 will be defeating Reid.
"It's not just about being in the majority, it's about expanding the majority at this point," Sen. Dean Heller, R-Nev., told reporters. "We'll do whatever it takes to make that happen."
In 2016, Republicans will be trying to protect 24 seats to the Democrats' 10. Heller said he and other Republicans have spoken to Sandoval about challenging Reid.
"I think he'll want to assess and we'll give him a little time to do that," Heller said of Sandoval.
Heller, who is seeking the chairmanship of the National Republican Senatorial Committee, said the effort to defeat Reid would be "just business."
The GOP won handily on Election Day, tightening its grip on the House and regaining control of the Senate after eight years. Republicans knocked off Democratic Senate incumbents in Arkansas, North Carolina, Colorado and Alaska – where the latest vote count shows Dan Sullivan prevailing over Sen. Mark Begich – and claimed a handful of open seats.
The GOP could hold as many as 54 Senate seats next year, as three-term Democratic Sen. Mary Landrieu is considered the underdog in her Dec. 6 runoff against GOP Rep. Bill Cassidy.
Sandoval, 51, is basking in the glow of an improving state economy and a deal that will bring Tesla Motors' battery manufacturing gigafactory to the Reno area, a move with the potential to bring $100 billion into the state. Sandoval's economic advisors say the Tesla deal also could create tens of thousands of jobs in Nevada.
The deal also gave Sandoval a national sheen and buzz about loftier political positions in the future.
In the midterm election last week, state Sen. Mark Hutchison, a Republican whom Sandoval backed for the lieutenant governor post, beat Democratic state Rep. Lucy Flores, a victory that paves the way for Sandoval, who would have to cede the governor's seat midterm to the lieutenant governor, to challenge Reid.
Sandoval was born in Redding, Calif. He has broken many barriers in the Silver State, serving on the Nevada Assembly and the Gaming Commission and becoming the first Latino to hold statewide office. He has also served as the state's attorney general and a U.S. District Court judge.
Heller faces off against Mississippi Sen. Roger Wicker to become chairman of the National Republican Senatorial Committee, which is responsible for getting more Republicans elected to the U.S. Senate.
The Nevada senator wasted no time in trying to drum up votes among the incoming class of GOP senators. Heller escorted Senator-elect Thom Tillis of North Carolina into current Minority Leader Mitch McConnell's office and chatted with several of the newly elected.
McConnell held a meeting for the incoming class.
Told that Wicker says he has the votes for the chairmanship, Heller said, "He's a lot more cocky than I am. It's an uphill battle. He's got seniority, but I'm not discounting anything at this point and nor should he."
The Associated Press contributed to this report.
Follow us on twitter.com/foxnewslatino
Like us at facebook.com/foxnewslatino