GOP lawmakers fight to save cross at California war memorial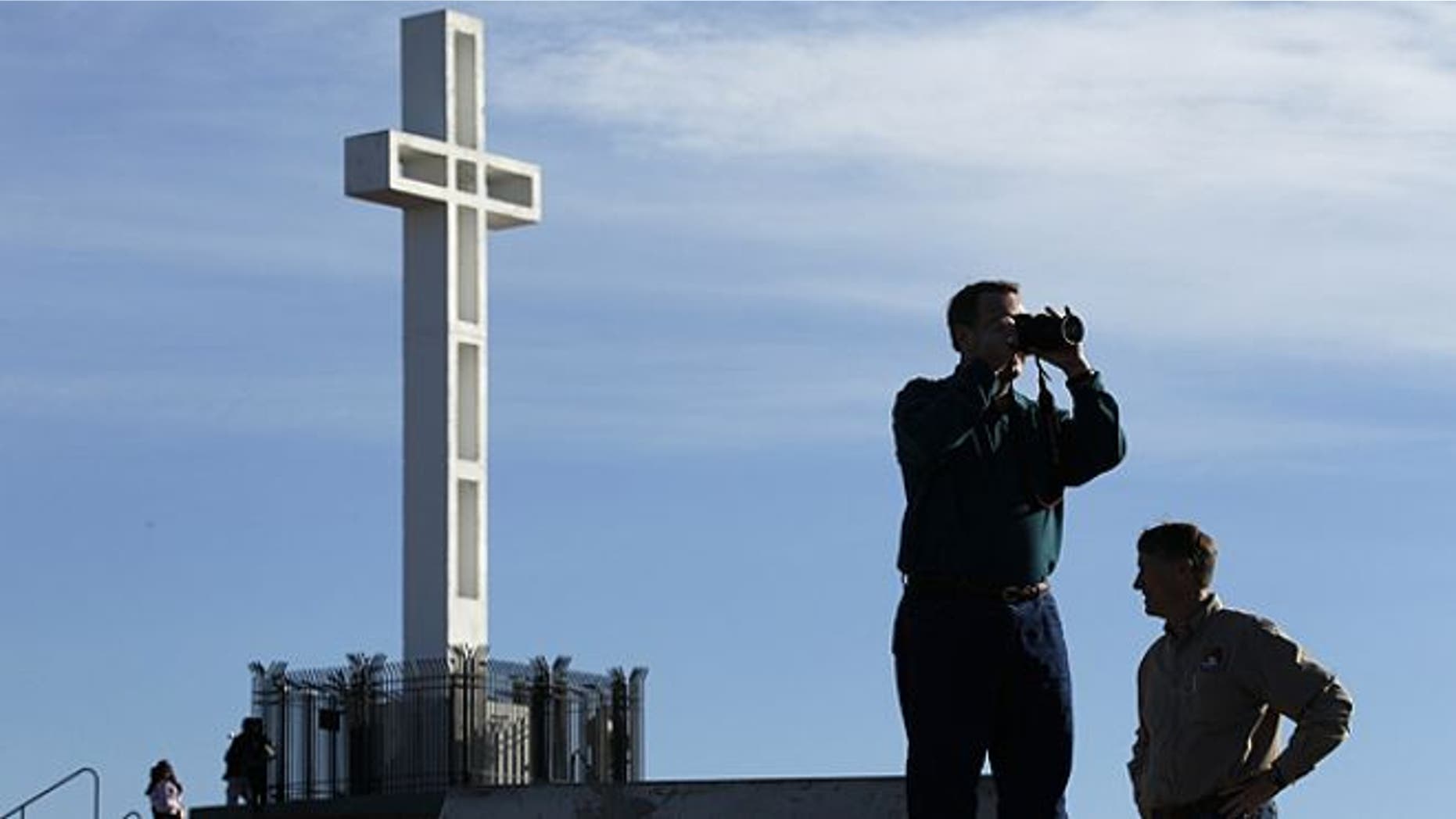 Several Republican lawmakers are urging a federal district court in California to block the removal of a war memorial cross in a San Diego public park that was declared unconstitutional in 2011.
The American Center for Law and Justice on Thursday filed a brief on behalf of the 18 members of Congress in the latest legal effort to protect the 29-foot cross, which was dedicated in 1954 in honor of Korean War veterans.
A three-judge panel of the 9th U.S. Circuit Court of Appeals issued a unanimous decision in 2011 declaring the cross unconstitutional because it conveys a message of government endorsement of religion. In 2012, the Supreme Court refused to take the case.
ACLJ Chief Counsel Jay Sekulow said putting the memorial in the hands of a private nonprofit group, the Mount Soledad Memorial Association, would be an appropriate alternative to removing the memorial's cross.
"We're urging the court to permit a private organization to obtain and operate the war memorial – a remedy that would remove any constitutional questions and protect this longstanding tribute to our men and women in uniform," Sekulow said in a statement.
The members of Congress represented in the brief include Reps. Randy Forbes, R-Va., Duncan Hunter, R-Calif., Louie Gohmert, R-Texas, Vicky Hartzler, R-Mo., and Lynn Westmoreland, R-Ga., according to a news release.
The legal fight over the Mount Soledad cross began in 1989 when atheist Philip Paulson sued the city of San Diego. Paulson, a Vietnam War veteran, contended that the cross excludes veterans who aren't Christian. A Jewish war veterans group has also been a plaintiff in the case along with the American Civil Liberties Union.
State and federal judges have ordered the cross removed, saying it represents an unconstitutional endorsement of one religion. But in 2006, the U.S. Supreme Court blocked an order that the city take it down that summer, giving lower courts time to hear appeals.
City officials have argued that the cross is part of a secular war memorial, and the cross has been embraced by San Diego residents who in 2005 overwhelmingly approved a measure to preserve it by donating it to the federal government.
The land under the cross was eventually transferred to the federal government but the courts have said that did not protect it from the constitutional dispute.
The 2011 ruling recounted that the cross was dedicated on Easter Sunday and used for religious gatherings for nearly three decades before it became a war memorial. It said La Jolla has a "well-documented history" of anti-Semitism from the 1920s to around 1970.
The Associated Press contributed to this report.