GOP Hopefuls Get Ready to Rumble in First 2012 Presidential Debate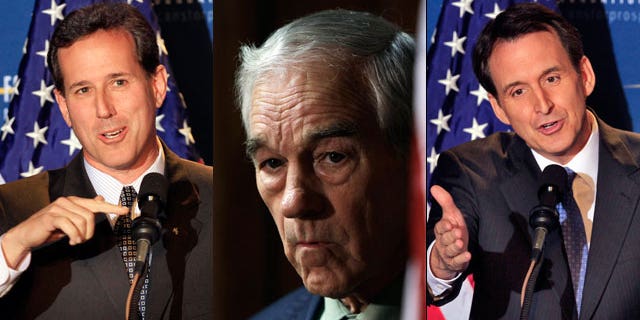 Republicans jockeying for position to challenge President Obama next year will have their first showdown Thursday night in South Carolina, a state that has held the first presidential primary in the South since 1980 and has been a crucial steppingstone for GOP candidates.
Former Minnesota Gov. Tim Pawlenty, former Pennsylvania Sen. Rick Santorum, Texas Rep. Ron Paul, businessman Herman Cain and former New Mexico Gov. Gary Johnson will face off in Greenville, S.C., in the Fox News-sponsored debate that begins at 9 p.m.
"Whoever has won the Republican primary in South Carolina has gone on to get the nomination," said Scot Huffmon, a political science professor at Winthrop University.
So it comes as a surprise that former Alaska Gov. Sarah Palin, former Massachusetts Gov. Mitt Romney, former Arkansas Gov. Mike Huckabee, Minnesota Rep. Michele Bachmann and reality TV star Donald Trump are among the potential White House hopefuls skipping the debate, a move that many in the Palmetto State see as a snub.
"There is an arrogance that is abounding right now with some of these candidates," said Karen Floyd, chairwoman of the South Carolina Republican Party. "And the state of South Carolina is a perfect conduit to select someone that will go out and work hard, shake hands, meet the people and say look, this is what I stand for, this is what I'm about. Not about buying elections."
"Anyone that discounts South Carolina is making a huge mistake," said South Carolina Gov. Nikki Haley.
Retail politics is key in South Carolina. The voters here insist on meeting the candidates and kicking the tire and figuring out what the candidates are all about.
In the latest Quinnipiac poll, 58 percent of respondents said they will never vote for Palin or Trump. Forty-two percent said they will never vote for former House Speaker Newt Gingrich and 32 percent offered a no-vote for Huckabee. Twenty-six percent said they won't vote for Romney.
But some, like Indiana Gov. Mitch Daniels, are not attending because they have not made up their mind yet on whether to run.
Conservatism matters here and makes the trail tough for Daniels -- who has proposed a truce over social issues -- and former Utah Gov. Jon Huntsman, who served as President Obama's ambassador to China.
"We are looking for a candidate who understands the whole spectrum of constitutional conservatism," said Sen. Jim DeMint, R-S.C. "So we're not looking for a candidate who says there has to be a time-out on any part of that."
DeMint backed Romney in 2008, but not this time. The former Massachusetts governor campaigned in Nashua, N.H., this week. Skipping the first debate has South Carolina residents taking shots at his commitment.
"Obviously a South Carolina conservative is going to be vastly different than, say, a Massachusetts conservative," Huffmon said.
Bachmann, who says she won't make a formal announcement until June, attended a candidates forum in New Hampshire last week but won't attend the first debate in South Carolina
In 2008, Huckabee took second in South Carolina, but he's so scarce now some question his desire.
I don't know if he's even gonna run," Haley said. "We haven't heard anything from Gov. Huckabee. So I'm interested to see that as well."
Donald Trump draws plenty of attention, but much of it in recent days for his potty mouth, which was on full display during a speech in Las Vegas last week.
"Most Americans don't want their president going around saying the 'f-word,'" said Sen. Lindsey Graham, R-S.C.
Trump's three marriages are also a liability for him here. Family values are a must here and it's even tougher for Gingrich.
The issue with his marriages and his past infidelity will come back and be discussed," Huffmon said.
Fox News' Carl Cameron contributed to this report.