GOP doctor-lawmakers rush to aid of injured after deadly train wreck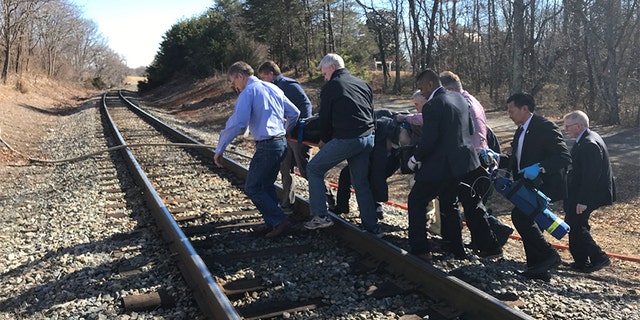 Minutes after the train slammed into the dump truck on Wednesday morning, Kansas GOP Rep. Roger Marshall tweeted that he was OK but was delivering first aid to victims.
"We are on our way to our annual GOP retreat, the train carrying members and spouses hit something. … I am helping those that are injured," the physician tweeted.
Marshall, along with another doctor-lawmaker, Tennessee Rep. Phil Roe, went on to perform CPR on the driver of the garbage truck, Marshall's office said.
According to officials, Christopher Foley, 28, of Louisa County, Va., one of two passengers inside the truck, was killed. The other passenger, still unidentified, was airlifted to the University of Virginia Medical Center with critical injuries.
The truck's driver, also still unidentified, was transported to a hospital with serious injuries, according to Madeline Curott, public information officer of the Albemarle County, Va., police department.
Several train passengers and crew members, including at least one lawmaker, were rushed to a local hospital for what were largely described as minor injuries.
The accident took place in Crozet, Va., near Charlottesville.
In the aftermath of the wreck, a number of lawmakers, including those who practiced medicine before politics, were seen caring for those with injuries. For some, it evoked memories of last June's GOP congressional baseball-field shooting, when House Majority Whip Steve Scalise and several others were shot during a morning practice.
As Scalise lay gravely injured on the field, Ohio Rep. Brad Wenstrup, who had experience as a combat surgeon, and Arizona Sen. Jeff Flake were among those who rushed to his side to apply pressure on his wound.
On Wednesday, Wenstrup, Flake and Sen. Bill Cassidy of Louisiana – another physician – were part of a group carrying an injured person to safety after the train wreck.
"Two tragedies. Two times @JeffFlake & @RepBradWenstrup have rushed to the aid of the injured. These guys are the real deal," Flake's spokesman, Jason Samuels, tweeted.
In a phone interview on "Your World with Neil Cavuto" on Wednesday, Wenstrup described how the doctors on-board, including both lawmakers and at least one spouse, tried to get off the train as quickly as possible to help.
"Ultimately, we had about eight doctors with us. We started performing CPR on the one gentleman, who, unfortunately, I believe, probably died instantly," Wenstrup said. "The other gentleman, I started taking care of. He was bleeding from his nose and mouth and was unconscious. We maintained his airway and checked everything."
Other doctor-lawmakers helping on the scene Wednesday included Texas Rep. Michael Burgess and Larry Bucshon of Indiana. Bucshon's wife, an anesthesiologist, also helped, Wenstrup said.
The chartered train had been carrying members of Congress to a Republican retreat in West Virginia. The crash threw some lawmakers from their seats.
Others on the train sustained head injuries, including Minnesota Rep. Jason Lewis and an unnamed aide to House Speaker Paul Ryan, according to a spokeswoman.
Lewis suffered a concussion but doctors have released him from the University of Virginia Medical Center in Charlottesville, according to the congressman's spokesman, Stephen Bradford.
"Rep. Lewis is grateful for the care of the clinical staff at the UVA Medical Center in Charlottesville," Bradford said. "He's been discharged and travelled onto the GOP retreat, where he is recovering from a concussion. He looks forward to participating in the retreat as much as he is able."
The UVA Health System reported that six people were rushed to UVA Medical Center with injuries, one of whom was in critical condition.
The circumstances of the crash are not yet clear, but the truck may have been stuck on the tracks when it was hit, witnesses said.
"It was a very high-speed collision," Rep. Jeff Denham, R-Calif., who was among those on the train, told Fox News. "There was no braking that was felt. We hit an immediate impact and went from 70 to zero very quickly."
Amtrak later said Wednesday that two crew members and two passengers "were transported to a local hospital with minor injuries."
The UVA Health System said one patient from the scene, not a lawmaker, is in "critical condition."
The retreat at the Greenbrier resort is expected to go on as planned. The train -- which had a functional engine on the other end -- was able to run in reverse back to Charlottesville, where members were taking buses to West Virginia.
Fox News' Judson Berger and Chad Pergram contributed to this report