Georgia pol claims Tyler Perry using star power to secure 'sweetheart' deal for Army base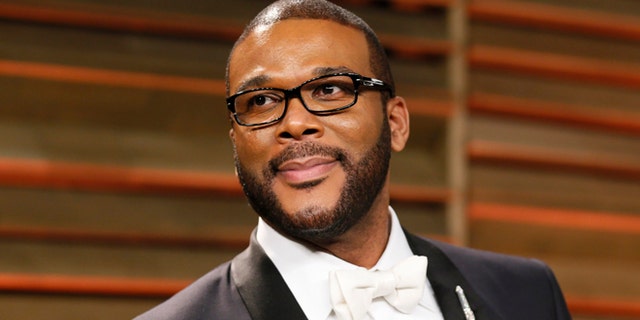 NEWYou can now listen to Fox News articles!
WASHINGTON – An unusual dispute is taking shape in Georgia that has all the trappings of a juicy Hollywood flick: alleged secret deals, political profiting, and, oh -- Tyler Perry. Yes, that Tyler Perry.
The entertainment mogul is in the spotlight as a Georgia state lawmaker accuses him of using his star power and deep pockets to secure a "sweetheart" land deal on a former Army base in Atlanta.
State Democratic Sen. Vincent Fort is pointing to what appears to be circumstantial evidence -- namely, that Perry made political donations -- but wants the Army to intervene and put the decision on hold. He claims Perry's production company, Tyler Perry Studios, has been able to "fast track" the purchase of 330 acres of land on Fort McPherson, a shuttered Army base in southwest Atlanta.
"I urge you to carefully consider the ramifications of moving forward in light of the damage that will occur if this is not immediately addressed," Fort wrote in an Aug. 7 letter to Army Secretary John McHugh, adding, "Please do not be an accomplice to this terrible act of injustice."
Fort, whose district includes the land in dispute, claimed to FoxNews.com that the deal was shrouded in "secrecy," specifically concerning the pace and price tag of Perry's purchase. He also questions whether Perry's studio benefited from a below-market rate.
Fort McPherson shuttered in 2011 as a result of the 2005 Base Realignment and Closure Act. The McPherson Implementing Local Redevelopment Authority, or MILRA -- tasked by the state as the entity responsible for the site's redevelopment -- originally purchased the entire 488-acre Army base for about $33 million.
Perry then purchased 330 acres for about $30 million for his studio, where, according to records, he'll build up to 16 sound, television and movie studios. Under the deal, which still needs to be finalized by the U.S. Army, MILRA will keep control of the other 144 acres for future redevelopment needs.
Fort has raised concerns that political favors may be at play. He notes Perry donated to Republican Gov. Nathan Deal's election coffers. Perry, who has in the past helped fundraise for Democrats including President Obama, personally made a $6,300 contribution on May 1 to Deal's GOP gubernatorial primary campaign -- the maximum amount allowed under state law.
That same day, Tyler Perry Studios made two donations to Deal's re-election campaign -- $6,300 to go toward the primary race and another $100 for the general election race in November.
Several weeks later, the deal got the tentative green light from Atlanta.
The Georgia governor's longtime spokesman Brian Robinson, though, told FoxNews.com that Perry most likely donated because Deal has been "a major supporter of the film industry."
Perry also donated to Atlanta Mayor Kasim Reed's campaign. Reed, a Democrat, helped broker the Fort McPherson deal.
As for the Perry purchase itself, Robinson said: "The mayor came to the governor and asked would the state be willing to work with him, would the state step aside and let Tyler Perry exhaust interest in the building."
But he dismissed Fort's claims that the governor was doing Perry a political favor. "Don't tie us into that," he said. "We don't run this stuff. ... We have nothing to do with this."
Reed's office has likewise told various Georgia-based media outlets that Fort's claims are "outrageous" and "total garbage."
In a written statement announcing the deal, Reed's office said the "Tyler Perry Studios proposal will allow for long-term economic and social sustainability to Fort McPherson and its surrounding areas."
Additional details about the purchase have been difficult to come by.
Tyler Perry Studios has not returned several requests for comment from FoxNews.com.
When contacted by FoxNews.com, Darlene Hawksley, director of real estate and business engagement for MILRA, repeatedly denied knowing about the Perry purchase. She responded "no comment" to a range of questions, some pertaining to points as basic as whether MILRA existed or how much land it owns.
Fort, though, is trying to get answers over what he calls "back room dealings." In his letter earlier this month, he asked McHugh to intervene and claimed "the secretive" process that led to the announcement of the deal in mid-June would render moot a planning process dating back to 2007.
Fort also requested a meeting with McHugh, saying the main goal is "to slow [the deal] down."
The mayor's office touted the tentative deal with Perry as a job creator and claimed in June it would relocate 350 permanent jobs and produce more than 8,000 new jobs in Georgia's capital.
"It will also expand Atlanta's footprint in television and film," Reed said in the press release.
Fort, though, questions the claimed benefits of the proposal.
Meanwhile, an entertainment company that had been working on a deal with MILRA prior to Perry's purchase recently filed two legal challenges related to the deal.
Ubiquitous Entertainment Studios, according to court documents, says it spent an "enormous amount of time and resources" toward buying 80 acres of the land, only to be derailed by Perry. It claims Perry unfairly persuaded those in power to make a deal with his company instead.
The Army is also named as a defendant in the suit, and Fort mentions it in his letter to McHugh, though he says he has "no dog in that particular fight."