General's alleged 'treason' remark probed by Air Force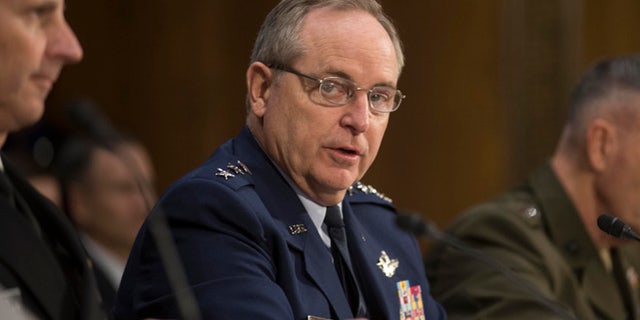 NEWYou can now listen to Fox News articles!
WASHINGTON – The Air Force is investigating allegations that the No. 2 commander at its prestigious Air Combat Command told lower-ranking officers that talking to members of Congress about the capabilities of the A-10 attack aircraft is tantamount to treason.
The alleged comment by Maj. Gen. James Post has stirred concern in Congress about the Air Force muzzling officers in violation of their legal rights.
"This is very serious, to accuse people of treason for communicating with Congress," Sen. Kelly Ayotte, R-New Hampshire, told Gen. Mark Welsh, the Air Force chief of staff, who testified Wednesday before the Senate Armed Services Committee.
Post is reported to have told Air Force officers attending a recent weapons and tactics conference in Nevada that it is their duty to support the service's budget priorities by refraining from offering opinions inconsistent with those priorities. Air Force leaders have proposed retiring the A-10 fleet but Congress has refused, and some inside the Air Force have sided with Congress.
Post's alleged comments were first reported by Tony Carr, a retired Air Force officer who writes a blog called "John Q. Public." Carr said he learned of Post's comments from a number of officers who were in the audience at the time Post spoke.
Carr said Post prefaced his remark in the closed-door conference by saying, "If anyone accuses me of saying this, I will deny it." He then said, "Anyone who is passing information to Congress about A-10 capabilities is committing treason."
"These comments can be seen as nothing less than an attempt to intimidate subordinates into refraining from exercising their rights to free expression and civic participation," Carr wrote.
The Air Force has not disputed that Post made the comment as reported.
"We are aware of the concerns surrounding the alleged remarks made by General Post. We take this matter very seriously and are fully cooperating with the Secretary of the Air Force Inspector General's investigation," said Capt. Andrew Schrag, a spokesman for Air Combat Command, which is in charge of the service's combat aircraft.
Another Air Force spokesman, Maj. Colin Hughes, said the Air Force investigation began Jan. 22.
In his remarks Wednesday, Welsh said the Defense Department is overseeing an investigation of the matter by the Air Force inspector general, and said he had personally intervened by calling Post after seeing a news report about his alleged comment.
Pressed on the matter by Ayotte, Welsh said he found it "not at all" acceptable for a general to make such a comment.
"I support any airman's right to discuss anything that you would like to discuss with them and to give you their honest opinion," Welsh said. "In this particular (Post) case, with the investigation ongoing, my job is to wait until the facts are known" and then make recommendations to his civilian superiors.
"It worries me about the climate and the tone that set if members — airmen, airwomen — are told that they would be committing treason for communicating with us," Ayotte said.
Ayotte said she was concerned that the Air Force is quietly trying to find out which officers talked to Congress about the A-10.
Welsh said he was unaware of any such internal investigation.
"I would be astonished by that," he said, adding, "I would not condone it."