Gates Praises Clapper, Says Top Military Intel Chief Can Work With Agencies, Congress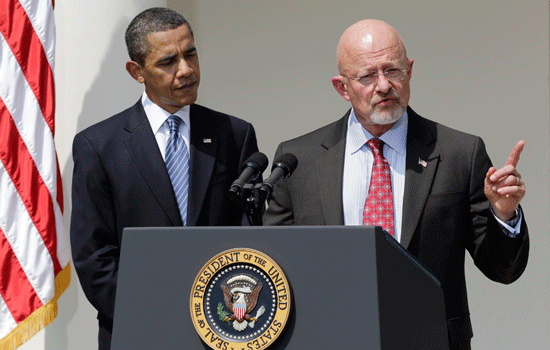 Defense Secretary Robert Gates praised the selection of Gen. Jim Clapper to become the next director of national intelligence, telling reporters that the one man he chose to bring with him to the Pentagon is "the consummate intelligence professional."
Clapper "has the respect of virtually everybody in the community," Gates said aboard a flight from Singapore to Azerbaijan. Gates said he has known Clapper for 20 years and he has all the qualities required to do the job well.
"What is really key for success in leading the intelligence community and for the DNI, in my view, is not only long experience and familiarity with the intelligence world, but the temperament to have the kind of constructive, positive chemistry with the other leaders of the intelligence community. And General Clapper has that kind of chemistry, has had it all along," Gates said.
President Obama nominated Clapper on Saturday for the post responsible for oversight of 16 intelligence agencies that many have criticized as too unwieldy and large for one person to undertake. Adm. Dennis Blair resigned from the job last month, taking the fall for several intelligence failures that led to the failed Christmas Day and Times Square bombings.
But several Washington insiders said Blair's departure also represented a failure to heal scars from conflicts with CIA Director Leon Panetta, who comes from a political background and was considered better able to navigate Washington. Blair was reportedly also disappointed with the lack of backing from the White House on several issues.
Some lawmakers -- like Intelligence Committee Chairwoman Dianne Feinstein and ranking minority member Kit Bond -- say they prefer a DNI who does not come from a military background, but has some clout in Washington.
CIA Director Leon E. Panetta on Saturday praised the selection of Clapper.
"Jim Clapper has directed two intelligence agencies and has led the Pentagon's intelligence efforts. Few people have more intelligence experience than Jim Clapper. The men and women of the CIA look forward to working closely with him in his new role to strengthen America's national security," he said in a statement.
Rep. Pete Hoekstra, R-Mich., also said that Clapper is not forthcoming enough and doesn't believe Congress should have an oversight role for intelligence.
In 2004, when the position was created, Gates was offered the job but turned it down, and wrote an editorial criticizing its creation.
But on Sunday, he said lawmakers on the Armed Services committees have never complained about Clapper's "forthcomingness," and the general "has a strong, long record not only of adherence to congressional oversight but support of it and enthusiastic cooperation."