Fox News Poll: Walker seen as strong leader among GOP, Clinton's honesty ratings drop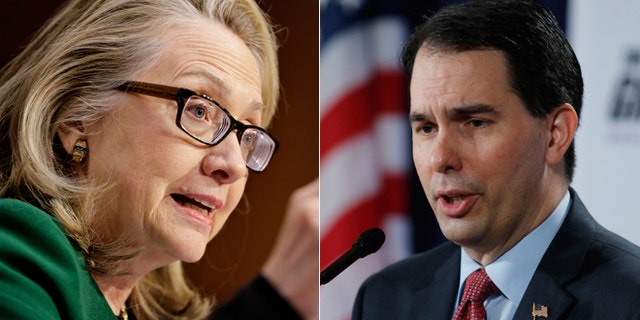 NEWYou can now listen to Fox News articles!
The latest Fox News poll asks voters whether a variety of traits describe some of the 2016 contenders.
Overall, there's general agreement that former Florida Gov. Jeb Bush (+54 points), former Secretary of State Hillary Clinton (+40), Florida Sen. Marco Rubio (+34) and Wisconsin Gov. Scott Walker (+24) are patriotic. For comparison, those margins all beat President Barack Obama's (+11) on this measure.
CLICK HERE TO READ THE POLL RESULTS
On the other hand, "strong leader" is not a trait that lots of voters see in the GOP candidates tested. More voters perceive Clinton as a strong leader (+16 points) than Walker (+11), Rubio (+7) and Bush (-1). And many more see her as a strong leader than say the same of Obama (-12).
More self-identified Republicans think "strong leader" describes Walker (+35 points) than Rubio (+33) and Bush (+18).
"Walker is in a nice position right now," says Democratic pollster Chris Anderson, who conducts the Fox News Poll along with Republican pollster Daron Shaw. "Republicans who know him overwhelmingly think he is a strong leader, and there are very few in the base who hold negative opinions toward him."
While Clinton performs well on leadership, she's underwater on honesty (-8 points). Just 44 percent say the label "honest" describes her, while 52 percent disagree. A year ago, by a 54-42 percent margin, voters said Clinton was "honest and trustworthy" (April 2014).
That rating suggests recent revelations about Clinton -- especially concerning the activities of the Clinton Foundation -- may be taking a toll. Sixty-one percent of voters say if recent allegations are true and the foundation accepted contributions from foreign governments while Clinton was secretary of state -- it was the wrong thing to do.
More voters than not say "honest" describes Rubio (+9 points), Walker (+8) and Bush (+7).
Among all voters, Bush does best on "patriotic" and "caring." His trouble spot is "strong leader," as he's underwater on that -- albeit by just one point.
"It's interesting and potentially important how well Bush scores on the caring trait," says Shaw. "Empathy is something recent GOP candidates have not scored well on, and reducing this gap is essential for them to do well in 2016."
Each of the candidates receives positive ratings on "caring": Bush (+24 points), Clinton (+22), Rubio (+17) and Walker (+10).
Among those familiar with them, Walker does best on "patriotic" and "strong leader" and Rubio's top traits are "patriotic" and "caring." Both of these candidates are less well known than either Bush or Clinton.
The Fox News poll is conducted by telephone with live interviewers under the joint direction of Anderson Robbins Research (D) and Shaw & Company Research (R). The 1,011 registered voters were reached via landline and cell phone numbers randomly selected for inclusion in this nationwide survey from March 1-3, 2015. The full poll has a margin of sampling error of plus or minus three percentage points.