Fox News Poll: Voters split on top immigration priority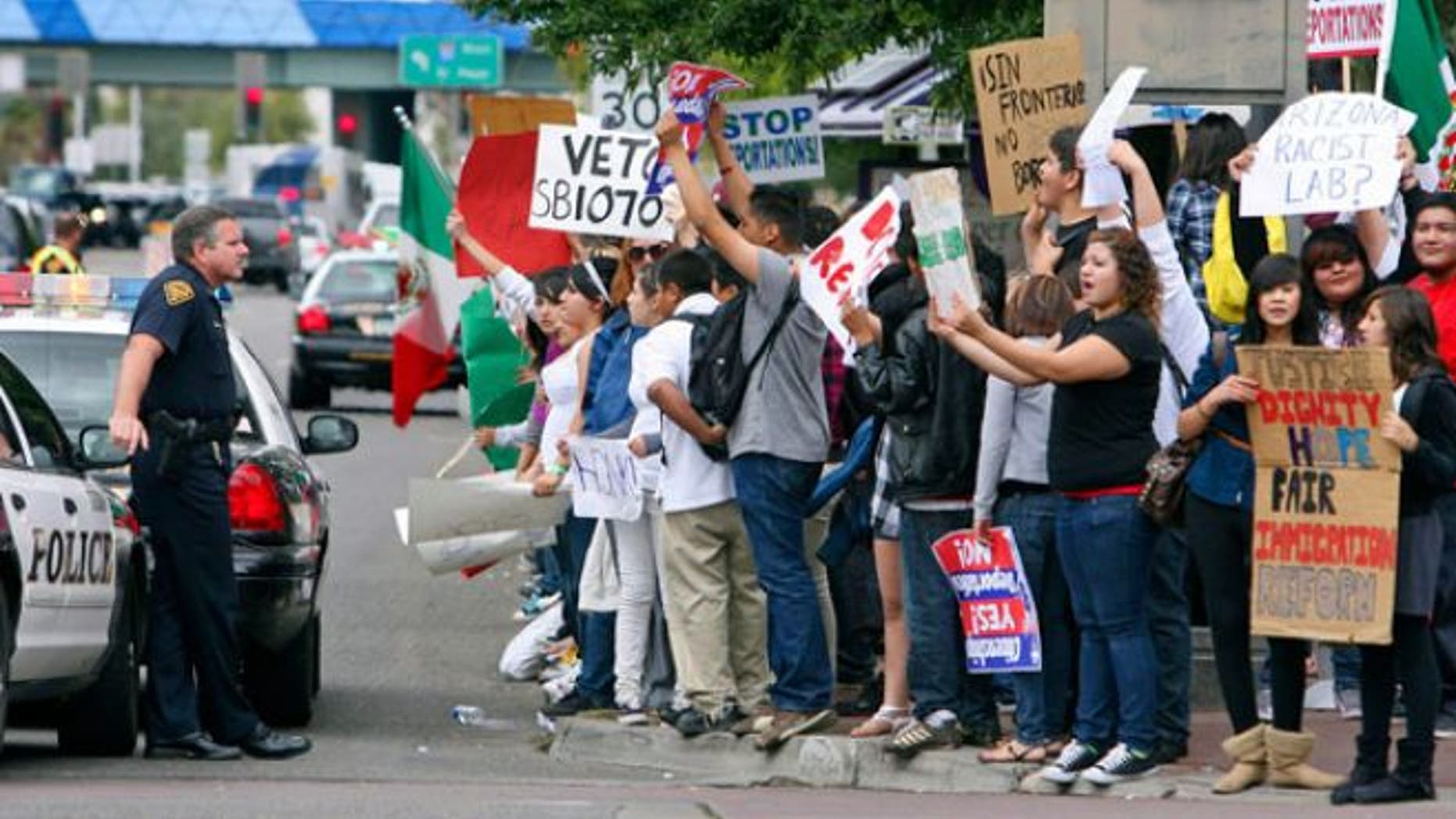 American voters are still divided over the top priority in dealing with the issue of illegal immigration. While 43 percent say it's securing the border, almost as many -- 41 percent -- think it's more important to deal with illegal immigrants already in the country, according to a Fox News poll released Monday.
Views today are virtually unchanged from two years ago. At that time, 43 percent of voters said secure the border first, while 42 percent said focus on undocumented immigrants currently in the U.S. (March 2011).
Despite illegal immigration being a hot topic in Washington, it is not only low on the list of things worrying voters, but also, concern has decreased significantly over the past three years. Some 60 percent say they are extremely or very concerned about the issue, down from 71 percent in 2010. Far more voters are concerned about everything from the economy (89 percent concerned), health care (85 percent), and education (85 percent) to government spending (84 percent), the job market (84 percent) and the federal deficit (80 percent).
Illegal immigration tops only climate change among all issues tested (46 percent concerned).
Republicans and voters living in the South, West and rural areas of the country are more likely to give priority to border security. Democrats and those living in the Northeast, Midwest and urban areas are more likely to prioritize dealing with the illegal immigrants already in the U.S. Independents split down the middle on the choice.
In late January, a bipartisan group of Senators released a framework for comprehensive immigration reform that said the creation of a path to citizenship is "contingent upon securing our borders." President Obama also supports strengthening border security as part of immigration reform.
Faith in border security is up. The new poll finds that 27 percent of voters think the country's borders are more secure today than they were five years ago. That's up eight points from 19 percent who felt that way in 2010. Some 21 percent think the borders are less secure today (down from 26 percent). Just under half -- 46 percent -- think there has been no change in five years.
There's a large partisan divide on this issue, as Democrats (37 percent) are more than twice as likely as Republicans (16 percent) to say the country's borders are more secure today.
In general, more voters say immigrants help rather than hurt the country.
Forty-five percent believe immigrants help the country and make it a better place to live. That's up from 41 percent in 2010, and up from 38 percent when the question was first asked on a Fox poll in 2003.
On the other side, 35 percent of voters say immigrants hurt the country and make it a worse place to live.
Democrats (56 percent) and independents (50 percent) are more likely than Republicans (31 percent) to feel immigrants help the country.
Voters give President Obama mixed reviews on immigration: 47 percent approve of the job he's doing, while 46 percent disapprove. Even so, that's a new high for Obama on the issue, and represents the first time more voters approve than disapprove of his performance, although by a slim margin.
Fully 70 percent of nonwhites approve of Obama on immigration, while 40 percent of whites approve. Approval of the president among Democrats (73 percent) is matched by near-equivalent disapproval among Republicans (72 percent).
In addition, Obama receives better ratings on immigration than on other top issues facing the country, including health care (43 approve/52 disapprove) and the economy (42 approve/55 disapprove). The president's best rating comes on terrorism, as 59 percent of voters approve of the job he's doing and 36 percent disapprove.
The Fox News poll is based on landline and cell phone interviews with 1,010 randomly chosen registered voters nationwide and was conducted under the joint direction of Anderson Robbins Research (D) and Shaw & Company Research (R) from February 4 to February 6. The full poll has a margin of sampling error of plus or minus three percentage points.