Fox News Poll: US can't trust Iran, Obama should get Hill approval of deal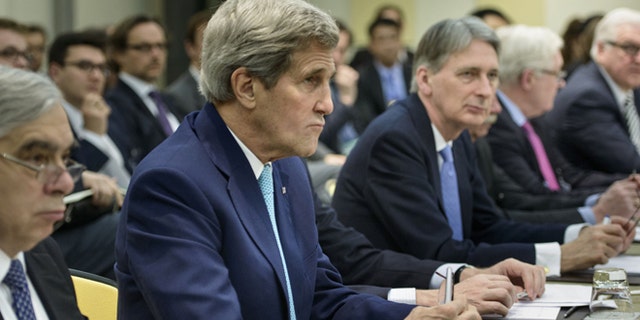 NEWYou can now listen to Fox News articles!
While American voters split over the nuke deal being negotiated with Iran, they agree on one thing: Iran can't be trusted.
A new Fox News poll also finds there's widespread agreement that President Obama should get sign-off from Congress before inking the deal.
Three-quarters of voters, 76 percent, say Obama "should be required" to get Congressional approval for any deal he makes with Iran about its nuclear program. That includes nearly two-thirds of Democrats (64 percent).
CLICK HERE TO READ THE POLL RESULTS
Most think Iran can't be trusted. Over half of voters, 55 percent, say the U.S. "can't trust anything" Iran says on the issue of nuclear weapons, while another 28 percent thinks we can only trust "a little" of what Iran says.
Just one percent thinks the U.S. can "completely trust" Iran on nukes, while 15 percent of voters say we "can trust some" of what it says.
Republicans (72 percent) are nearly twice as likely as Democrats (39 percent) to think the U.S. can't trust anything Iran says.
Overall, by a 47-44 percent margin, voters favor an agreement that would involve the U.S. easing economic sanctions on Iran for 10 years and in return Iran agreeing to stop its nuclear program during that time.
A 58-percent majority of Democrats favors the deal, while a 55-percent majority of Republicans opposes it. Independents oppose it by a slim 4-point margin.
Obama hit a new low of 33 percent approval on his handling of the Iran situation. Fifty-eight percent of voters disapprove. The previous record low was 35 percent approval vs. 53 percent disapproval in January 2014.
The March 31 deadline for reaching a deal with Iran over its nuclear program passed, but the administration said negotiations would continue beyond an original extension of Wednesday and now go through at least Thursday. There are plans to continue talking through a late June deadline.
The talks with Iran have put the United States at odds with Israel. The White House opposed Israeli Prime Minister Benjamin Netanyahu addressing Congress earlier this month -- just before that country's elections. The poll finds more American voters than not are glad Netanyahu won, yet the largest number, 39 percent, say they don't care much either way about his re-election.
Republicans (56 percent) are four times as likely as Democrats (15 percent) to say they are glad Netanyahu won re-election.
Meanwhile, approval of Congress is out of the teens for only the second time in nearly four years. Twenty-one percent of voters approve today, which matches its February rating. It was 20 percent in June 2011. Even so, disapproval remains high today, as 7 in 10 give lawmakers the thumbs down (70 percent).
The Fox News poll is conducted by telephone with live interviewers under the joint direction of Anderson Robbins Research (D) and Shaw & Company Research (R). The 1,025 registered voters were reached via landline and cell phone numbers randomly selected for inclusion in this nationwide survey from March 29-31, 2015. The full poll has a margin of sampling error of plus or minus three percentage points.