Fox News Poll: Support for Obama Dips in Ohio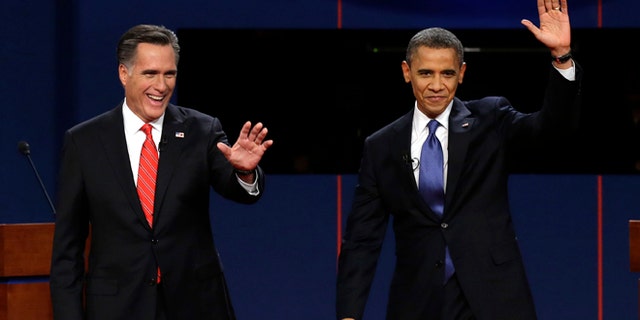 Despite a dip in support, Barack Obama retains a narrow 46-43 percent edge over Republican challenger Mitt Romney in the Buckeye state.
That's according to a Fox News poll of Ohio likely voters released Friday.
Obama topped Romney by seven percentage points in Ohio a month ago (49-42 percent).
The president has lost ground among independents (down 10 points from September), women (down eight points) and voters under age 35 (down six points).
Half of Ohio voters are "extremely" interested in the election. Among these most interested voters, Romney is ahead by 10 percentage points (52-42 percent). In addition, by a 12-point margin, Romney supporters (65 percent) are more likely than Obama supporters (53 percent) to say it is "extremely" important their candidate win in November.
On the other hand, more than 400,000 Ohio voters had already cast ballots as of Wednesday, according to Sec. of State Jon Husted, and the poll shows those early voters siding with Obama by 20 points.
Over half of Ohio voters -- 53 percent -- have a favorable opinion of Obama. That's little changed from 55 percent in September.
Views of Romney are in positive territory now -- 48 percent favorable and 46 percent unfavorable. That's a reversal from his five-point net negative rating last month (45-50 percent).
Meanwhile, by a five-point margin more Ohio voters think the nation's economy is getting better (45 percent) than getting worse (40 percent).
Even so, Obama fails to get much credit for that. Some 40 percent think the administration's economic policies have helped the economy, while almost as many -- 38 percent -- say the policies have hurt. Another 20 percent say they haven't made a difference either way.
Further, when asked who deserves more credit for Ohio's unemployment rate being lower than the national average, nearly half of Ohio likely voters -- 45 percent -- say Republican Gov. John Kasich, while 35 percent say the president should get more credit.
Ohio's unemployment rate is 7.0 percent, while the national rate decreased from 8.1 percent to 7.8 percent in September.
The president has lost ground on several keys issues. By a slim two-point edge, more voters trust Obama than Romney to improve the economy. That's down from a seven-point Obama advantage in September.
On foreign policy, Obama is preferred by seven points, which is down significantly from his13-point edge a month ago. And while more voters trust Obama on Medicare by a 10-point margin, that's down from 14 points.
Romney is more trusted to cut government spending (+10 points), and the candidates are tied on the issue of taxes.
The Fox News poll is based on live telephone interviews on landlines and cell phones from October 17 to October 18 among 1,131 randomly-chosen likely voters in Ohio. Likely voters are registered voters who are considered most likely to vote in the November presidential election or have already voted through early/absentee ballot. The poll is conducted under the joint direction of Anderson Robbins Research (D) and Shaw & Company Research (R). For the total sample, it has a margin of sampling error of plus or minus three percentage points.