Fox News Latino Live Blog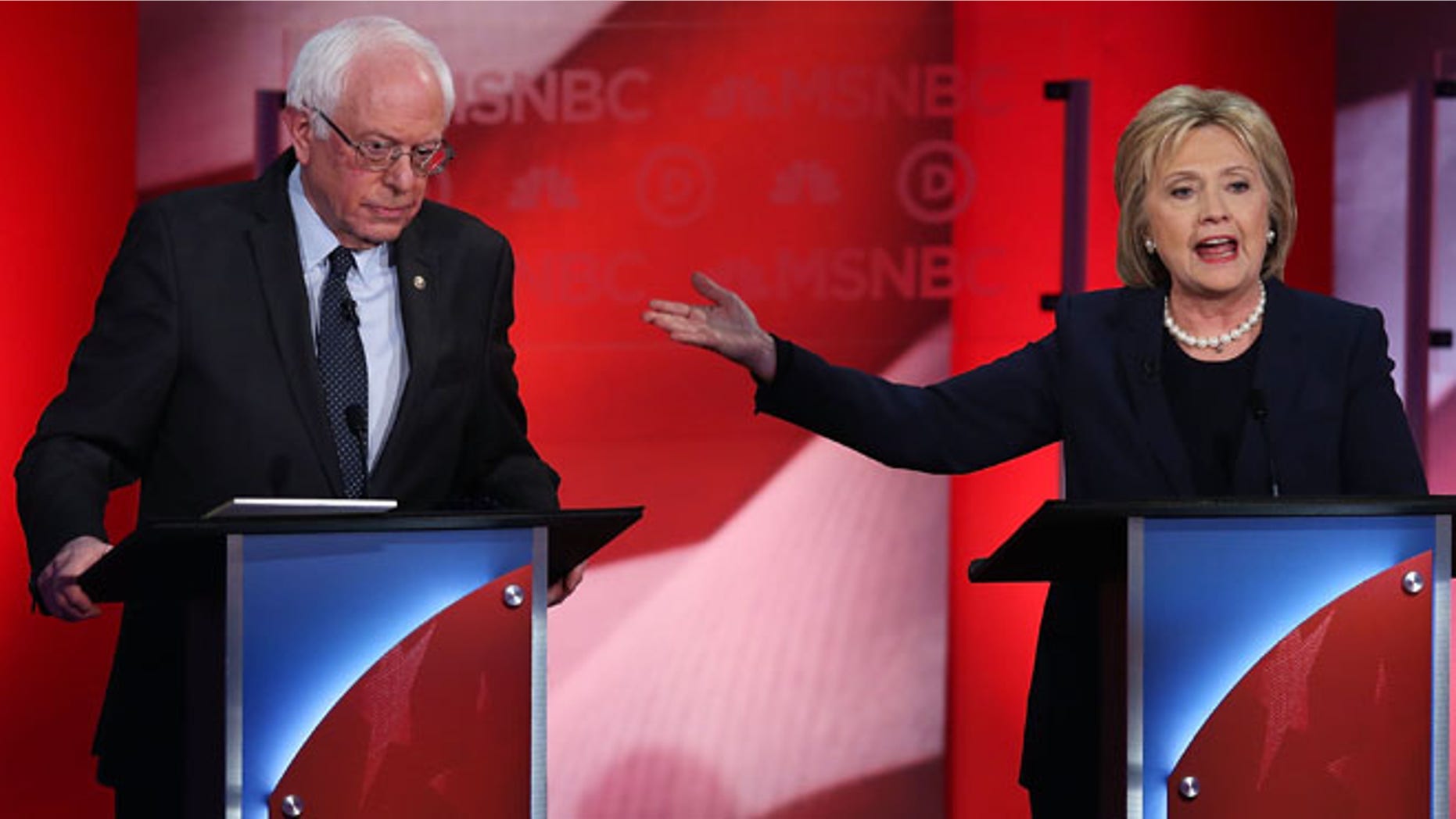 A 'human' face on immigration
Tonight was the ninth time in history that a presidential candidate was asked a question from someone in the audience.
A Guatemalan woman whose husband was deported because of a driver's license asked the candidates in Spanish: "What will you do to stop deportations and reunite families?"
Clinton praised Lucía Quiej, saying what she did was an "incredible act of courage."
"It is time to bring families together. More Americans need to know the human cost of these policies are," Clinton said.
Lucia's eyes watered as the Univision reporter translated what the candidates were saying.
"I will do everything I can to prevent other families to face what you are facing," Clinton said.
Univision said Quiej's husband was deported six years ago and she she has been raising her five children alone since then.
That big, beautiful wall
Hillary Clinton got some laughs by saying Donald Trump wants to build "a beautiful, tall wall" that will "magically" be paid for by the Mexican government.
Her comments came in response to a question at Wednesday's Democratic presidential debate in Miami on whether her vote as a New York senator to build a wall on the Southern border differs from Trump's plan, which she has called ridiculous.
Clinton says responsible legislators chose to improve border security with more agents and some fencing when needed, and as a result the country has lower rates of illegal immigration.
Is Trump a racist?
Neither Hillary Clinton nor Bernie Sanders would take the bait on calling Trump a racist.
Clinton, who attended Trump's wedding with Melania, said she was the first candidate to call out Trump for his harsh rhetoric.
"I was the first one to call (Trump) out when he called Mexicans 'rapists...'" she said. "I said basta!"
Sanders said voters were too smart to elect a candidate like Trump.
America will never elect a president who insults Mexicans. Who insults Muslims. Who insults African Americans."
Immigration takes center stage during debate
Hillary Clinton and Bernie Sanders both tried to portray the other as flip-floppers on immigration.
Clinton assailed Sanders for not supporting the 2007 bipartisan comprehensive immigration reform bill by Sen. John McCain and Sen. Ted Kennedy.
Sanders said he objected to the guest worker provision, fearing that it would perpetuate the exploitation of undocumented workers. He said some major Latino organizations also shared those concerns about the bill.
He in turn attacked Clinton for her comment that unaccompanied minors fleeing Central America should be returned there. She said her comment was mischaracterized and that she was expressing concern about children making the dangerous journey alone.
Both candidates pledged to work on comprehensive immigration reform if they become president, and said they would deport only criminals in a request by moderator Jorge Ramos about whether they would make such a promise.
Hillary Clinton balks at Univision moderator's question about emails
Univision anchor Jorge Ramos, who is one of the moderators in the Democratic debate tonight, disclosed that his daughter, Paola, works in Hillary Clinton's campaign.
Then he hurled one tough question after the other at the former secretary of state, including asking Clinton whether she'd drop out of the presidential race should her use of a private server while secretary of state result in a federal indictment.
"Oh for goodness and it's not going to happen," she says, responding to a question from moderator Jorge Ramos. "I'm not even answering that question."
Clinton insists she broke no rules by running her State Department email account from a private server located in her New York home, though she now calls the decision "a mistake." The messages were classified by government agencies years after she sent them, she says.
"I did not send or receive any emails marked classified at the time," says Clinton. "What you're talking about retroactive classification."
The Associated Press contributed to this.
Michigan changed the stakes in Univision debate
Many had thought Hillary Clinton would be taking the stage in tonight's debate with solid back-to-back victories behind her, and her momentum going into next Tuesday's extremely important primaries as revved up as ever.
But no. This is, after all, the presidential election that defies many polls and predictions.
Clinton is going into this debate, which will air on Univision and CNN, still reeling from the biggest upset of the election cycle so far -- the loss in Michigan, a state the most recent polls had showed her leading rival Sen. Bernie Sanders by double digits. Instead, Sanders scored an upset victory, stunning both the Sanders and Clinton camps.
Now, Clinton needs a knock-out performance on Wednesday to take some of the shine off Sanders' Michigan upset, and Sanders himself needs a strong night to keep his Tuesday victory from seeming like a fluke.
Clinton remains in a strong position. She's half-way to having the delegates needed to be the Democratic nominee. Sanders said his Michigan triumph amounted to a public repudiation of establishment efforts to wrap up the primary and hand the nomination to Clinton.
"Last night our political revolution scored 'one of the greatest upsets in modern political history,' and we're seeing the same kind of come-from-behind momentum all across America," he wrote in a fund-raising letter to supporters, according to the Associated Press.
Clinton's campaign manager, Robby Mook, put the spotlight on Clinton's still commanding lead in Democratic delegates.
"We are confident we are nearing the point where our delegate lead will effectively become insurmountable," he said.
Meet the Univision moderators
Univision's star anchors, Jorge Ramos and Maria Elena Salinas, are moderating the Democratic debate, which begins at 9 p.m. .
Ramos, who emigrated from Mexico to the United States when he was in his 20s, himself frequently makes headlines for his activism, which he defends and says is a duty that does not compromise his professionalism.
At a Donald Trump event last year, Ramos famously yelled out questions, and did not stop despite warnings from the candidate. He was forcibly removed, but later returned, with Trump taking his questions.
In a New York Times interview this month, Ramos argued that a candidate's views on immigration are important.
"For us, immigration is not something abstract. It is personal. Very, very personal."
Salinas, who is of Mexican descent, is a co-host of "Noticiero Univision" and the prime-time show "Here and Now."
They love us, they really love us
The Sanders and Clinton campaigns were lovin' Latinos on Wednesday, coincidentally (?) the day a debate between the candidates in Miami scheduled to air on Univision and CNN.
Indeed, Florida Latinos are getting a lot of attention this week as Democratic and Republican candidates woo them in the hope of boosting their chances for a win next Tuesday, when the state will hold its primary. The prize is a big one -- the winner takes all 99 delegates.
This time, immigration and other issues of special concern to the Latino community are sure to loom large. Florida is home to nearly 1.8 million Hispanics, including about 15 percent of the state's Democrats.
In advance of the debate, the two campaigns held rival conference calls, each side arguing that its candidate was strongest on Latino issues and that the other side's motivations are suspect.
"Hillary is the only one we can trust to lead 11 million people out of the shadows into the light," said Illinois Rep. Luis Guitterez, pointing to Sanders' vote against immigration reform legislation in 2007.
Sander's campaign played up his immigrant roots and pointed to Clinton's hesitation in 2007 on allowing people who were in the country illegally to obtain driver licenses.
"We've seen many troubling instances throughout the secretary's career where her relationship, her support for the Latino community has been one of convenience," said Sanders campaign manager Jeff Weaver.
The Associated Press contributed.
Like us on Facebook