Former President Carter Hospitalized for 'Upset Stomach' in Cleveland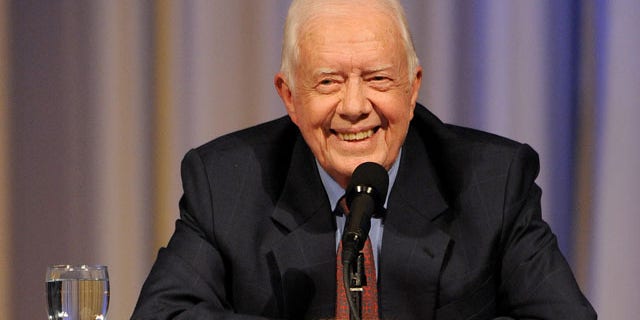 Former President Jimmy Carter was taken off a plane and hospitalized Tuesday in Cleveland after he developed an "upset stomach," a representative said.
The Carter Center issued a statement Tuesday afternoon saying Carter, who turns 86 on Friday, was brought to MetroHealth Hospital for "observation" and expects to be released soon.
"He is resting comfortably and is expected to resume his book tour this week," the statement said.
The former president has scheduled a packed set of appearances through the end of October to promote his new book, "White House Diary." He was scheduled to speak Tuesday afternoon at Joseph-Beth Booksellers in Ohio.
President Obama has since called Carter, White House spokesman Bill Burton said.
Jackie Mayo, a spokeswoman for Cleveland Hopkins Airport, said emergency crews were told he was feeling sick and transported him to the hospital after he arrived on a Delta flight.
A large crowd had gathered at the local book store by the time Carter arrived in town and was whisked away for examination. An employee at the store told Fox News "hundreds, hundreds, hundreds of people" had lined up outside to see the former president. After being informed of Carter's hospitalization, the employee said, "This is crushing. This can't be. I must go tell tell a whole lot of people now."