Former L.A. Mayor Antonio Villaraigosa joins crowded California governor's race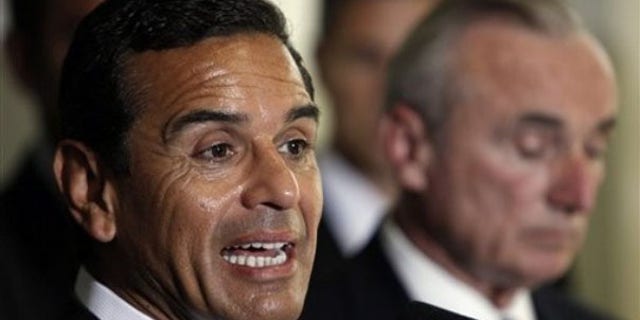 NEWYou can now listen to Fox News articles!
Election Day 2016 may be in the rear-view mirror, but Antonio Villaraigosa is already thinking about 2018.
The former Los Angeles mayor formally announced his bid for California governor on Thursday with the launch of a new website, entering what is expected to be a heated race for the United States' most populous state.
The Democrat's announcement comes after a three year political hiatus that generally saw Villaraigosa avoid the spotlight, with the exception of a high publicized wedding earlier this year and an appearance the Democratic National Convention.
He will not be the only member of his party seeking to win the gubernatorial race.
Villaraigosa will have to contend with Lt. Governor and former San Francisco Mayor Gavin Newsom, State Treasurer John Chiang of Torrance and Delaine Eastin, who served eight years as California's top education official. Former state Controller Steve Westly and billionaire environmental activist Tom Steyer, a San Francisco hedge fund billionaire, are also thought to be mulling over running for governor.
While Villaraigosa has been coy about the possibility of him running for governor of California, he has continually dropped hints that he is ready to jump back into public service throughout this year. He went on a 42-day listening tour throughout California over the summer and during the DNC he told Fox News Latino he had made his decision about running.
"Can I be clear about something? We've made that decision. That train left the station some time ago," the former mayor said. "As I say to people with a little gleam in my eye – when you're out of office the announcement won't be that you're out of office."
Villaraigosa flirted with a run for governor in 2010, but quickly stepped aside as current Gov. Jerry Brown appeared to have the Democratic nomination in his grasp early in that race and the then L.A. mayor said he couldn't "leave this city in the middle of a crisis" as Los Angeles struggled to recover from the economic effects of the Great Recession.
Villaraigosa, the 41st mayor of Los Angeles, was the first Latino mayor of LA since 1872.
Democrats will be favored to hold the seat in a state where the party controls every statewide office, but some familiar Republican names have also circulated as potential candidates, including San Diego Mayor Kevin Faulconer and Fresno Mayor Ashley Swearengin, who was a candidate for state comptroller in 2014.
The 2018 race is taking shape at a time when the state economy has gradually improved but millions of Californians are struggling in poverty or lower-wage jobs. Drivers contend with crumbling, congested roads and freeways. The state's water supply remains shaky. Governments are saddled with soaring pension and employee health care costs.
The strong interest in the governor's race is partly the result of California's election rules, known to critics as the "jungle primary," which sets the stage for unpredictable outcomes. Only two candidates advance to a November runoff, the top vote-getters, and voters can select any candidate, regardless of party.
The Associated Press contributed to this report.