For first time ever, OAS to send poll observers to U.S. amid Trump's claims of 'rigged' election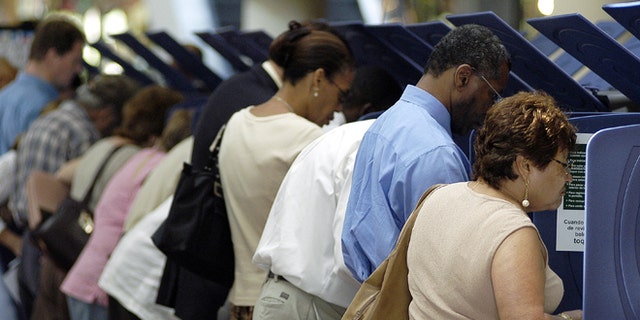 NEWYou can now listen to Fox News articles!
The Organization of American States (OAS) usually sends election monitors to politically volatile nations like Haiti, Guatemala and Venezuela to monitor for election fraud and voter intimidation.
For the first time ever, however, the OAS will be sending monitors to the United States to oversee polling places come Election Day on Nov. 8.
Former Costa Rican President Laura Chinchilla, who will head up the OAS observation mission to the U.S. election, told the Miami Herald that their presence was requested by the U.S. government on June 30, but has taken on more urgency in the last few weeks amid claims by Republican presidential candidate Donald Trump that the election is "rigged" and concerns over Trump's calls for his supporters to do their own monitoring at the polls.
Trump has claimed that there are hundreds of dead people and undocumented immigrants who will vote on Election Day and his campaign consistently cites a 2012 Pew Research Center study saying that more than 1.2 million dead people are listed as voters.
"I hear these horror shows, and we have to make sure that this election is not stolen from us and is not taken away from us," Trump said last week during a campaign stop in northeast Pennsylvania. "And everybody knows what I'm talking about."
Trump's statements and numbers, however, have largely been dismissed as a study conducted by the Loyola Law School uncovered only 31 known cases of voter impersonation fraud in 1 billion votes cast in U.S. elections between 2000 and 2014.
Trump's call for poll watchers in states that he sees as vital to chances of winning the election – and where he says opportunities to rig the election are ripe – has been met with everything from derision to concern from his opponents, but so far has stirred up little interest among his supporters.
"There's a real disconnect between the intensity of the buzz at the national level and anything we've seen on the ground," Al Schmidt, a Republican who is the vice chairman of Philadelphia's election board, told the New York Times. "We haven't received a single call from somebody outside of Philadelphia looking to be a poll watcher."
Pennsylvania will be one of the 15 states where the OAS will deploy election observers and will also include New York, California, Georgia and the battleground state of Ohio. The OAS will not be sending observers to Florida because state law that prohibits such outside election missions.
Chinchilla said that so far there is no legitimate concern that the U.S. elections will be rigged, adding that while individual complaints have been lodged by both Democrats and Republicans over voter registration lists, "they follow historical U.S. election patterns."
"Up to now, based on what we have advanced in conversations with representatives of U.S. state and national electoral organizations, we cannot say that there are any indications that there could be a fraud on a national scale," Chinchilla told the Herald.
The former Costa Rican leader added that it would be very difficult to rig a national election in the U.S. given that "the country has a hyper-diversified electoral system, in which each state counts its own votes, and there are no unified databases that could facilitate a nationwide conspiracy."
Like us on Facebook
Follow us on Twitter & Instagram