Foes of overhaul of U.S.-Cuba relations angry over yet another end-run around Congress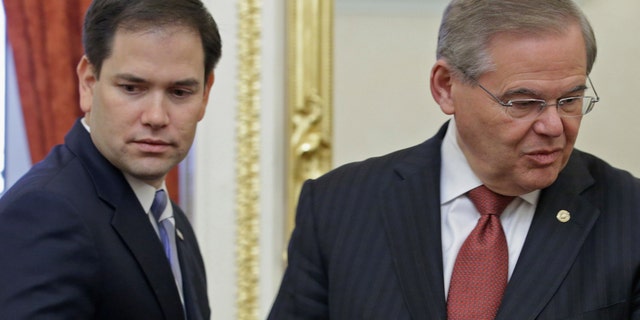 NEWYou can now listen to Fox News articles!
President Barack Obama's move to normalize relations with the communist government of Cuba – setting in motion the most dramatic shift in U.S. policy toward the island nation in more than 50 years – was roundly denounced by some in Congress who called it another end-run around them and vowed to fight it next year.
Several Republicans, already reeling from Obama's unilateral move to make sweeping changes in immigration and Democratic Senators pushing through votes on more than two dozen judicial and high-ranking administration nominees, expressed outrage over the president's Wednesday announcement about easing restrictions on travel and commerce between Cuba and the United States.
They said they plan to block Obama's nomination for ambassador to Cuba, as well as block funding for a new embassy in Havana. For decades, both nations have had only so-called "interest sections" in each other's capitals, not full-fledged embassies. Obama announced that that is going to change now.
"I reserve the right to do everything within the rules of the Senate to prevent that sort of individual from ever even coming up for a vote," said Sen. Marco Rubio of Florida in an interview with CNN on Wednesday.
Sen. Lindsey Graham, a South Carolina Republican who will be chairman of the appropriations subcommittee that oversees funding for the State Department, said on his Twitter account that he will block money for an embassy in Cuba.
"Normalizing relations with Cuba is a bad idea at a bad time," tweeted Graham.
One of the most prickly attacks on Obama's move came from a fellow Democrat, Sen. Robert Menendez of New Jersey, who, like Rubio, is of Cuban descent.
"Today's regulatory changes … are clearly intended to circumvent the intent and spirit of U.S. law and the U.S. Congress," said Menendez, who is chairman of the Senate Foreign Relations Committee.
"When the new Congress convenes in January, I urge incoming Senate Foreign Relations Committee Chairman Bob Corker to hold hearings on this dramatic and mistaken change of policy."
In a conference call with reporters Wednesday morning, senior Obama administration officials, clearly mindful of the arguments made by critics of the president's recent controversial unilateral actions, stressed that the foreign policy shift was within the legal parameters allowed him.
They noted that Obama's policy change was not a lifting of the decades-old embargo, which only Congress can do.
"We are authorizing as much travel as we possibly can within the constraints of the legislation," said a senior administration official.
The New York Times noted that Obama's overhaul of U.S.-Cuba policy "is the latest and most striking example of a president unleashed from the hesitancy that characterized much of his first six years in office. It follows decisions by Mr. Obama to defy Republicans on immigration, climate change policy, the regulation of the Internet and negotiations with Iran."
"Gone are the cautious political calculations that consigned contentious issues to secondary status. Mr. Obama is instead pushing aggressively on his promises and ignoring his opponents in the process," the Times said.
David Axelrod, a former senior adviser for the Obama administration, told the Times that the president is "going down a checklist of thorny, longstanding problems, and he's doing whatever he can to tackle them."
"These are things that have been tearing at us for decades and generations. My sense is his feeling is, 'I'm not going to leave office without doing everything I can to stop them.'"
It promises to be a bumpy road for the White House and a Congress with a Republican majority in both chambers.
"First Russia, then Iran, now Cuba," said Sen. Ted Cruz, a Texas Republican who has been one of the most vocal critics of Obama's executive order on immigration. "This is one more very, very bad deal brokered by the Obama Administration."
Cruz's parents came from Cuba.
Rubio vowed to actively work against the president on the new U.S.-Cuba policy once the GOP takes over the Senate in January.
"The President's decision to reward the Castro regime and begin the path toward the normalization of relations with Cuba is inexplicable," said Rubio. "Cuba's record is clear. Just as when President Eisenhower severed diplomatic relations with Cuba, the Castro family still controls the country, the economy and all levers of power."
"This administration's attempts to loosen restrictions on travel in recent years have only served to benefit the regime."
A visibly angry Rubio went on to say, "I intend to use my role as incoming Chairman of the Senate Foreign Relations Committee's Western Hemisphere subcommittee to make every effort to block this dangerous and desperate attempt by the president to burnish his legacy at the Cuban people's expense."
He added that, "Appeasing the Castro brothers will only cause other tyrants from Caracas to Tehran to Pyongyang to see that they can take advantage of President Obama's naiveté during his final two years in office."
Many lawmakers, particularly Democrats, but some Republicans as well, surely will be fighting Rubio's and other opponents' efforts.
"Opening the door with Cuba for trade, travel and the exchange of ideas," said Sen. Dick Durbin, an Illinois Democrat, "will create a force for positive change in Cuba that more than 50 years of our current policy of exclusion could not achieve."
Republican Sen. Jeff Flake of Arizona praised Obama for working toward normalizing relations. Flake has been a long-time critic of the embargo.
"The policy that we have in place has done more to keep the Castro regime in power than anything we could have done," Flake said.