Florida Latino support for Rubio helps him broaden lead over Democratic challenger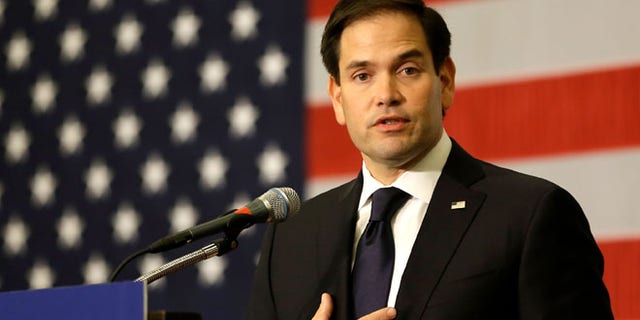 As he seeks re-election, Sen. Marco Rubio is swiping voters from his Democratic challenger and growing his lead in the polls thanks to his fellow Latinos, a new poll is showing.
Florida Latino voters prefer the Republican incumbent over challenger Rep. Patrick Murphy 53-38 percent, and that support is giving the GOP senator 16 percent of Democratic voters, according to the poll by Mason Dixon Polling & Research.
Whites favor Rubio 52-to-33 percent.
Overall, Rubio leads Murphy among Florida voters 47-40 percent, an increase for the Republican over the 46-43 percent lead he held in August.
Murphy has the overwhelming support of African-Americans, who favor him over Rubio 77-to-9 percent.
Rubio got his weakest support in southeast Florida, with 37 preferring him compared to 53 percent who back Murphy, according to the poll.
His strongest region is northern Florida, where he is favored 56-to-32 percent.
The poll specifically measured voters' support for Rubio, Murphy and Libertarian candidate Paul Stanton, who trailed far behind the other two, barely getting single digits.
Stanton got 5 percent of the support of overall voters. Other respondents expressed a preference for candidates with no party affiliation, or said they remain undecided.
"The key to Rubio's success is his ability to run stronger than the average Republican among Hispanic voters," said Mason-Dixon pollster J. Brad Coker in a press release about the poll.
"Currently, Hispanics favor Rubio over Murphy. It is extremely difficult now for a Democrat to win in Florida while losing the Hispanic vote," he added.
The release attributed Democratic presidential candidate Hillary Clinton's overall lead in Florida over Republican Donald Trump to her support among Hispanics, who favor her over the real estate mogul 64-to-29 percent.
Like us on Facebook
Follow us on Twitter & Instagram