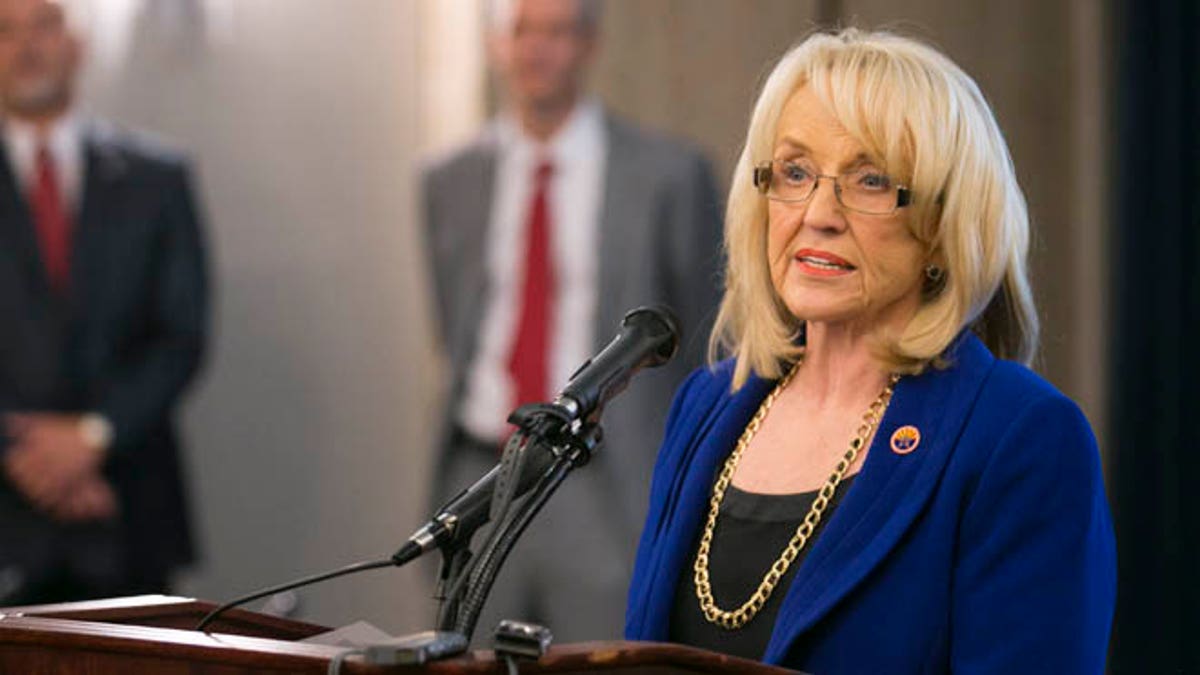 Arizona Gov. Jan Brewer said Friday she is "disturbed and outraged" after she was informed by federal officials that not only has the government been shipping illegal immigrants out of Texas and "dumping" them in her state, it has no plans to stop.
Federal officials told Brewer Friday that the practice will continue for the foreseeable future, and this weekend more than 1,000 illegal immigrant children will be "dumped" in Arizona. Adults and family units will also arrive, though Brewer was not told how many, her office said.
Reports first surfaced last week that scores of illegal immigrants in Texas were being flown, bused and then abandoned out of state in Arizona and elsewhere. After learning of the practice, Brewer sent a scathing letter to the president on Monday posing a string of questions about the policy. Brewer said Friday what little she has learned since then has made her even more concerned.
"This is a crisis of the federal government's creation, and the fact that the border remains unsecure – now apparently intentionally - while this operation continues full-steam ahead is deplorable," she said in a statement.
Brewer said the federal government never formally informed her administration of the practice and has never explained it.
Brewer said she has demanded answers from Department of Homeland Security Secretary Jeh Johnson, and is again calling on President Obama to terminate the practice.
"I am disturbed and outraged that President Obama's administration continues to implement this dangerous and inhumane policy, meanwhile neglecting to answer crucial questions our citizens demand and deserve," she said.
The illegal immigrants in question come from Central America and have flooded into Texas via the Rio Grande Valley. The number of apprehensions in the Rio Grande Valley has shot up in recent years, with south Texas now the main gateway for illegal immigration along the southwest border with Mexico.
Border Patrol agents in the Rio Grande Valley sector apprehended 154,453 immigrants last year -- up from 97,762 the previous year.
More shockingly, some say, is the unprecedented surge of children making the more than 1,000-mile journey from Central America to the U.S.-Mexico border to escape violence in their home countries.
Obama on Monday described the surge in children crossing the border as an "urgent humanitarian situation," appointing FEMA head Craig Fugate to lead an effort addressing the crisis. The White House is also seeking an additional $1.4 billion from Congress to deal with the influx.
"This is a humanitarian crisis and it requires a humanitarian response," Senate Appropriations Committee Chairwoman Barbara Mikulski, D-Md., told Reuters.
Most of the families apprehended so far in Texas have been flown to Arizona and dropped off by the busload at stations in Phoenix and Tucson. They've also been sent to New York and Maryland.
Immigration and Customs Enforcement (ICE) said it does not want to lock up minors in detention centers or split up families.
Those sent to Arizona are expected to check in on their own once their deportation process nears completion in an honor system of sorts.
"After screening by DHS authorities, the family units will be released under supervision and required to report in to a local ICE office near their destination address within 15 days, where their cases will be managed in accordance with current ICE enforcement priorities," according to an ICE statement.