Ex-Bush Team Acclimates to Private Life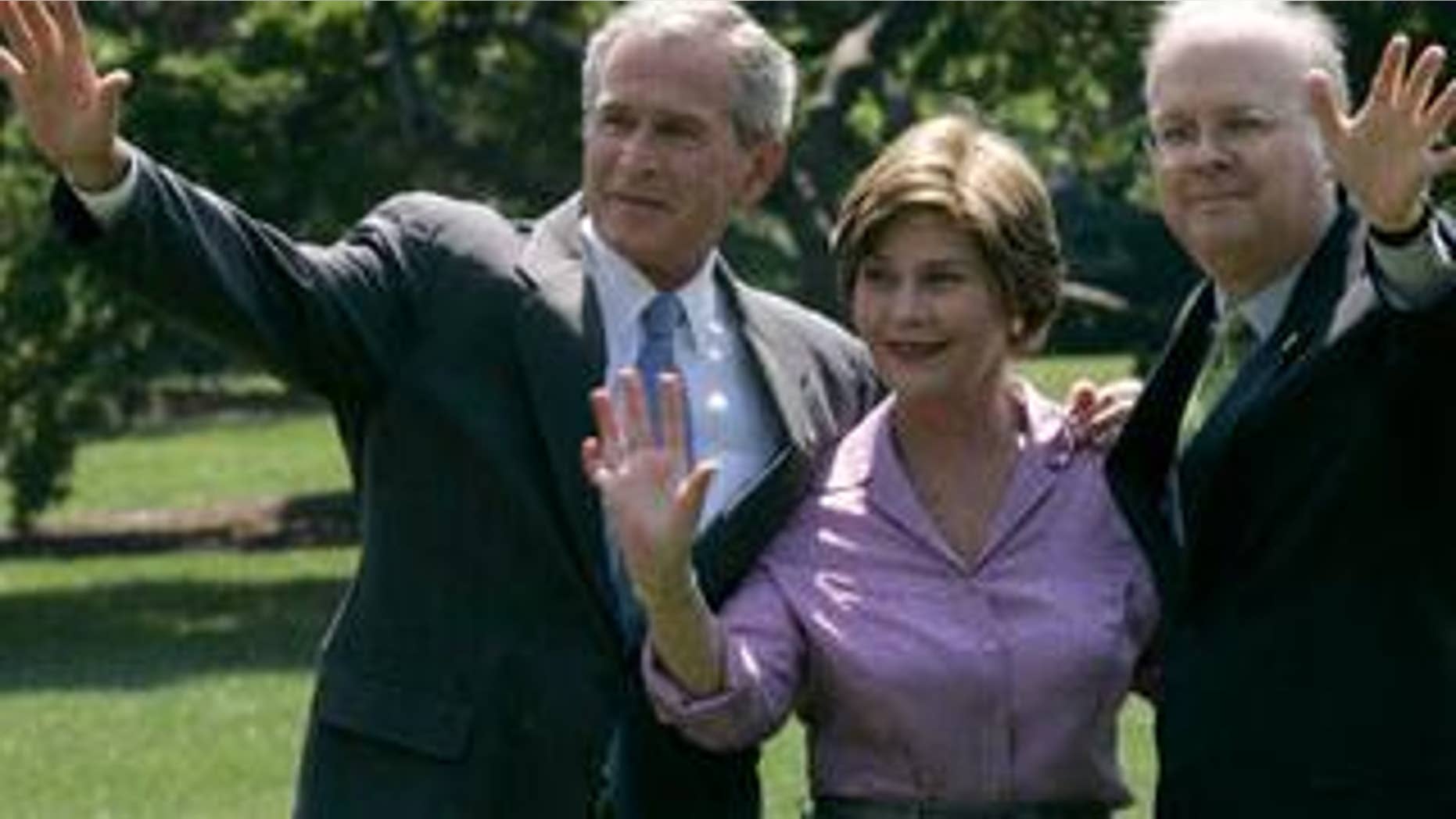 The Bush administration has been history for seven weeks, and most of the ex-president's senior aides from his eight years in office -- with the notable exception of Karl Rove -- have stayed largely out of public sight. But many are quietly making their mark in the private sector.
For former Vice President Dick Cheney, post-political life will revolve largely around two activities: spending time with his grandchildren and fishing in Wyoming's rivers.
On Jan. 20, Cheney and his wife, Lynne, returned to Casper, Wyo., the small town in the western part of the state where he grew up.
"He's definitely looking forward to more time with the grandkids and enjoying the private life," a source close to Cheney told FOXNews.com, adding that the former vice president built a home in McLean, Va., and he plans to split time between the two states.
Cheney has acquired a BlackBerry since leaving office, the source said, and he's programmed his grandchildren's spring sports schedules into it.
In recent days the former vice president has held "small luncheons" to "invite people to talk about current events -- both on the economic front and on national security issues," the source said. "He follows what's happening very closely."
Cheney is expected to publish two memoirs focusing on his time in the White House and the 40 years he spent serving four presidents. The former vice president has signed with the Harry Walker Agency to pursue various speaking opportunities.
Condoleezza Rice is also reclaiming the life she had before joining the White House in 2001 as Bush's national security adviser and later secretary of state.
Rice has returned to Stanford University -- where she taught in 1981 and later served as provost -- to work as a senior fellow on public policy at the Hoover Institution and as a professor of political science, Rice's chief of staff, Colby Cooper told FOXNews.com.
Cooper said Rice is focused on addressing flaws in the country's education system, and she plans to devote much of her work on primary schooling.
The former top diplomat also plans to publish two books -- one on U.S. foreign policy and another on her parents' influence in her life as she grew up in segregated Alabama during the civil rights struggle, Cooper said.
Former White House Press Secretary Dana Perino returned last week from a four-week visit to South Africa, where she volunteered with her husband at an HIV-AIDS clinic funded by Bush's PEPFAR project.
"I left from Dulles Airport at 10 p.m. on January 20," Perino told FOXNews.com, saying she was inspired to become a more effective advocate for the relief program after visiting Africa with Bush in February 2008.
For Perino, the trip was as much a self-realization as a humanitarian undertaking.
"I think over time as press secretary, I developed a very thick skin and put a shell around my heart that hadn't really been there before," she said.
"There was one point during the time we were volunteering when my heart burst wide open and I realized that this is why I came here -- so I could remember who I was before."
Perino said she has no plans to work on a political campaign in 2012, but she hopes to strike a deal with a major news network to become an on-air contributor.
"I think I can be a Republican voice at a time when the Republican Party is getting its footing," she said, adding that she would like to put to rest misperceptions about Republican women.
"For a long time we have been misunderstood, and to borrow a word from George Bush, 'misunderestimated,'" Perino said.
George W. Bush himself has returned to Texas, and he and Laura Bush recently moved into a new home in Dallas, the first time they've lived full-time outside an executive mansion since 1994.
The former president has plenty to keep him busy: there's a library to build, books to be written and his mother's health to be monitored.
While Bush has been mum for the most part on President Obama's job performance, former Deputy Press Secretary Tony Fratto was out defending his old boss a week ago, and excoriating the new president for putting war funding into his annual budget request and criticizing the budgets of the previous administration.
"Our budgets were honest, open and transparent. Every dime spent was presented, debated, voted on and counted," Fratto told FOX News.
Other high-profile Bush administration aides have also returned to their roots.
-- Michael Mukasey
The former attorney general joined the international law firm Debevoise & Plimpton LLP last month. As a partner in the litigation practice, Mukasey focuses on "internal investigations, independent board reviews and corporate governance," according to the firm's Web site.
-- Henry Paulson
The former Treasury Secretary joined John Hopkins University's Paul Nitze School of Advanced International Studies in January as a distinguished visiting scholar. He is also a fellow at the university's Bernard Schwartz Forum on Constructive Capitalism, university spokeswoman Felisa Klubes told FOXNews.com.
President Bush's national security adviser gave a speech on Jan. 7, 2009, to the Center for Strategic and International Studies, but there have been no reports yet on his post-political ambitions.
The former White House press secretary was hired as a media consultant to the Green Bay Packers last year. He currently works as president of his own New York-based firm --- Ari Fleischer Communications, Inc. -- where he handles communications work for corporations and sports companies. "I'm happily retired from active duty politics," Fleischer recently told FOXNews.com.
President Bush's first defense secretary reportedly received a one-year appointment as a distinguished visiting fellow at the Hoover Institution at Stanford University in September 2007.
The Bush administration's first attorney general now serves as chairman of the Ashcroft Group, LLC, a strategic consulting firm that works with corporations in the areas of homeland security, corporate governance, and data security, according to the company's Web site.
No job has been announced for Bush's second attorney general since he resigned in September of 2007. Gonzales told the Wall Street Journal in a Dec. 31, 2008, interview that the controversy surrounding his time in office has made law firms "skittish" about hiring him. "I consider myself a casualty, one of the many casualties of the war on terror," he told the newspaper.
-- Andrew Card
Bush's first chief of staff has served on the Board of Directors at Union Pacific Railroad since July 27, 2006, the company's assistant vice president, Donna Kush, told FOXNews.com.
-- Colin Powell
After retiring as Secretary of State in 2005, Powell joined the California-based venture capital firm Kleiner, Perkins, Caufield & Byers, according to the firm's Web site. Powell also served as a spokesman in 2008 for National Mentoring Month, a mentoring resource and recruitment organization. Powell also famously endorsed Barack Obama in the 2008 presidential election.
-- Robert Gates
Bush's second defense secretary continues to serve in President Obama's cabinet; he has held the position since Dec. 18, 2006 -- a position he has held since Dec. 18 2006.
-- Karl Rove
Since his resignation in August 2007 as deputy chief of staff, Rove has become a contributor for various news outlets, including Newsweek, the Wall Street Journal and FOX News Channel -- where he worked as a political analyst during the 2008 presidential campaign. Rove also served informally as an adviser to John McCain during the presidential campaign, and he has traveled across the country to speak at colleges and universities.
-- Karen Hughes
The former undersecretary of state for public diplomacy and public affairs is currently global vice chairwoman of Burson-Marsteller, where she helps business leaders "strengthen their corporate/CEO reputations, achieve business goals through effective communications and shape positive public and stakeholder perceptions," according to the Web site for the Harry Walker Agency, which represents her for speaking engagements.
-- Michael Chertoff
The former homeland security secretary has signed with the Harry Walker Agency to speak on such topics as the "legal war on terror," "cyber-security," and "solving the immigration crisis," according to the agency's Web site. Chertoff is also writing a book about his experiences at the department, according to the Washington Post.
Since leaving office in Jan. 2009, the Bush administration's second education secretary founded Margaret Spellings & Company, an education consulting firm based in Washington, D.C.