Ex-Ariz. Gov. Brewer mulls legal action over ads using unflattering photos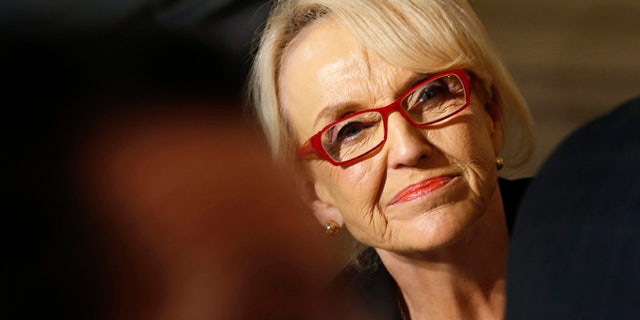 NEWYou can now listen to Fox News articles!
Former Arizona Gov. Jan Brewer is threatening to file suit against companies using less-than-flattering images of her to push anti-aging products.
The firebrand Republican, who left the governor's post in January after six years in office, is pictured in the ads near the bottom of web pages in what are known as "native ads." Native ads, frequently labeled as "sponsored content" or "popular stories," are paid advertisements used to push products, designed in a way that matches the form and style of the site's regular content.
The ads in question feature a picture of the former governor, and the headline, "Divorced for being 'too old' – see her revenge makeover," The Arizona Republic first reported.
Brewer, who is married to John Brewer and is not divorced, told the Republic that she first learned of the offensive ads about six months ago and that "dozens and dozens" of people have contacted her after seeing them.
Brewer told the paper that she initially ignored them, hoping they would go away. When that didn't happen, she decided to fight the company behind them.
"It's obviously a very distorted and unflattering photo, and it's hurtful and it's wrong," Brewer said, adding that she is no longer a public figure. "I want whoever is behind the use of this image to cease and desist and do so immediately or it will leave me with no option but to pursue legal recourse against them.
According to the article, attorneys say the ads could violate the former governor's right of publicity, which gives her control over her image and name.
One of the images appears to be a cropped version of a June 2010 Reuters picture, the Republic reported. It was unclear who took the other photo.
The Republic reported that one of the ads featured on a recommendation widget sponsored by RevContent.com -- an ad network which buys space on websites, while another was provided by Content.ad.
Katherine Saviola, a RevContent brand manager, told The Republic that they had not heard that "certain advertisements may feature the likeness of Ms. Brewer" and emphasized the company is "not the originator or creator of the advertisements in question or any ads within our network."
A spokesman for Content.ad told FoxNews.com that it was the first they had heard of the story and that they were investigating.
"We review and approve all images based on our internal standards and would not allow the use of celebrity images that imply any sort of endorsement unless that endorsement is verified. I am sure that our approval team would have had no idea that this image was of Gov. Brewer," spokesman Jonathan Marikiles said.
"As a result of this story, we will be removing and stopping any advertiser campaigns in our platform that are using this image and we will not accept it in the future," he said.
FoxNews.com's Adam Shaw contributed to this report.