Even in Liberal Bastions, GOP Sees Election Chance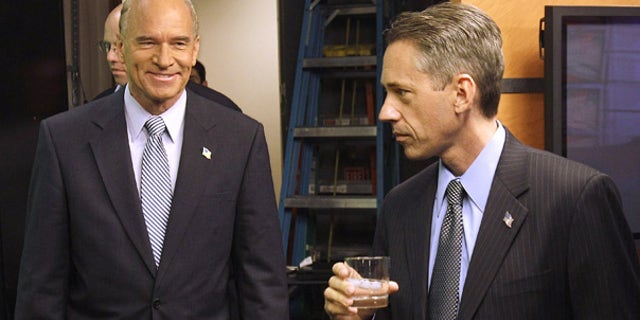 HYANNIS PORT, Mass. -- In the congressional district that's home to the Kennedy family compound, a Kennedy public skating rink and a Kennedy museum, the heart of liberalism is beating uneasily.
Republican Jeff Perry is making a serious bid to take over a seat held by Democrats for nearly 40 years -- and it's just one of nearly 100 seats across the country that now appear under at least some threat of slipping away from the majority party and giving control of the U.S. House to the GOP.
At least 75 House seats -- the vast majority held by Democrats -- are at serious risk of changing hands, and roughly 25 more where Democrats were assumed to have the upper hand have tightened in recent weeks, raising the possibility that some could flip to the Republicans as well.
Perry, a Massachusetts state representative, is in one of those contests here in the 10th Congressional District, which stretches from Quincy, just outside Boston, along Cape Cod and across to the vacation playgrounds of Martha's Vineyard and Nantucket. He is talking tough on taxes, immigration reform and the health care law, and he's locked in a competitive race with Democrat William Keating for the open seat.
It's a surprising turn in Massachusetts and just one of nearly a dozen contests across the country illustrating trouble in Democratic paradise.
Republicans have long believed they have a chance to win back the House, and possibly the Senate. Now, emboldened by polls showing even more of their candidates running strongly, they're reaching into territory where Democrats were thought to be safe, in races from New York to Georgia to Wisconsin and Arizona.
Even the longest-serving Democrat, Rep. John Dingell of Michigan, who has coasted to re-election in recent years, is mounting an aggressive campaign against his GOP challenger, Rob Steele. Amid whispers that Dingell could be in danger, the Democrats' House campaign arm last month issued a memo saying he would win but adding pointedly: "All Democratic incumbents should take a page out of his playbook and 'run scared' each cycle, especially 2010, even if they are not truly afraid of losing."
The Republicans' strategy is part psychology and part raw numbers: By targeting lawmakers once viewed as safe, the GOP can goad Democrats into spreading their money and energy across more races. By placing more bets around the map, however long the odds, Republicans increase their chances of reaching the 40-seat gain that would drive out House Speaker Nancy Pelosi and hand them House control.
Emotions are high.
In Hyannis Port, someone swiped a pair of "Jeff Perry for Congress" signs from the front of chiropractor Kristin Weber's heavily trafficked office, so she drove to her mother's house on a side street and grabbed one to replace it.
"I think people are fed up with the government," said Weber, 41. "They're fed up with the overspending. They're fed up with the bailouts. It has not helped the economy, whatsoever. And we really do need change we can believe in."
Other voters also suggest the Democrats have reason for alarm.
"There's so much dealing; power tends to corrupt," said Philip Faulk, 57, a jewelry store owner from Thomasville, Ga. He lives in the district represented by a nine-term congressman, Sanford Bishop, who is running against state lawmaker and Baptist minister Mike Keown.
Faulk, an independent, says he leans Republican.
Dan Kapanke of Wisconsin, a Republican state senator challenging veteran Rep. Ron Kind, said: "It's resonating out here that, 'Who is Ron Kind representing?' That's a question I hear."
Ruth McClung, a 28-year-old scientist working for a Tucson, Ariz., defense contractor, is similarly optimistic about her chances against Rep. Raul Grijalva, who coasted to easy re-election in 2006 and 2008.
Says McClung: "We have a lot of grass roots that are fighting for it. It's politics, but I think we want it more than they do."
Some of the more long-shot GOP challengers are being propelled by the tea party movement. McClung, for example, won movement support after Grijalva called for a boycott of Arizona when his home state enacted a tough immigration law that's since been blocked by a federal judge.
"We about two months ago said that was a tactical, logistic mistake," said the congressman. "It was bound to tighten up."
Other Republicans are backed by nationally known surrogates such as Sarah Palin and Sen. Scott Brown, R-Mass., who won the special election to replace the late Sen. Edward M. Kennedy in January and, in the process, gave confidence to Republicans nationally.
Brown plans to travel to Rhode Island on Monday to endorse Republican state Rep. John Loughlin, who's battling Providence Mayor David Cicilline to succeed Kennedy's son, retiring Rep. Patrick Kennedy. President Barack Obama is coming the same day in support of Cicilline and incumbent Rep. Jim Langevin.
The president? For a seat the Democrats now hold?
"He's here raising money for tight races in other places, and to make sure that Mr. Langevin and Mr. Cicilline serve in the majority come January," said Joy Fox, a Langevin spokeswoman.
In New York, where Democrats hold all but two of the state's 29 congressional seats, Republicans are eyeing as many as eight pickup opportunities, from eastern Long Island to the Adirondacks.
Sensing danger, Democrats have deployed former President Bill Clinton to campaign for several House Democrats. One is Rep. Dan Maffei, a Syracuse-area freshman who is facing a strong challenge from Republican Ann Marie Buerkle. Buerkle, an anti-abortion activist, has struggled with fundraising but is highly popular with conservatives and is one of Palin's "Mama Grizzlies."
Clinton also campaigned for Rep. Maurice Hinchey, a nine-term veteran from Binghamton whose opponent is George Phillips, a Catholic school teacher and former congressional aide. Hinchey is not considered in real danger, but Republicans are hopeful nonetheless.
Massachusetts Rep. Barney Frank, a 15-term Democrat and chairman of the House Financial Services Committee, faces a stronger-than-expected re-election fight against GOP challenger Sean Bielat, who is targeting Frank's role in steering Congress through the Wall Street bailout and one of the most far-reaching financial regulatory laws in the nation's history.
Although all of Massachusetts' House seats are held by Democrats, and the 10th district has long been home to the Kennedys, the district overall is considered the most conservative in Massachusetts. Its congressman, William Delahunt, served as Norfolk County district attorney before being elected to Congress in 1996. He was succeeded as county prosecutor by Keating, the Democrat who hopes to succeed him again in Congress.
But Brown garnered more than 60 percent of the vote here in January, when he upset Democrat Martha Coakley to claim the Senate seat held for nearly a half-century by Edward Kennedy. The results were enough to prompt Delahunt to announce his retirement.
Perry has made himself a favorite of conservatives by opposing taxes and by casting one of only two votes against the state's 2006 universal health care law passed under former Republican Gov. Mitt Romney.
"If you like what I've been doing as a state representative ... I ask for your vote on Nov. 2," Perry said during a recent debate.
Keating, who repeatedly chastised Perry over allegations that he allowed a pair of illegal strip searches while serving as a police officer, argues that he will preserve the Obama agenda.
"I'll protect Wall Street safeguards," Keating said in the debate. "I'll protect Social Security. And I'll be there to move us forward as a group and as a country."
Jeff and Janni Hansen, longtime liberal Democrats from Cambridge who haven't declared a party affiliation this year, said they plan to vote for Keating. Nonetheless, they think Perry has a shot. They spoke after they picked up their mail from the cedar-shingled post office within view of the house where Edward Kennedy died.
"People are just so dissatisfied with what's going on in Washington, even if (Perry's) part of the same-old, same-old that got us in this problem," said 56-year-old Jeff Hansen.